Bio:
I come from a family of writers: Dad was a newspaperman and wrote books about aviation, Aunt/Uncle wrote westerns and detective stories, Mom wrote a couple of B-monster-movie scripts.
As for me, I wrote my first fiction at age twelve: a gripping action-adventure mystery about a little girl who loses her doll. (The bad guy took it.)
It took another twelve years to write a mystery that sold. My first professional work was for magazines: mystery/thriller short stories and outdoorsy nonfiction articles. I then took a detour into textbook writing and learned how to turn research into a story. I'm author of a US history text and have contributed to texts in the sciences, including earth science. My next detour was into tech-writing for the Silicon Valley computer industry. My techie experience hatched an idea that became my first novel, about an attempt to sabotage the nation's telephone system (INTERRUPT, published by TOR Books).
My path twisted once more—mixing mystery with outdoor adventure—into the world of forensic geology. BADWATER is the first book in The Forensic Geology Series. The second, VOLCANO WATCH, is coming soon.
BADWATER: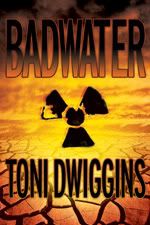 The Back Flap:
Forensic geologists Cassie Oldfield and Walter Shaws embark on a perilous hunt—tracking a terrorist who has stolen radioactive material that is hotter than the desert in August. He threatens to release it in America's most fragile national park, Death Valley.
But first he must stop the geologists who are closing in.
As the hunt turns dangerous, Cassie and Walter will need grit along with their field skills to survive this case. For they are up against more than pure malice. The unstable atom—in the hands of an unstable man—is governed by Murphy's Law. Whatever can go wrong, will go wrong.
And it does.
"Fans of Nevada Barr will love this suspenseful literary mystery, where the brutal Death Valley landscape is as much a character as the renegade radworkers, dangerously eccentric desert rats, and dogged geologists trying to prevent a nuclear disaster."
–Lisa Brackmann, author of the literary suspense novel ROCK PAPER TIGER, an Amazon Top 10 Mystery & Thriller Pick
"In this superb, taut, action-packed thriller set in the California desert, a highway hijacking turns toxic and Cassie Oldfield, forensic geologist, is called in to help the FBI and the EPA's Radiological Emergency Response Team track down stolen casks of nuclear waste. Sophisticated soil analysis is not normally a deadly occupation, yet before it's all over, Cassie comes face to face with a sociopathic killer and with her own mortality. Notice to criminals: Watch out for Cassie! She knows where you've been. Fans of Nevada Barr are going to love this book just as much as I did."
–Marcia Talley, Agatha and Anthony award-winning author of the Hannah Ives mysteries
"BADWATER is superb. It has a great plot with many twists and surprises, featuring real-life characters. The author did a very fine job of characterizing the disconnect between all the measures intended to assure safety and the reality of things sometimes being unsafe. Truly well-written and engaging. A joy to read."
–David Lochbaum, head of the Nuclear Safety Project, Union of Concerned Scientists
Links:
Amazon.US
Press Clippings: