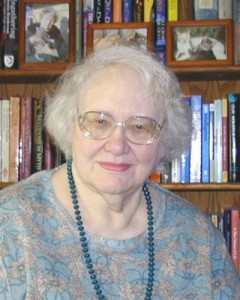 Sylvia Engdahl writes science fiction intended for a wider audience than sci-fi fans.  She is best known for her six YA novels, originally published by Atheneum in the 1970s and republished, in both hardcover and paperback, by different publishers in the twenty-first century–one of which, Enchantress from the Stars, was a Newbery Honor book and finalist for the 2002 Book Sense Book of the Year in the Rediscovery category. However, three of them were reissued as adult sf and her three recent indie novels are for adults.
Why would an established author publish some of her books independently? "Because publishers of adult fiction demand that it be strictly categorized by genre, while the novels of the Flame Trilogy don't fit genre requirements," Engdahl says. "Since they're set in the future on other planets, they're considered science fiction—yet like my YA novels, they appeal more to general readers than to those with extensive science fiction background. This means they're not suitable for adult sf lines, and in any case I want them to reach other readers, too. At my age, I feel it's unlikely that marketing criteria will change during my lifetime. So I decided to make use of my desktop-publishing skills."
In addition to her new novels plus indie ebook editions of some of her out-of-print YA novels and those of her mother, Engdahl has recently published an updated and expanded edition of her nonfiction book The Planet-Girded Suns. now subtitled The History of Human Thought About Extrasolar Worlds. She is a strong advocate of space colonization and has maintained a widely-read space section of her website for many years. She also created the site
www.spacequotes.com, which contains quotations about why humankind must expand into space.
Engdahl lives in Eugene, Oregon and currently works as a freelance editor of nonfiction anthologies for high schools.
Website: www.sylviaengdahl.com
Amazon Author Page
Facebook         Facebook Author Page        LinkedIn 

INDIE NOVELS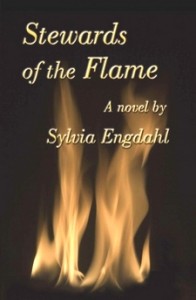 Flame Trilogy, Book One: Stewards of the Flame
When burned-out starship captain Jesse Sanders is seized by a dictatorial medical regime and detained on the colony planet Undine, he has no idea that he is about to be plunged into a bewildering new life that will involve ordeals and joys beyond anything he  has ever imagined, as well as the love of a woman with powers that seem superhuman. Still less does he suspect that he must soon take responsibility for the lives of people he has come to care about and the preservation of their hopes for the future of humankind.  This controversial novel deals with government-imposed health care, with end-of-life issues, and with the so-called paranormal powers of the human  mind. Despite being set in the distant future on another world, it appeals not just to science fiction fans but to a wide range of readers who question the dominant medical philosophy of today's society, or who value personal freedom of choice.
"The story is compelling, and drew me in from the first few pages. . . . I recommend it to anyone who enjoys reading genre fiction with some substance to it."  —Blogcritics
"Inspires a lot of thought-provoking 'what-if' questions. . . An excellent novel to read just for pure enjoyment, however  . . it will certainly lead to some stimulating conversations."  —MBR Bookwatch
"A suspenseful and thought-provoking novel that seems so plausible that it sends chills up my spine . . . truly a masterpiece of parapsychological science fiction."  —Rebecca's Reads
"Grips the attention with the raw immediacy of the problems. . . . It asks the sort of questions only SF can pose, and paints a vivid picture of where failing
to answer those questions might lead. . . . Stewards is the kind of SF I've been craving!"  —Jacqueline Lichtenberg (author of the Sime/Gen series), Monthly Aspectarian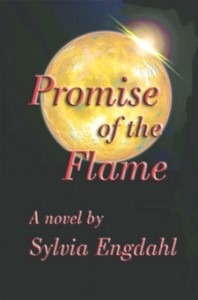 Flame Trilogy, Book Two: Promise of the Flame
Three hundred people, isolated on a raw new planet in the hope of fulfilling a dream, the dream that their psi powers will become the foundation of a culture that can someday shape the future of humankind. If they don't starve first. If they don't lose heart in the face of hardships beyond any they imagined. And if their kids can be reared to believe in the dream and advance both their technology and their psi powers from one generation to the next. Starship captain Jesse Sanders hasn't expected to be responsible for the settlement. Peter is the leader, the visionary on whose inspiration they all depend. But Peter has his hands full, not only with maintaining morale but with grueling ordeals of his own. So the job of ensuring the colony's survival falls on Jesse. And in the end, he must stake his life in a desperate attempt to prevent the loss of all they have gained.
"Engdahl's gift is to make her characters seem comfortable and familiar to the reader, even though their circumstances are not. Although clearly a work
of science fiction, the ideas and futuristic possibilities are disturbingly real and will remain with the reader long after they've finished the book."  —IndieReader Staff Review
"As with all of Engdahl's work, science-fiction fans will recognize the tropes she uses, but it is not just 'for' them, no more than the work of a great artist who happens to work in, say, ceramics is just for adepts of that medium. Engdahl has produced high-quality work over a forty-year period, but this is one of her finest achievements." —Nicholas Birns (author of Understanding Anthony Powell)
Flame Trilogy, Book Three: Defender of the Flame
Starship pilot Terry Radnor, involved in a secret mission after training that gives him extraordinary physical and psychic capabilities, finds fulfillment in love and in commitment to a cause–until an ironic twist of fate tears him away from everything he cares about. He is forced to build a whole new life, far from all that has previously mattered to him. Is there any hope that he can fulfill his pledge to protect the world whose safety is crucial to the future of humankind?  While this novel concludes the trilogy begun with Stewards of the Flame and Promise of the Flame, it is a completely independent story set two hundred years later, and can be read alone.
"This book reaches back to the brio and speculation of Engdahl's classic books of the Seventies. . . . The reader will be taken on an exciting and suspenseful ride. . . . With an admirable protagonist and many interesting and well-drawn characters major and minor, Defender is satisfying on multiple levels. . . . I expected to like this book; I was startled that I loved it. A must read!" —Nicholas Birns, author of Understanding Anthony Powell
"The book profits from Engdahl's long experience as a professional writer, assuring an engaging read. The story is thoughtful and balanced in its treatment of questions pertaining to human nature. It gives material to think about, besides providing some hours of leisure in a convincing sci-fi environment." —Simon Brenncke's Book Review Blog (Germany)
"I was engrossed in it: could not put it down. . . . It raises thoughtful questions of science/logic/reason versus the paranormal and intuition, the state versus individual freedom, and conscience, but is not preachy, and the characters were real people I cared about and liked." –Laurie Pollack, Amazon.com (Verified Purchase)
"The things that happen to the hero of this book are heart-wrenching. But that's what the best hero stories are made of . . . . I've read a ton of sci-fi and this trilogy is up there among the best — fun to read, thought-provoking, exciting plot twists, and big in scope." –Robert Haven, Amazon.com (Verified Purchase)