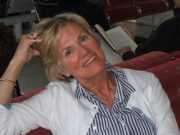 Susanne O'Leary is Swedish and lives in Ireland. She married an Irish diplomat at a very young age and travelled the world with her family for many years. She started writing about 12 years ago and her books reflect her globetrotting life, drawing on her experiences as an expat. She started her novelist career with a romantic comedy called 'Diplomatic Incidents', which was published in Ireland in 2001 (it was re-written and published on Amazon Kindle as 'Duty Free' in 2011).
Susanne has since e-published her backlist on both Amazon and Smashwords, adding five further titles as she ventured into the new territories  of contemporary romance ('Finding Margo' and 'Swedish for Beginners'), historical fiction ('A Woman's Place', Sonja's Place') and, most recently, crime with the co-written romantic thriller Virtual Strangers with fellow Scandinavian writer Ola Zaltin. It got wonderful reviews, including one by Big Al
Following the success of 'Virtual Strangers', Susanne is now working on a second romantic thriller with her co-writer. They both feel that they have added another dimention to Scandinavian crime with a more humoristic and light hearted touch, even if the dark side is still there.