Bio
Shaun Jeffrey was brought up in a house in a cemetery, so it was only natural for his prose to stray towards the dark side when he started writing. He has had four novels published, 'The Kult', 'Fangtooth', 'Deadfall' and 'Evilution', and one collection of short stories, 'Voyeurs of Death'. Among his other writing credits are short stories published in Cemetery Dance, Surreal Magazine, Dark Discoveries and Shadowed Realms. The Kult was optioned for film by Gharial Productions. Shooting has now finished.
Shaun's indieview about The Kult
Books
THE KULT
People are predictable. That's what makes them easy to kill.
Out of misguided loyalty, police officer Prosper Snow is goaded into helping his friends perform a copycat killing, but when the real killer comes after him, it's not only his life on the line, but his family's too. Now if he goes to his colleagues for help, he risks being arrested for murder. If he doesn't, he risks being killed.
"Shaun Jeffrey hits one out of the park with this creepy, character-driven thriller that starts with a jolt, stays in the fast lane, and plunges into the darkest territory of the human mind." –Jonathan Maberry, author of PATIENT ZERO
"Part mystery, part police procedural, part horror story, it's one thrilling ride." –Nate Kenyon, author of THE REACH and THE BONE FACTORY
"The Kult is a creeping stalk through a shadowy labyrinth of thrills and terror. Shaun Jeffrey delivers a pulse-pounding novel of superb skill and unequivocal horror." –Jon F. Merz author of PARALLAX and the Lawson Vampire novels.
Links
Amazon.com/Amazon.co.uk/Smashwords
DEADFALL
A team of mercenaries race to an abandoned mining village to rescue two children held hostage by rogue ex-soldiers. But the kidnappers are a ruse, the real threat more terrifying than any of them could imagine.
Aided by a couple of unsuspecting eco-warriors, mercenary team leader Amber Redgrave must fight to survive against foes that don't sleep and don't feel pain.
Now as the body count rises, so do the stakes, and when the dead won't stay dead, there's going to be hell to pay.
Links
Amazon.com/Amazon.co.uk/Smashwords
EVILUTION
Humankind is about to change …
Shrouded by fog for nearly two years, the picturesque village of Paradise harbours more than its share of secrets. Having won a cottage in a competition she can't remember entering, Chase Black moves to Paradise, only to discover that its beauty is skin deep – murder and madness fester in its shadows. When her travelling companion, Jane mysteriously disappears, she starts asking questions. Why are the villagers behaving so oddly? Who are the strange figures she sees lurking in the fog? As Chase becomes afraid that something terrible has happened, events escalate dangerously out of control. A virtual prisoner; too late she discovers the real reason she's there …
"A classic chiller from a talented new author." — Guy N. Smith, Author of NIGHT OF THE CRABS and THE DARK ONE
"Shaun Jeffrey's debut novel is haunting, disturbing and spooky as hell." — Tim Lebbon, Stoker Award-winning author of FACE
Links
Amazon.com/Amazon.co.uk/Smashwords
 Killers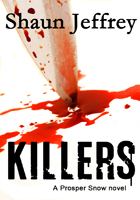 Murder makes monsters of people. Prosper Snow knows that better than most. Now he's back on the trail of another serial killer, only this time there's far more to the case than meets the eye. Thwarted at every turn, Prosper unwittingly uncovers a human experiment more monstrous than anything he could ever imagine. Now the only way to crack the case is to work from the inside and join a shadowy government agency that operates outside the law. Only he might be too late as the experiment has spiralled out of control.
Available from:
Amazon Us
Amazon UK
Smashwords