I am a recently re married mom of two little girls from Utah, (though born and raised in California) currently pregnant with my first son. I am a pagan, lover of vampires,the morbid and dark, of magic and mythology. I love fairy tale retellings. I love bats and cats and Halloween best of all.
I started writing at an early age filling binders full of poems, stories and ideas. I currently have seven manuscripts self published and am writing an eighth
My newest novel debuts November 8th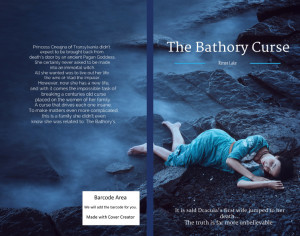 The Bathory Curse
Princess Cneajna of Transylvania didn't expect to be brought back from death's door by an ancient Pagan Goddess. She certainly never asked to be made into an immortal witch. All she wanted was to live out her life the wife of Vlad the Impaler and mother of his two sons. However, now she has a new life, and with it comes the impossible task of breaking a centuries old curse placed on the women of her family. A curse that drives each one insane. To make matters even more complicated this is a family she didn't even know she was related to: The Bathory's.
On Sale for Kindle at Amazon
Paperback at Createspace
Nook with Barnes n Noble
and Ebook with Smashwords
Dark Magic
Kalma is a witch; not a normal witch, an immortal witch, with power over death. She is also a Princess and a middle child, which causes her no end of frustration. Wanting to feel like she is doing something with her life, Kalma embarks on a journey where she must solve the mystery of missing Death Witch children. With the help of her colorful sisters and a Servant of Death, she gets more than she bargained for, and her life and the life of her people will never be the same.
http://www.amazon.com/Dark-Magic-Eternity-Witches-Book-ebook/dp/B00LOPT9YS/ref=sr_1_1?ie=UTF8&qid=1407263283&sr=8-1&keywords=renee+travis
After Realm
Hellebella is not your average teenager. She is a demon princess from the underworld. She does, however, have teenager tendencies. She is outspoken, blunt, funny and rebellious. When a final act of rebellion sends her father into a rage, he sends her off to the North American School of Paranormal Princes-sing where he hopes she can learn to become a proper young lady and do something constructive with her life. Not the only princess being sent away to the NASPP, Hellebella meets a lively bunch of girls from different paranormal kingdoms, including fairies, a vampire and shape-shifters. But not everything is light and happy at school. The girls find themselves entranced by a secret and mysterious club in another realm. There, they are forced to dance every night, and if they do not the consequences are dire. Helle, as her new friends call her, must find a way to break them free of the spell holding them hostage, figure out WHO is behind the malicious magic and struggle with her own love for her best friend's brother. Hopefully she can save them in time, before they become ghosts powerless to stop the magic from harming someone else.
http://www.amazon.com/After-Realm-Renee-Travis/dp/1468029835/ref=sr_1_3?ie=UTF8&qid=1407263283&sr=8-3&keywords=renee+travis
Princess of Death
Based on a tale from Sumerian Mythology; Ereshkigal was born in the dark, destined to have powers over death and destruction. The Princess of a land divided into light, grey and dark she will never be Queen because her parents dote on her younger sister Ishtar, who was born in the grey land. After meeting an intriguing demon prince Ereshkigal embarks on a journey where she has many adventures including a haunted plantation, almost getting attacked by zombies and defeating an evil sorceress. Ereshkigal's trials force her to grow up and help her start a revolution to free her land of darkness from the stifling oppression brought on by the grey and light.
http://www.amazon.com/Princess-Death-Three-Provinces-Volume/dp/1482733293/ref=sr_1_4?ie=UTF8&qid=1407263283&sr=8-4&keywords=renee+travis
Servant of Death
Enter another world of Sumerian Mythology. Salas, a country divided by the light, dark and grey, where magic rules and the dark isn't always a bad thing. A place currently torn in pieces by a revolution… Namtar, wielder of sickness and disease, loves living with his best friend Ereshkigal, Queen of Adura, but when she tells him she has an important mission for him he jumps at the chance to help. Crossing the dangerous ocean of Salas? Seeing treacherous and beautiful sea creatures while getting to know the lovely maiden Beletseri? He is all in, and if the mission is to save fate and destiny? Well that's just an added bonus. In this new installment of the Three Provinces Chronicles we follow Namtar's own story as it leads him away from being simply…a Servant of Death.
http://www.amazon.com/Servant-Death-Three-Provinces-Volume/dp/1492953970/ref=pd_rhf_dp_p_tnr_3
Witchy Wonderland
This is an 18 k word romantic erotic novella Alexandra spent her whole life knowing that on Yule, the year she turned 21, she would marry her childhood playmate and friend, Roland Valentine. In their coven, arranged marriages were just the way of the world and something she was afraid of and yet looking forward to. Alexandra knew Roland wasn't keen on the idea of being forced into marriage, something he makes clear on their wedding night. Despite how amazing they are together in the bedroom, Alexandra realizes she will have to fight to win his love. And she doesn't want to spend Christmas, much less the rest of her life, with someone who is convinced all they can have together is magic and great sex. Can Alexandra melt Roland's icy heart in time for Christmas? Or will she be bound to a man who will always resent her for taking away his freedom?
http://www.amazon.com/Witchy-Wonderland-Renee-Travis/dp/1484043278/ref=sr_1_11?ie=UTF8&qid=1407263283&sr=8-11&keywords=renee+travis
Rose Blossom
High school senior Rhodanthe Watson dreams of a life like any other girl her age; boyfriend, pick a good college, and find the perfect shade of lip gloss. But her reality is an overbearing and overprotective mom, and actually making it to college by surviving the heart condition she's had for years. Meeting and falling in love with Julian, a handsome and mysterious new boy at school, was never on the list, neither was finding out that he's a vampire. Being the girlfriend of a vampire has its dark side; especially when a jealous classmate decides to do something about her relationship; a move that threatens to destroy the dreams within Rhodanthe's grasp. Rhodanthe must choose between her family, the fate that's been struggling to continue beating in her chest for years and a new love that comes with a high price…immortality or death.
http://www.amazon.com/Rose-Blossom-Renee-Travis/dp/1468029509/ref=sr_1_2?ie=UTF8&qid=1407263283&sr=8-2&keywords=renee+travis