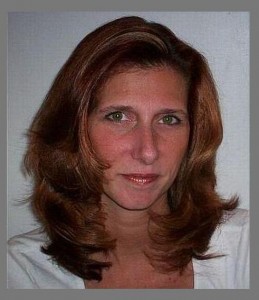 Melanie Nowak has always had a vivid imagination and a fascination for the paranormal. Acting and singing in theatrical productions throughout college and in church had also always been something she enjoyed. However, upon conceiving the idea for the Almost Human series of books, she discovered a previously unknown passion for writing! Not only can she finally put her over-active imagination to good use, but she can create characters she loves, and she gets to play all of the parts!
Upon completion of the first trilogy for her vampire series ALMOST HUMAN, the author made the decision to publish her books independently, thus maintaining complete creative control of her vision for the series. She founded WoodWitchDame Publications, published her first four novels, and plans to release many more for this exciting series!
FATAL INFATUATION, The first book of Melanie Nowak's venomous vampire series, ALMOST HUMAN, and the omnibus edition of the first trilogy of this series have both been featured in the New Title Showcase of Book Expo America in 2010 & 2011.
The author is also a founder and Vice President of The Paranormal Romance Guild; a non-profit organization for readers and authors of the genre, which promotes and encourages recognition of new indie and small press voices in literature. Visit the PRG website at:   http://www.ParanormalRomanceGuild.com
Melanie Nowak lives in New York with her loving husband, two young sons, and an ever growing collection of pets. She holds a Bachelor's Degree in Elementary Education and a Master's Degree in Library and Information Science.
Visit the author's website link below, where you can read free samples and help her vampires to spread the venom addiction!
Books: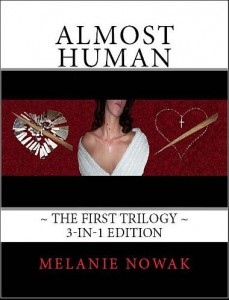 The Back Flap:
ALMOST HUMAN ~ The First Trilogy ~ 3-in-1 Edition
In this paranormal fantasy, chapters alternate perspective between a vampire and a young woman, as they join an ensemble cast of characters to navigate difficulties of addiction and desire; perils of zombies and vampires; and struggles with abuse, morality and… college.
Reviews:     Night Owl Top Pick  –  Bitten By Books  –  Vampire Romance Books
Links:     Amazon US  –  Amazon UK  –  Amazon DE  –  Smashwords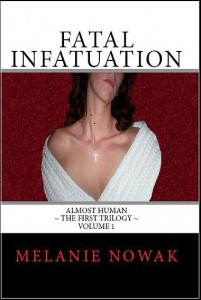 The Back Flap:
ALMOST HUMAN ~ The First Trilogy ~ Volume 1: Fatal Infatuation 
Felicity views going away to college as an opportunity to mature into a confident young woman, but her new beginning turns out to be more of an adventure than she bargains for when she finds that her school is plagued by vampires!
Cain is an elder vampire who displays quiet confidence even as he struggles to overcome sins of his past. Surprisingly, he found that in losing his life he gained his faith and a purpose.
His mission: find the hostile vampires that inhabit this small college town, and educate them to live in peace with humans. Their leader, Sindy, is a wicked temptress who has set her sights on Felicity's new friend Ben. She will be difficult to control, but after meeting Felicity, Cain's most difficult task lies in controlling himself.
Reviews:     ParanormalRomance.org  –  2Read or Not 2Read  –  Books R Us
Links:     Amazon US  –  Amazon UK  –  Amazon DE  –  Smashwords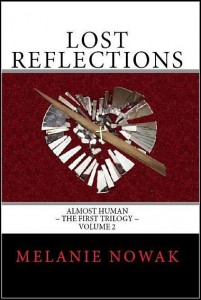 The Back Flap:
ALMOST HUMAN ~ The First Trilogy ~ Volume 2: Lost Reflections
Felicity has helped her friends to escape the venomous vixen Sindy, but cannot divine the motives of Cain, the vampire who captured first her gratitude, and then her heart.
She finds the historical account of Cain's past enthralling and frightening. Now she must determine whether the addictive venom in Cain's kiss is clouding her judgment, and if his thirst for her blood is a driving force too strong for their love to conquer.
It's difficult to contemplate such questions while under the attack of a vengeful vampire and his zombie slaves. Felicity's heart has already been lost to Cain; will she lose her life as well?
Reviews:  ParanormalRomance.org  –  2Read or Not 2Read  –  Paranormal Romance Guild
Links:     Amazon US  –  Amazon UK  –  Amazon DE  –  Smashwords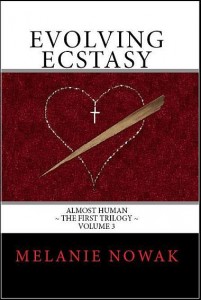 The Back Flap:
ALMOST HUMAN ~ The First Trilogy ~ Volume 3: Evolving Ecstasy
The relationship between Cain and Felicity has crested to a peak that leaves them unsure whether to step back from each other for safety, or jump into a future united in death.
Felicity is unlike any human Cain has known before. She treats him as an equal; a man worthy of friendship, respect and even… love. She embodies qualities of gentleness and loving trust that he has never found among his own kind. This makes her far more desirable to him than any creature of darkness could ever be.
The venom of Cain's bite could protect Felicity from hostile vampires, but it would give him a measure of psychic control over her as well. Would Felicity only accept becoming a vampire, due to his addictive venom, coupled with the foolishness of a young girl in love?
Perhaps there is a brighter future for her in the human world. Is Cain's desire for Felicity's love worth the loss of her life?
Reviews:     ParanormalRomance.org  –  2Read or Not 2Read  –  Once Upon a Twilight
Links:     Amazon US  –  Amazon UK  –  Amazon DE  –  Smashwords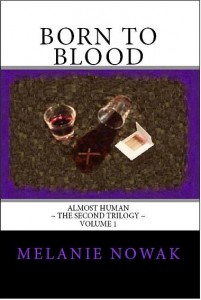 The Back Flap:
ALMOST HUMAN ~ The Second Trilogy ~ Volume 1: Born to Blood
Alyson used to think vampires were almost human; until she became one. Lovingly turned by her boyfriend Mattie, Allie has come to possess powers previously unknown among vampire kind. Now they seek the help of the elder vampire Cain, to discover not only what she is capable of, but why.
Still healing from heartbreak over Cain, Felicity looked forward to a nice, human relationship, but dating the son of a vampire hunter, and having a psychic bond with one of his prey makes life far from normal. How can she discover the truths of love when forced to live with so many secrets?
Someone has contrived a diabolical plan to control destiny, and blood may not only be the catalyst for change, but also the master of manipulation behind it. Is rebirth as a vampire always at the discretion of an undead sire, or sometimes is one simply born to blood?
Reviews:  ParanormalRomance.org  –  Good Choice Reading  –  Paranormal Romance Guild
Links:     Amazon US  –  Amazon UK  –  Amazon DE  –  Smashwords