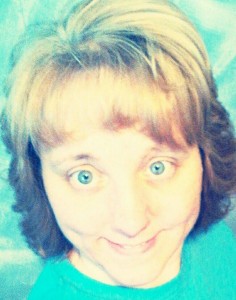 Hello. I am glad you stopped by to find out a little more about me and my work.
I live in a small town near Lake Ontario with my husband, and our four boys. It is a wonderful place to be. Sunsets on the lake are inspiring. My first love has always been my family and children. I ran my own home daycare for over 10 years, and then my husband and I dedicated ourselves to being foster parents. We fostered 15 children over 5 years. At times, we were raising as many as 8 children in our home.
I spend as much time reading as possible. I love a good romance, suspense, thriller, or mystery novel.
I am a crochet fanatic. I design my own patterns and enjoy crocheting for friends, family, and charity.
I love to cook and bake, especially when making up a new recipe.
I am addicted to the game Words With Friends.
While juggling all my boys' sporting events, academic, musical, and other extra curricular activities, and running a small home based business designing crochet afghan patterns, I try to squeeze in some time for writing each day.I am passionate about writing. I write for me. I write because I love the way it makes me feel. I write because I have stories to tell. I write because seeing what is on my mind spilling out on paper feeds my soul. I hope to contribute something readers can enjoy.
"I know who I am, I remember who I was, I dream of who I will be." ― Marie Drake
Other places you can connect with me:
My Website   My Blog   On Facebook   Twitter
I'd like to tell you about my novel, "Three Rules".
"THREE RULES" CAN BE PURCHASED IN THE FOLLOWING FORMATS: 
 Paperback    Kindle        Nook       Kobo       Lulu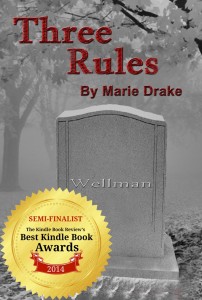 "Three Rules" is a 294 page psychological suspense thriller. 
"Three Rules" is a "Kindle Book Review, 2014 Best Kindle Book Awards Semifinalist" 
Three Rules – The Book Trailer
A Brief Description of the book:
Hope Wellman has a childhood full of horrific memories, a bone chilling recurring nightmare, and a persistent paranoid sense of being followed that she would rather keep repressed. Is evil reaching from beyond the grave to capture the tattered remnants of her soul once and for all, is it only a machination of her disturbed mind, or is there something happening more sinister than even she can imagine?
Attending the funeral of her abuser is the first step in putting her life back together as she is about to turn twenty-one. She struggles with the fact she never told anyone what happened to her, and that the grave they are mourning over is empty. She'd find it a lot easier to move on and believe in the future if he were in the box, ready to be covered with dirt. She fears the last thread of her sanity has snapped when she sees Lucas everywhere she turns, and can't escape a recurring nightmare. Is her tormentor alive, or is she imagining it? Is her dream triggered by past fears or is it a prediction of the future?
Quoted from "Three Rules"
"I have learned three rules in my life: 1.) The most dangerous people in the world are not always strangers. 2.) The scariest things imaginable are not those that can kill you, but those you can live through. And probably the most prominent: 3.) The most horrible possibility is not what could happen to you, but what you could become – I became a killer." ~Hope Wellman
A personal note about the book – I am a survivor of abuse. It changed me. I closed myself off. It changed the way I saw myself. It changed the way I thought others saw me. It changed my outlook on the whole world. It changed the way I let people treat me, and had a snowball effect on my life. I married an abusive man. I divorced an abusive man. I finally broke the cycle.
Most of all, I wanted to express how important it is to encourage the discussion of abuse. In my book, as in my life, silence is the enemy.
Three Rules was written as fiction in order to make it an enjoyable read, but, much of the thought processes, feelings and reactions are real. However, there are no gory detailed scenes. It was written with sincere respect and sensitivity for the reader while trying to convey the honest and realistic feelings of an abuse survivor.
~ Marie
Some Editorial Reviews:
5 stars "Hope's story will remain with you even after you finish reading it." – McGuffy Ann Morris at McGuffy's Reader
5 stars "One of the best thrillers I have read in a long time. I highly recommend this book." – Patty Klassen,  Goodreads reviewer
"I really enjoyed this book and would recommend it to anyone who enjoys mystery and suspense novels." – Christine Baker, Goodreads reviewer
"I was at the edge of my seat with Three Rules. I wanted to know what was going to happen but I was a little hesitant to turn the page and this is what I loved about this so much." – Pia Bernardino at So Many Books, Here's Mine
"Frightening… disturbing… edge of your seat read… fast paced… written well… interesting… thought provoking… will linger in my memory." – Beverly Sharp at The Worm Hole
"Holy cow where do I start… story line was fantastic, characters were amazing, plot unique. In the end I wished there were more pages so I could continue reading.." – Ana at The Adventures Within
"Three Rules reminded me briefly of Pretty Little Liars – wondering if the bad guy or girl was really dead. Drake kept me guessing .. reader is given glimpses of a dark journey through different characters, yet with love and hope in the future.. Drake used the correct prose to get her point across without tugging her reader through an emotional roller coaster..  If you enjoy well-written suspense that will keep you up late turning the pages, then pick up Three Rules!" – Wendy Hines at The Minding Spot
5 stars "An excellent read. I am in awe of the authors handling of such serious and sensitive subject matter. Well done!" ~ Melody, Goodreads Reviewer
5 stars  "If you didn't like this book, seek the counselors you need!" ~ A. Stone, Kindle Notes

ADD "THREE RULES" TO YOUR GOODREADS SHELF