A Sudden gust of gravity
"…a multifaceted story with interesting and well-rounded main characters and even more interesting backstory characters. Laurie Boris has written a novel with a healthy balance of intrigue, conflict, relationships, and romance. Highly recommended." – Amazon reviewer
"An entertaining mix of intrigue and romance. A well-written tale with a magical feel as well as a magical plot line. This is a story of second chances, an uplifting look about not settling for less than you deserve. I found this to be uplifting and delightfully endearing. Moved me and had me charmed." — Brenda Perlin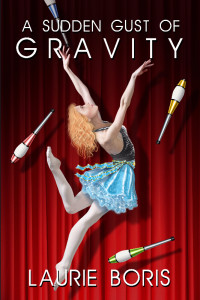 Contemporary romance, psychological romantic suspense
Christina Davenport, waitressing to pay the bills, has abandoned her childhood dream of becoming a magician–until she meets the mesmerizing Reynaldo the Magnificent. He hires her as his assistant for his magic and juggling show; she hopes she can play the role without cutting his giant ego in half.
Devon Park, a surgical resident, is escaping his own problems when he visits the street performers in downtown Boston. But the young doctor worries that the bruises beneath Christina's makeup go deeper than the training accident she professes.
Convinced the doctor's interest is more than clinical, the mercurial magician attempts to tighten his grip on Christina. Now she needs to decide–is the opportunity Reynaldo offers worth the price of admission?
————————————–
PLAYING CHARLIE COOL
"Boris sets her latest comedy of manners, errors, and unmannerly errors in Manhattan's political and media circles. Joshua Goldberg just came out and quit his political job. His beloved, TV producer Charlie Trager, is eager for their real lives to begin. They'll have to hurdle more than a few excruciating barriers first in this funny, touching tale, third of Boris's linked Trager novels." – Chronogram
"There is a beautiful sweetness in the writing of Laurie Boris. Her characters are imbued with a deep down goodness that's endearing to read. They don't always do the best things or the easiest things but deep inside what we see of them there's true pain and true joy and a human emotion where they leap from the page." – Rabid Readers Reviews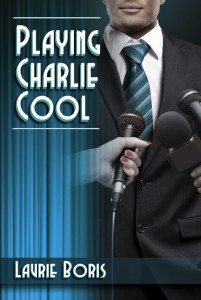 Contemporary romance, gay fiction
Television producer Charlie Trager knows he's lucky to have a successful career and good friends and family who support him. The man he loves, however, is not so lucky. Joshua Goldberg suffers the spite of an ex-wife gunning to keep him from their two children…and maybe Charlie. Determined not to let Joshua go, Charlie crafts a scheme that could remove the obstacles to their relationship…or destroy their love forever. (Note: May be read as a stand-alone story.)
E-book and softcover available from Amazon.com
————————————–
THE PICTURE OF COOL
"When reading a book about people and seminal moments, the characters have to be believable. They need to feel real and not as though they are forced into a moment for the sake of a story. Boris did everything right in The Picture of Cool. The characters are real and in situations easily imagined. The pain Charlie feels as he pines for Adam is something that any person can relate to. Their relationship is gradual and sweet.
"It doesn't matter that the main characters are gay, anyone should be able to enjoy this book. Boris leaves a note at the end stating she intends to make these characters part of a longer book, and one I fully intend to read. I actually wanted to learn more about the characters, including some of the supporting cast. The Picture of Cool is an easy, smooth read where the reader is pulled into the lovely story."   – Susan Lulgjuraj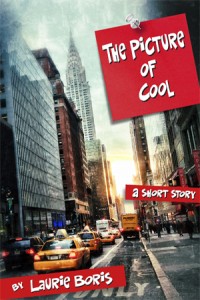 Contemporary romance, short stories, gay fiction
Book trailer
Television producer Charlie Trager spends his days working with beautiful women on a daytime talk show. But underneath his cool façade, there's a hollow spot in his heart, waiting for the right man to ease his loneliness. Then he meets the show's next guest, a handsome young politician with a bad case of nerves—and a secret that could turn both their lives upside down. (Short novella: 14,000 words)
————————————–
SlIDING PAST VERTICAL
"Once again, Laurie throws every last drop of emotion and credibility into her characters. What emerge are people, not characters. They're real. You want to reach out to them and say `No! Please! Don't do that!' You feel you know them, you care about them, and want to help them. It's an intense novel that sucks you in from the start and doesn't let you go until the final word. Excellent."  – Cath 'n' Kindle Book Reviews
Literary Fiction, Women's Fiction, Romance
Book Trailer
Sarah Cohen is a walking disaster. She means well, but the ex-diver's hasty decisions wreak havoc on her life in Boston. Good thing Emerson is a phone call away in Syracuse, with a metaphorical mop to clean up the mess. Their long-distance friendship can be excruciating for him, though. Years after they shared a brief college romance, he's still in love with her. When everything goes wrong, Sarah takes another plunge: back to the scene of her last mistake, to start fresh. Unfortunately for Emerson, the move puts her too close for comfort. Her attempts to straighten her life's trajectory are sometimes amusing and sometimes catastrophic. With Sarah around, is anyone safe?
E-book and softcover available from Amazon.com.

————————————–
DON'T TELL ANYONE
"Boris did a fantastic job tackling these tough subjects with tenderness, some humor and believable characters. The characters are all well-developed so that you can see each one's side in the situation and how they came to their beliefs. Liza is very real and likeable. I felt for her, being thrust into the role of caretaker of a woman who didn't treat her all that well. The writing flowed and was well paced. If you are looking for an emotional family drama with depth I highly recommend this book."  – Kate Farrell, The Kindle Book Review
"…a touching story that deals with family issues that most of us would rather avoid… What sets this book apart is that the reader feels taken in by this family and joins in the struggles and conflicts. Ms. Boris has carefully crafted a story with unexpected twists, with familial confrontation, and most of all, with love."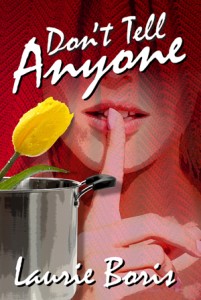 Contemporary Fiction
Book Trailer
Liza's mother-in-law once called her a godless hippie raised by wolves. Now, after five years of marriage to her elder son, five years of disapproval and spite, the family accidentally learns that Estelle has a fatal illness. And Estelle comes to her with an impossible request. A horrified Liza refuses but keeps the question from her husband and his brother. As the three children urge Estelle to consider treatment, their complicated weave of family secrets and lies begins to unravel. Can they hold their own lives together long enough to help Estelle with hers?
(Reader note: Although it's Book Two in the Trager Family Secrets Series, Don't Tell Anyone is a stand-alone story.)
E-book and softcover available from Amazon.com.
————————————–
DRAWING BREATH
"Not often do you find a coming-of-age story that takes you by surprise. Drawing Breath by Laurie Boris does just that. With her delicate, thoughtful prose, Boris weaves a world of discovery, love and illness that is both heartbreaking and full of depth….a fantastic book from beginning to end." – Katie French, Underground Book Reviews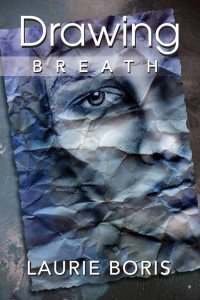 Contemporary Fiction
Art teacher Daniel Benedetto has cystic fibrosis. At thirty-four, he's already outlived his doctor's "expiration date," but that doesn't stop him from giving all he can to his students and his work. When he takes on Caitlin, his landlady's daughter, as a private student, the budding teen painter watches in torment as other people, especially women, treat Daniel like a freak because of his condition. To Caitlin, Daniel is not a disease, not someone to pity or take care of but someone to care for, a friend, and her first real crush. Convinced one of those women is about to hurt him, Caitlin makes one very bad decision.
E-book available from Amazon. Softcover from Amazon.
 ————————————–
The Joke's on Me
"Author Laurie Boris has provided her story's narrator with wry, insightful observations that punctuate every scene — some of it sentimental, some indignant, all self-effacing — adding up to a highly readable debut novel." – Fran Wood, Books Editor, The Star-Ledger "In this endearing debut novel, a California refugee in crisis returns to Woodstock to find the family home where her mother once ran a respectable inn infested by nude yoginis. Worse yet, true love lurks. Boris's long strange trip to the home front is moving and fun." – Chronogram Magazine

Contemporary Fiction
Book Trailer
When a mudslide plummets her hopes, her home, and her entire collection of impractical footwear into the Pacific, former actress and stand-up comic Frankie Goldberg takes the only possession she has left – a cherry red Corvette convertible – and drives east to her family's bed and breakfast in Woodstock, New York. This begins a journey into the family she left behind, the family she joked about in her act. But the joke's on Frankie. While she was doing impressions of her slightly menopausal Jewish mother and her sister the serial divorcee, her family was slowly leaving her. And maybe that joke is just too new to be funny. Travel along with fearless Frankie as she puzzles through that eternal dilemma of coming back home to find that nothing is where you left it.
From 4RV Publishing, also available at Amazon.com, B&N.com, or order from your favorite bookstore.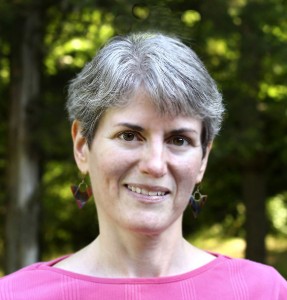 ABOUT ME:
Hello! In addition to writing a bunch of novels, I'm an editor, proofreader, and former graphic designer. When not playing with the universe of imaginary people in my head, I enjoy baseball, cooking, reading, and helping aspiring novelists as a contributing writer and editor for IndiesUnlimited.com. I live in New York's Hudson Valley. I enjoy hearing from readers and other authors.
You can contact me here: