Kristie Leigh Maguire was an Indie Author before Indie was cool!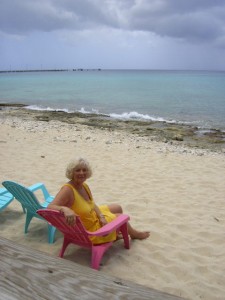 Bio
Kristie Leigh Maguire is an award-winning Indie Author. She writes romance from sweet to spicy. Pick your flavor!
The Affaire de Coeur Magazine named Kristie as Best Up and Coming Romance Author of the Year and her book Desert Heat (paperback edition) as Romance of the Year in the 2004 Reader/Writer Poll. Her novels Cabin Fever (paperback edition) and No Lady and Her Tramp (paperback edition) placed in the Top Ten in the Preditor & Editor's Poll in 2005.
Kristie and her husband have lived all over the United States and many foreign countries while following his career. While living in Japan in 1997, she found it very difficult to find books to read that were written in English. This situation was intolerable as she was an avid reader and had been known to resort to reading cereal boxes if nothing else was available. Have you ever tried to read a cereal box written in Japanese? It was not a pretty picture. Ms. Maguire began writing her own books just to have something to read. She discovered a new passion in writing.
Although Kristie is originally from the South and will always remain Southern at heart, she and her husband now divide their time between their homes in Nevada and the U.S. Virgin Islands. During her expatriate years she lived in St. Croix, Aruba, Thailand, Japan and three times in Saudi Arabia as well as visiting many other countries.
Books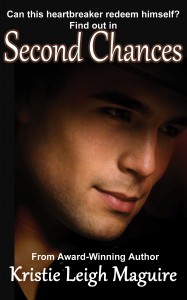 Jane Porter's dreams of marrying Mike Farley, the handsome cowboy who lives on the neighboring ranch, are shattered when Mike suddenly marries a redheaded stranger he met at the Wild Horse Saloon in Casper, Wyoming. After Mike stomped all over Jane's heart with his cowboy boots, can Jane ever trust her heart to a man again?
Mike Farley marries beautiful Samantha Jo Smith after a whirlwind courtship with no thought to Jane Porter, his childhood sweetheart and the woman everyone in Fremont County thought he would marry one day. Mike soon learns to regret his hasty marriage to Samantha. Can Mike win back Jane's heart even though he had shattered it into a million pieces?
Longtime friends and neighbors Jim Porter and Liz Farley turn to each other for support after the unexpected death of their spouses. Will Jim and Liz's friendship turn into something deeper even though they both feel they have had, and lost, their chance at love?
Is it ever too late for love? Is it ever too late for second chances?
Set in rural Wyoming, Second Chances is a sweet contemporary western romance that will warm your heart. One reader stated, "I read it through in an evening, and felt as if I had spent that evening with 'salt of the earth' folk." Another reader said, "I loved the double, no triple, second chance. It was a very sweet ending."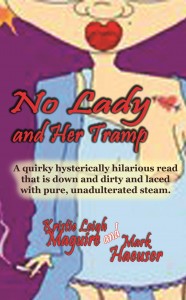 Top Ten – Preditors & Editors Poll
One Amazon reviewer of No Lady and Her Tramp stated, "If you like a book filled with sex (Linda Lovelace would have a 'hard' time keeping up), revenge, espionage (trailer park style), gossip (move over Barbara Eden-Harper Valley), feuding neighbors (yeah, Hatfields and McCoys), I guarantee, you will not be disappointed."
No Lady and Her Tramp will have you rolling in the aisles as you follow the exploits of the residents of President Park, the trailer park to top all trailer parks. When Beth Ann Dixon buys herself a computer and decides to write a steamy erotic novel, her husband, Billy Ray, can't do much of anything right, not even shoot a gun. Janet Higgins is the resident Peeping Tom – and Troy Finkmyer is the guy we all love to hate. Everybody gets into the act and there are showdowns all over Grapevine – Grapevine, Kentucky that is. Shirley Snodgrass is the local gossip columnist for the Grapevine Gazette and records it all in her column, 'I Heard It Through the Grapevine'.
These two authors, Kristie Leigh Maguire and Mark Haeuser, by putting their talents together, have written a very funny book laced with pure, unadulterated steam.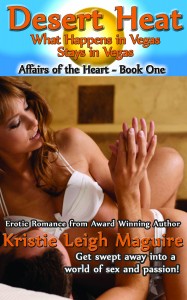 Romance of the Year (Affaire de Coeur Magazine)
Affairs of the Heart Book One
Do you like your romance novels hot, steamy, and ultra-sensual? Do you yearn for something different, something special, something you've only dared live in your wildest fantasies?
Are you ready?
…for a writer who can elicit feelings of exquisite passion with words that slither over your moistened lips and curl themselves around your tongue?
…for an author whose love scenes sizzle with sexy, scintillating, scandalous emotions that will heat your brain to the boiling point and set your body on fire?
Are you ready?
…to meet an author who is capable of taking you to places you've never been before?
…to take a step above the average, and enter Kristie Leigh Maguire's realm of fiery intimacy: the exotic, erotic, delicious, capricious world of your ultimate fantasies?
Are you ready?
…to read Desert Heat: What Happens in Vegas Stays in Vegas, the first novel in the ultra-sensual Affairs of the Heart series by Kristie Leigh Maguire?
Kristie Leigh Maguire presents the ultimate in ultra-sensual modern day romance. She takes you "beyond the kiss" without crossing that tenuous line between eroticism and vulgarity. Her characters are real every day, ordinary people, not impossibly created heroes and heroines who could only be real in the pages of your average romance novel.
Don't expect the typical romance story with this novel. There are no shrinking violets or shy maiden virgins who long to be taken against their will in Desert Heat.
Marcie and Steve have a long-time and mutually satisfying marriage. However, when career changes force them to move from a metropolitan city in Texas to a small crossroads town in the Mojave Desert in Southern California, a surprise is in store for them that neither Marcie nor Steve could have ever anticipated in a million years. Marcie commits the unthinkable. She falls in love with her handsome new boss, Jim. How will Marcie handle being in love with both Steve and Jim? Will this be the end of Marcie's marriage to Steve, the guy who has been by her through thick and thin?
Read Desert Heat and get swept away to another world. Come visit the desert where it is always hot, hot, hot! Live with Marcie, Steve and Jim as they explore the shades of difference between love, sex and friendship. You may never view love or the desert through the same eyes again!
Continue Marcie's story in Cabin Fever: And the Flames Burned Higher (Affairs of the Heart Book Two).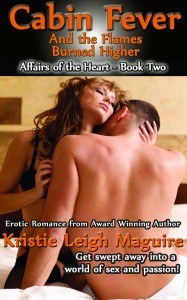 Top Ten – Preditors & Editors Poll
Affairs of the Heart Book Two
The beautiful and sexy Marcie Treyhorne is a steel magnolia who knows what she wants and isn't afraid to go after it. Marcie's story began in DESERT HEAT. Her saga continues in CABIN FEVER. Marcie leaves the blistering heat of the desert but the searing passion she carries to the northern Nevada mountains will melt the deepest of winter snows. Author Janet Elaine Smith states, "…the ending is a twist that will hit you like a runaway train! You won't want to miss this one!"
"Renamed the 'Diva of Romance' by her fans, Kristie Leigh Maguire writes with a style and flair often copied but rarely duplicated. Her ability to capture the pure animal heat in her characters takes the reader to a realm of surreal pleasure rarely found in today's writing." – Mark Haeuser