Historical and Paranormal Novels

Dark Night of the Moon
Available here for $2.99
Kindle: http://amzn.to/His0b4
Nook: http://bit.ly/LxpGKh
Dark Night of the Moon, a paranormal wolf shifter, is the sequel to Holding on to Heaven.
Creed Gatlin flees to Arizona intent on eradicating the haunting memories of his brother's wife. Brand Gatlin, presumed dead, resurfaces after a long absence and with his re-emergence, the destinies of those he loves are altered forever.
In a land rife with war and danger, Sage must travel to the village of her husband's People. There, she is reunited with Crooked Back, the ancient healer. On the long trek back to Full Circle, devious plots are underfoot and peril lurks around every corner for Sage, Lauren and Peter Pa.
Dark Night of the Moon will take you on an unforgettable journey of war, violence, overwhelming grief, and finally, love.
Watch The Video:

* * *
Decadent Deceptions
Available Here for $2.99
Nook:  http://bit.ly/Kd6NC1
Kindle: http://amzn.to/LKnUJM
25+ FIVE-STAR Reviews
RWA Molly Contest Finalist
Desperate to win Morgan's love, Olivia Breedlove embarks on a reckless folly of cat and mouse. Morgan stays one step ahead of the woman he's loved for years, more so when he discovers the road Olivia travels is strewn with duplicity and murder.
A decade ago, Morgan was a heartbeat away from taking Olivia's virginity. Her father, Thaddeus, intervened and threatened to meet him over pistols if he ever looked at his daughter again.
Thaddeus is dead now, and Morgan will not ignore the ravenous hunger he's harbored for the woman. One way or the other, he will quench this burning desire and make Olivia his forever.
Special Content Alert: Voyuerism
Watch The Video:

* * *
Dust and Moonlight
Erotic Romance/Fantasy/Time Travel
Available Here for $1.99
Kindle: http://amzn.to/HUGUE2
Nook: http://bit.ly/NAOTrv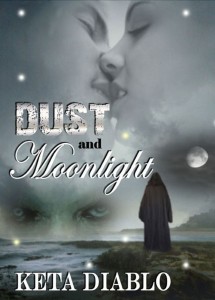 Balion, Prince of Locke Cress, waited a long time for the forest nymph with lavender eyes to come to him. The dreams told him it was just a matter of time, but he didn't know he'd lose his heart to the strange creature from another world.
After the serial killer attacks Kira, she awakens in a strange land. Now, she's running for her life from wild boars, wizards, and sorcerers, not to mention a Prince that makes her body melt in all the wrong places. Facing extraordinary circumstances as the evil plots unfold, Kira fights for her life, and for a love that neither time nor distance can ever dispel from her soul.
* * *
Holding On To Heaven
Western Historical/Erotic Romance
Available Here for $2.99
Kindle: http://amzn.to/I2WPzl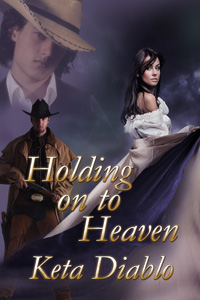 Brothers in love with the same woman—one the father to her child, the other her husband. An epic historical spanning two generations.
Civil War has crumbled a nation, and the Dakota Sioux are on the warpath. While the blazing fires of revolt ravage the countryside, twins, Lauren and Sage McCain are ensnared amid the flames of destiny.
A story of family betrayal, heart-stopping danger, and passionate love, a love that crosses all boundaries and forges all cultures.
Watch The Video

* * *
Land of Falling Stars
Available here for $2.99
Kindle: http://amzn.to/HiKzrd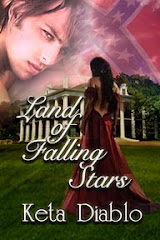 After her parents die in a fire, Sophia Whitfield struggles to save her beloved home, Arbor Rose. The Civil War has devastated the South, and another blue coat has come to steal her meager possessions. Before the hated enemy inflicts his destruction, she shoots him. And soon discovers the soldier is Gavin, the champion of her childhood.
Gavin's dark secret lurks in Sophia's future. When she discovers the truth, she's torn between a burning hunger for the man she truly loves and loyalty to Jesse, their childhood friend. The despicable acts of war have changed everything Sophia and Gavin once cherished. Yet somewhere deep in their hearts, the mystical Land of Falling Stars still exists.
Watch the Video Trailer:

* * *
Sojourn With A Stranger
Available Here for $2.99
Kindle: http://amzn.to/I0tYJK
Nook: http://bit.ly/KicQAa
Penniless when she arrives in Norfolk, her mother and father drowned at sea, Raine Brinsley longs to return home to her grandfather in Maine. When Derek Stafford, owner of an affluent manor, offers a solution to her dilemma, Raine is stunned. And outraged. She agrees to fulfill the contract to bear his child, and vows to dispel every memory of the cad from her mind. Will her traitorous heart listen?
Derek's only goal in life is to father an heir for Stafford House to secure his future. But the exquisite Scottish lass arrives at the manor and interferes with his best-laid plans, and his heart. After one night in her arms, guilt, and the loss of his soul become his penance. He'll do anything to win her love, anything to quench his tormenting hunger.
Watch the Video Trailer
* * *
Where The Rain Is Made
Available Here for $2.99
Kindle: http://amzn.to/IbhDnG
Nook: http://bit.ly/JlBFPa

35+ Five-Star Reviews
Nominated for Bookie Award by Authors After Dark.
Nominated for Best Romance of the Year by Deep In The Heart of Romance.
A decadent-looking savage has captured Francesca DuVall and her brother Marsh. Now she spends every waking moment planning an escape from the camp of the brutal Dog Soldiers.
Ethan Gray is a curator at a national museum . . . until he travels through time to help his beloved People. In the Cheyenne world he's known as Meko, leader of the most revered tribe of the plains.
Cultures and hearts battle, violence and death haunt the road ahead, but when kindred souls collide, anything is possible. From the windswept plains of Colorado to the placid life of a curator, their love is fueled by passion and kindled by destiny.
Watch the Video Trailer:

* * *
If you'd like to know more about Keta and her books, please follow her ROMANCE blog here: http://ketaskeep.blogspot.com
Or on Twitter here: http://www.twitter.com/ketadiablo