The Bibliophiles
"A series about a book club with each book centered around a different member? Genius!" — Kritter's Ramblings book review blog
"No one got one single thing out of me for two-and-a-half days because I could not get my nose out of the books." — Empty Nest blog
"Berner has a talent with prose that flows smoothly and puts the reader right where they belong, inside the character's head." — BigAl's Books and Pals
Karen Wojcik Berner writes contemporary fiction with a sprinkling of the classics. Her Bibliophiles series explores the lives of fictional American suburban book club members. The first, A Whisper to a Scream, centers on Sarah, a stay-at-home mother of two, and Annie, a PR executive with fertility issues, each of whom thinks the other's life is far superior to her own. Until My Soul Gets It Right chronicles Catherine Elbert's journey as she bounces from coast to coast in search of her true self.
Unlike most series that follow one character through various adventures, each Bibliophiles novel focuses on one or two members of a fictional suburban classics book club, revealing their personal stories while the group explores tales spun by the masters.
Karen grew up on the outskirts of Chicago. After graduating from Dominican University with degrees in English with a writing concentration and communications, she has worked as a magazine editor, public relations coordinator, and freelance writer. A two-time "Folio Magazine" Ozzie Award for Excellence in Magazine Editorial and Design winner, her work has appeared in countless newspapers and magazines. She lives in the Chicago suburbs with her family.  To learn more about Karen, please visit her website, www.karenberner.com.
Books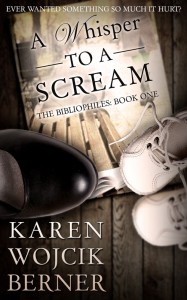 "The eternal struggle of the harried American woman is analyzed here, with surprising adeptness and compassion… fearless truthfulness…" — Publishers Weekly
"Some books you read, put down, and forget all about, but I promise you this won't be one of them." — Kindle Fire Department
"I could easily imagine I was reading non-fiction, so well drawn were the characters in the book." — The Book Dilettante
Ever wanted something so much it hurt? When Annie, recently diagnosed with unexplained infertility, and Sarah, a stay-at-home mom, meet through a Classics Book Club, each thinks the other one's life is so much better than her own. But is the grass truly greener on the other side of the fence?
A Whisper to a Scream is available at Amazon, Barnes & Noble, iTunes, Smashwords, and Kobo.
"Karen Wojcik Berner's Until My Soul Gets It Right continues her fantastic Bibliophiles series with another enchanting story full of unforgettable characters. A perfect book for a book club discussion or simply an enjoyable day of reading!" — Kindle Fire Department
"I read it entirely in one day, I just couldn't put it down! Catherine Elbert inspires you to go out and do the things you want to do." — Goodreads review
"This excellent addition to the series will endear readers to the Bibliophiles indefinitely!" — Lovey Dovey Books blog
From the author of A Whisper to a Scream comes a story about growing up, making peace with your past, and finding a little love along the way.
In her first novel, Karen Wojcik Berner introduced book club members Sarah and Annie. Now, it's time for another bibliophile to take center stage.
Catherine Elbert has never been good at making decisions, whether it was choosing an ice cream flavor as a small child, or figuring out what she wanted to be when she grew up. The only thing Catherine knew for sure was there had to be more to life than being stuck on her family's farm in Wisconsin.
While watching a PBS travel show, Catherine becomes entranced by Portland, Maine. The ocean. The lobsters. The rugged coast. Nothing could be more different from the flat, nondescript farmlands of Burkesville. Despite her parents threatening to disown her and her brothers taking bets on how many days until she comes home, Catherine settles on Peaks Island, off the coast of Portland.
She was finally free.
Or so she thought.
2013 Readers' Choice Award Nominee: BigAl's Books & Pals
Until My Soul Gets It Right is available at Amazon, Barnes & Noble, iTunes, Smashwords, and Kobo.
Digital Holiday Short Story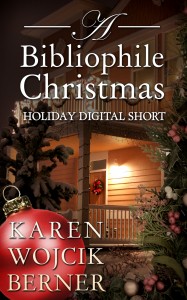 "It was such a treat to get to spend time with Sarah and the gang from the Bibliophiles series. Ms. Berner crafted a charming holiday tale with just the right amount of dramatic trimmings. I love her writing. It is creative, clear, and conjures magical scenes that are so much fun to read that I find myself re-reading them just for the enjoyment of it. Wonderful!" — Leah Griffith, author of Cosette's Tribe and winner of the Laine Cunningham New Novel Award.
"At turns funny, frustrating (at least for the characters), and touching, A Bibliophile Christmas is a fun read that will be appreciated by fans of Berner's series or anyone looking to get into the holiday spirit." — BigAl's Books & Pals
"Great book to put you in the Christmas spirit. I am now on a mission to read more of Berner's books." — Amazon reviewer
Sarah Anderson and Annie Jacobs have not had the best of years. And now, here come the holidays.
Great.
Sarah's husband Tom is stuck in Boston after a nor'easter dumps a foot of snow on the day he is scheduled to leave for home. And Annie is working hard at picking up the pieces of her life after a painful divorce. But, maybe with a little help from their friends, Christmas won't be a total wash after all.
This holiday season, take a break from all the hustle and bustle, pour yourself a beverage, and have A Bibliophile Christmas.
This digital short story is available at Amazon, Barnes & Noble, iTunes, Smashwords, and Kobo.
Note
I've been a Bibliophile for as long as I can remember.  Please join me over at Goodreads where we can talk about our favorite books or on Facebook where we have a great community of fellow Bibliophiles. My blog, Bibliophilic Blather, is about literature of all sorts, from Shakespeare to Maeve Binchy, from Jane Austen to Neil Gaiman. I'm also on Twitter and Google+.  Hope to see you there. All the Best, Karen.