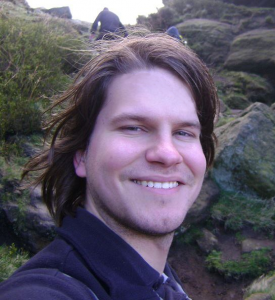 Jonathan-David Jackson was born in Gastonia, North Carolina, at 3 in the morning. At first, he could not walk, talk, or indeed use the toilet. After a year of intensive training in NC, he moved his family to Kingsport, Tennessee, where he finally began to overcome those early disabilities. After twenty-four years, he was walking and talking as good as anyone, and perhaps better.
He decided to demonstrate his new skills by writing the Paranoia trilogy. The Quest for Juice is the first book in the trilogy and is available on Amazon as a paperback ($9) or ebook ($3).
The Quest for Juice is the hilariously dark story of Oscar, who has always lived a life of quiet paranoia, but now finds that everything is changing. Suddenly, the bus is frequently late, his housekeys won't fit in the lock, and someone has taken his juice, which was the one thing holding his life together.
He decides to strike back and uncover the conspiracy behind it all, but when he strikes too hard an innocent man ends up dead, and Oscar ends up in jail. Diagnosed as a paranoid schizophrenic and facing life in a mental institution, he has to make hard decisions about medication, trusting his own mind, and if that hedgehog can actually talk.
Praise for The Quest for Juice:
"The Quest for Juice is a truly captivating, intriguing book with such brilliant writing that had me hooked from the first pages."
– Stephanie Forster, Stepping Outside the Page
"I found myself laughing aloud many a time. … I highly recommend it to people who like stories where reality and perception clash in interesting ways. This story kept me guessing and second guessing."
– Patricia Hamill, I Read Too Much
"If you're looking for a literary change of pace, Jonathan-David Jackson has written just the thing for you!"
– Indie Book Designs
"There's an effortless style to him that makes him infinitely readable. … This is the kind of title I can imagine gaining cult status."
– ZMarkham.com