"The world can certainly use some more authentic, original work like [Jess C Scott's], rather than the same old re-packaged mass-market pulp."
— Bibrary.com, October 2010
"Ever since I came across Jess C Scott's teenage blog novel, EyeLeash, I've known that some very talented writers will emerge from the epublishing revolution."
— Joseph Grinton / October 2011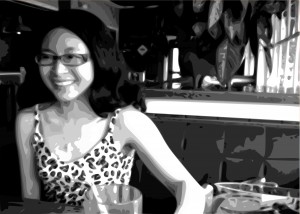 BIO:
Jess C Scott is an independent author/artist/non-conformist who's dedicated to writing original stories that are both meaningful and entertaining.
Jess's titles include the teenage memoir EyeLeash: A Blog Novel, the 4:Play and Primal Scream anthologies, Trouble (poetry collection), The Intern (Book #1 in a YA "seven deadly sins" series), and The Other Side of Life (Book #1 in The Cyberpunk Elven Trilogy). All of her book covers are self-designed.
She thanks you for your support of indie authors. Be sure to check out SKINS, a freebie on her website (a short story mini collection for animal lovers)!
Website: www.jessINK.com
Social Media: Facebook | Twitter | Blog
PRESS CLIPPINGS:
Indie Reads | Indie Spotlight | Indie Books Blog
Two Ends of the Pen | Word Riot | jessINK Media Kit
BOOKS:
The Other Side of Life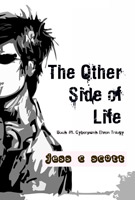 Anya and Leticia are partners-in-crime who steal for a living. Their world turns upside down after a chance encounter with fellow rogue, Ithilnin—the enigmatic leader of an Elven band of thieves.
A scuffle to prove who's "the better thief" transforms into more than Anya and Ithilnin ever bargained for. They retrieve the missing piece of an ancient poem, before getting caught in the secret dealings of a megacorporation. What they uncover threatens to alter the very essence of not just human life, but the other side as well.
Elven intrigue, cyberpunk action, and a deadly dose of danger come together in The Other Side of Life [Book #1 in the (Cyberpunk) Elven Trilogy].
GENRE: Urban Fantasy / Cyberpunk / YA with adult crossover appeal
REVIEWS: Flying With Red Haircrow | Murphy's Library
LINKS:
Amazon US | Amazon UK | Barnes & Noble | Smashwords
jessINK Website
EyeLeash: A Blog Novel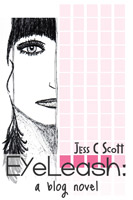 Jade Ashton is a sassy virgin. In her private blog, she vents about "fitting in" a world where superficiality reigns supreme.
Suddenly all logic flies out the window when she meets Novan: the former geek, who's morphed into a delicious songwriter-musician.
They decide to be "friends-with-benefits." But it's Novan, with his poems and riddling passages on his own blog — which *isn't private* — that backs out.
EyeLeash captures self-discovery in the 2000s, and showcases the colorful, intricate drama in two youths' relentless search for themselves — and what's really in their hearts.
GENRE: New Media / Popular Culture / Teenage Memoir / Coming of Age / Dating & Sex
REVIEWS: KindleObsessed
LINKS:
Amazon US | Amazon UK | Barnes & Noble | Smashwords
jessINK Website
The Devilin Fey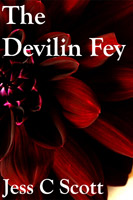 * NOTE: Jess's brand of "paranormal romance" tends to be more complex/spiritual > commercial (lots of ground to cover!). The focus is on the story, not romantic/erotic fluff.
A novella of two stories, featuring an incubus and succubus.
Story #1 (The Devilin Fey) features a demure young woman unleashing the "devil in" her, through the intimacy with an incubus.
Story #2 (Tongue-Tied) features a voyeuristic succubus driven by jealousy and a dangerous fixation.
REVIEWS: KindleObsessed
LINKS:
Amazon US | Amazon UK | Barnes & Noble | Smashwords
jessINK Website
4:Play–A Contemporary Cocktail of Erotic Short Stories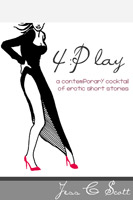 * NOTE: Jess's style of contemporary/erotic fiction focuses on psychosexual themes; erotic literature has nothing to do with explicitness (which differentiates it from pornography). For more info, please view this article/disclaimer on her website.
4:Play captures the deliciousness of sexual fulfillment, the adventure of conquest, and the mystery of unexplored territory.
Among these progressive stories, a step-brother and step-sister try to make sense of the sexual love they share; a demure young woman encounters an incubus; and two friends strike up a stimulating discussion that acts as the perfect aphrodisiac.
With a scope and style that is fresh and compelling, 4:Play dives into the depths of navigating gender, sexuality, and the lines of desire.
GENRE: Erotic Fiction / Short Stories
REVIEWS: Alternative-Read.com
LINKS:
Amazon US | Amazon UK | Barnes & Noble | Smashwords
jessINK Website