"The world can certainly use some more authentic, original work like [Jess C Scott's], rather than the same old re-packaged mass-market pulp."
— Bibrary.com
"Bold, fearless and always original, Jess C Scott dares to bring to light some of our darkest fantasies."
— The Arts House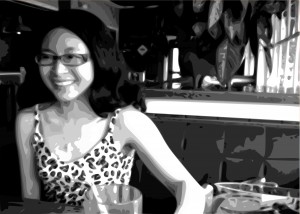 BIO:
Jess is an author / artist / non-conformist who loves original stories and seeking the truth. Her book The Intern was a Reviewer Top Pick at Night Owl Reviews (2011), and her psychological thriller Playmates received a Readers' Favorite Five Star Award (2014).
She is the founder of jessINK, a publishing company dedicated towards creating meaningful entertainment.
Jess's earlier titles include the teenage memoir EyeLeash: A Blog Novel, the 4:Play and Primal Scream anthologies, and The Other Side of Life (Book #1 in The Cyberpunk Elven Trilogy). All of her book covers are self-designed.
She thanks you for your support of indie authors.
Website: www.jessINK.com
Social Media: Facebook | Twitter | Blog
PRESS CLIPPINGS:
BOOKS:
Playmates (Book 1 in The Wilde Twins; 2014)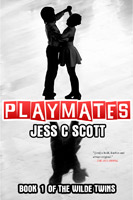 As kids, Tania and Trevor's unsupervised play time offers a lifeline to sanity amidst the chaos of family dysfunction. When danger threatens Tania, Trevor isn't willing to stand by and watch his sister get hurt. The instinct for survival is only rivaled by the killer instincts the Wilde siblings encourage in each other. Instincts that turn into a deadly game igniting their first taste for blood.
Book #1 in The Wilde Twins — a psychological thriller about an "evil twins" brother-sister serial killing team, and their slow descent into amoral mayhem.
GENRE: Psychological Thriller
LINKS:
Amazon US | Amazon UK | Barnes & Noble | Smashwords
jessINK Website
The Art of Erotic Writing (2012)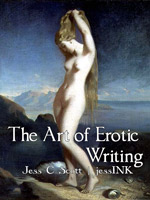 Jess talks about (quality) 'erotic fiction', which deals openly and excitingly with sexuality as a part of human experience.
NOTE: Some material is 18+.
LINK: jessINK Website
Teen Guide to Sex and Relationships (2012)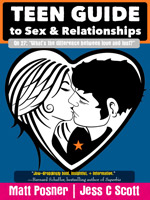 A book that answers the important and confusing questions young people have about their bodies and their hearts. It's an advice book from two authors who care about young people and want to help them work through the tough issues that will be on their minds as they move through an emotionally complex time of their lives.
Co-authored by Matt Posner and Jess C Scott.
GENRE: Teen Health/Sexuality (Non-Fiction)
LINKS:
Amazon US | Amazon UK | Barnes & Noble | Smashwords
jessINK Website
The Other Side of Life (2011)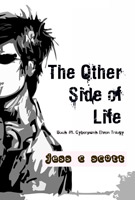 Anya and Leticia are partners-in-crime who steal for a living. Their world turns upside down after a chance encounter with fellow rogue, Ithilnin—the enigmatic leader of an Elven band of thieves.
A scuffle to prove who's "the better thief" transforms into more than Anya and Ithilnin ever bargained for. They retrieve the missing piece of an ancient poem, before getting caught in the secret dealings of a megacorporation. What they uncover threatens to alter the very essence of not just human life, but the other side as well.
Elven intrigue, cyberpunk action, and a deadly dose of danger come together in The Other Side of Life [Book #1 in the (Cyberpunk) Elven Trilogy].
GENRE: Urban Fantasy / Cyberpunk / YA with adult crossover appeal
LINKS:
Amazon US | Amazon UK | Barnes & Noble | Smashwords
jessINK Website
EyeLeash: A Blog Novel (2009)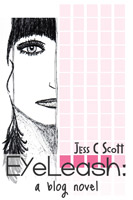 EyeLeash captures self-discovery in the 2000s, and showcases the colorful, intricate drama in two youths' relentless search for themselves — and what's really in their hearts.
GENRE: New Media / Popular Culture / Teenage Memoir / Coming of Age / Dating & Sex
LINKS:
Amazon US | Amazon UK | Barnes & Noble | Smashwords
jessINK Website