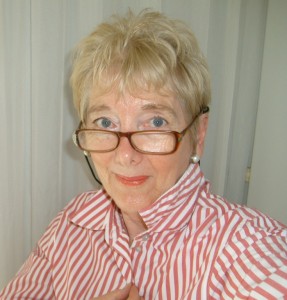 BIO
Jan Hurst-Nicholson lives in sunny South Africa where she is personal chef to an elderly picky cat, and doorman to two dogs who are forever on the wrong side of a door. The dogs sit beside her as she works. The cat sleeps on the work.
Her articles, humorous articles and short stories have appeared in South African and overseas magazines and these were compiled into a book: "Something to Read on the Plane – a bit of light literature, short stories & other fun stuff," and "I Made These Up (short stories for the fireside)"
Her first children's book was  "Leon Chameleon PI and the case of the missing canary eggs" published by Gecko Books, and was one of Bookchat's 1993 South African Books of the Year. This was followed by "Leon Chameleon PI and the case of the kidnapped mouse" which was selected as one of the 2013 Kart Kids Book Award winners. 'Leon Chameleon PI and the case of the bottled bat' is awaiting publication. These are humorous, animal, detective stories set in a nature reserve.
"Bheki and the Magic Light", which tells of a bullied herd boy who becomes a hero, was published by Penguin SA and is now also available as an e-book.
'Jake,' was published by Cambridge University Press.
'The Race (an inspiring story for left-handers)' is her latest children's book. It also has advice for parents and teachers.
Born in the UK, Jan emigrated from Liverpool to South Africa in the 1970s.  Her experiences moving to a new continent were the inspiration for her humorous novel, "But Can You Drink The Water?' which was a semi-finalist (top 50 out of 5000) in the 2010 Amazon Breakthrough Novel Award.
Jan worked in the R&D department of a large bakery for several years, and this gave her the idea for "The Breadwinners" a family saga spanning 60 years and set in Durban.
Jan has also written a YA/teen novel, Mystery at Ocean Drive  which was a runner-up in the 2010 Citizen/Pan MacMillan YA novel award, and is now available as an e-book on Amazon.
Jan's latest novel is "With the Headmaster's Approval" (general fiction with a romance element).
Jan's writing also appears in Edge Words (20 stories from the Cheshire Prize for Literature 2006) published by University of Chester, Chicken Soup for the Caregiver's Soul and Chicken Soup for the Soul 101 best stories On Being a Parent; Summer Shorts, and My Funny Major Medical .
PRESS CLIPPINGS
BOOKS  
But Can You Drink The Water?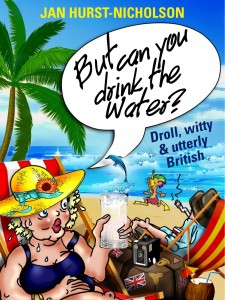 The Back Flap
A light-hearted look at emigration
Follow the hilarious lives of the naïve Turner family as they emigrate from Liverpool to sunny South Africa. Laugh out loud as they encounter 'crocodiles' on the wall, strange African customs and unintelligible Afrikaans accents. Cringe with them as their visiting in-laws embarrass them in front of their new SA friends.
If you enjoyed Educating Rita and Shirley Valentine you will recognise Mavis Turner.
Set in the 1970s, But Can You Drink The Water? uses subtle observational humour with an underlying pathos to portray the upsets, hurt and changing family dynamics that emigration brings. (The story is based on a 13-part sitcom)
Review
With a droll, witty, utterly British voice, this manuscript tackles playfully and sincerely the age-old fish out of water tale. What sustains this book, however, is the narrative voice, the dry and self-deprecating humor, and the ability of this author to tell a story simply and well.
Publisher's Weekly reviewer for the ABNA semi-finals.
REVIEWS 
Links
http://www.amazon.com/dp/B003PPCSJ8   Amazon US
With the Headmaster's Approval
(general fiction with a romance element)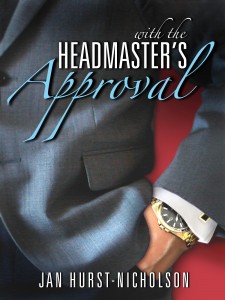 Restoring discipline at a girls' academy should have been easy for a former US Naval Officer. It wasn't, nor was it easy dealing with an all-female staff.
Adam Wild, controversially appointed as Head of St Mary's Academy in northern England, considers himself well equipped to bring order back to the school – and he's not about to take No for an answer. Still in love with his late wife, he believes himself immune to the temptations of the female staff.
Fiercely independent Jenna Murray has learned that she does not need a man in her life; especially the arrogant Adam Wild who has stolen the headship she feels should have been hers. She undermines his authority at every turn, until even the girls recognise the underlying emotion in their constant sparring. Determined to bring him down, an allegation by a troubled girl is just the ammunition she needs – so why does she hesitate to use it?
But then Nicole, Adam's late wife's tearaway kid sister returns from Africa with a life-threatening condition and a startling request, one that Adam is unsure he can fulfil, forcing both Adam and Jenna to re-evaluate their feelings about love.
Lust shouts. Love whispers. Only the heart knows the difference.
Intrigue, scandal, suspense, and romance peppered with humour tell how one man's influence on a school of wayward girls and their teachers changes their lives in ways none of them would imagine – and eventually his own.
Something to Read on the Plane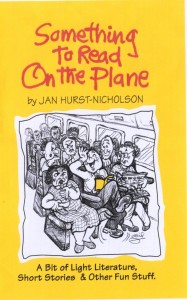 The Back Flap
And for your in-flight entertainment – A Bit of Light Literature, Short Stories & Other Fun Stuff. A light-hearted variety of humorous articles, short stories ranging from hypochondria to murder, plus a quiz, agony aunt column, limericks and a collection of malapropisms to keep you amused and divert you from the tedium of flying.  .
"This muesli must be old. It's got weasels in it."
Great to keep with you whilst travelling, and a perfect gift for both men and women.
REVIEWS
"Should be compulsory reading to keep incorrigible chatterers quiet" – Frequent Flyer.
"Could also be used to ram down their throats" – Flight Attendant.
"The stories about me are hugely exaggerated" – Author's Spouse.
"Shredded drafts of this book line my litter tray. Royalties from this book will go towards proper deodorized litter and reduce complaints about the smell" – Family Cat
"What a relief that will be" – Family Dog.
Reviews
Links
Something to Read on the Plane Amazon US
Something to Read on the Plane Amazon UK
The Breadwinners (a family saga of love, lust and betrayal)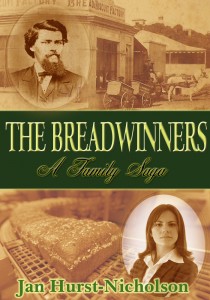 The Back Flap
An epic family saga set in South Africa.
A spurned lover marries for money and ignites a family feud of passion and betrayal that spans three generations.
It is New Year's Eve 1924 and Charles McGill is devastated when the woman he loves announces her engagement to Lucas Connelly, his friend and co-worker. Charles drowns his sorrow in drink and seduces Hilde Richter, the daughter of a wealthy businessman.
When Hilde finds she is pregnant her father offers to set up the penniless Charles with his own bakery if he will marry her. Charles readily agrees and, unknown to Hilde, the two men draw up a contract.
It is the beginning of a bitter rivalry between Charles, Lucas Connelly, and Miles Davenport their former employer. A rivalry that fractures families, tests love and loyalty, and comes at a cost that Charles could never have imagined.
The Breadwinners covers six decades and leads us through the successes and failures of the three families as they survive the great depression, the war years and the isolation of South Africa.
Reviews.
This author knows how to write an entertaining and substantial narrative. ABNA Expert Reviewer                                                                                  
I was hooked from the first page by the writing and by the character of Charles. The author pays attention to detail and local colour, creating an environment of dimensional characters and conflicts.    ABNA Expert Reviewer      
Links
The Breadwinners Amazon US
The Breadwinners Amazon UK
I Made These Up (short stories for the fireside)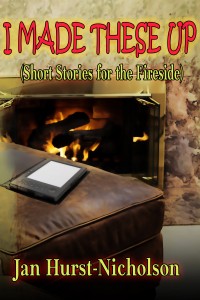 Short stories for the fireside (or wherever you have your e-reader). A diverse variety of humour, historical, murder, ghost, sentimental, adventure, and even a bit naughty – there is sure to be something to entertain you. There are even two BONUS read-aloud stories for children.
These stories have been published previously in magazines or newspapers. Some are adapted from chapters in But Can You Drink The Water? and some also appear in Something to Read on the Plane.
Mystery at Ocean Drive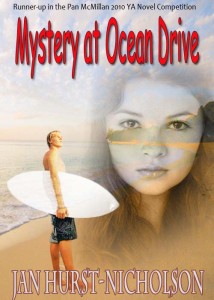 The Back Flap
When 17 yr old Jason Hunter sets out to discover the identity of the mystery girl at Ocean Drive he and his friends find themselves caught up in a risky intrigue.
Jason is delivering newspapers on his motorbike when a Mercedes sweeps out of a driveway in front of him. He loses control of his scrambler and almost ends up under the car's wheels. An attractive teenage girl leaps out to ask if he is hurt, but before Jason can reply the girl is bundled back into the Mercedes and driven off.
Jason's instincts warn him that the girl is in trouble.
The following day he sees her in an upstairs window, but when he asks to speak to her he is told that there is no young girl living there. Why?
Jason is not about to give up and he enlists the help of his friends, Mark and David. Together they make a daring attempt to learn the girl's identity, but just as it seems to be working, things go horribly wrong…
Has Jason's intriguing mystery now put all three boys in danger?
MYSTERY AT OCEAN DRIVE was a runner-up in the Citizen/Pan MacMillan 2010 YA novel award.
Reviews 
Links
Mystery at Ocean Drive Amazon US
Mystery at Ocean Drive  Amazon UK
Leon Chameleon PI and the case of the missing canary eggs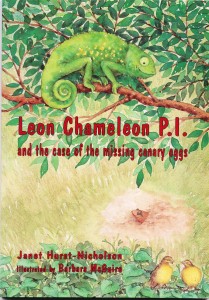 The Back Flap
A humorous, animal detective story for 7-12 year-olds.
When Mrs Canary's eggs mysteriously disappear, a frantic Mr Canary dashes straight off to the Pigeon Valley Police for help. Unfortunately, Sergeant Loerie and Constable Mole's hasty attempts to make an arrest lead them to the wrong suspects. Leon Chameleon PI, who has quietly kept an eye on developments, decides it is time to step in and offer his services – after all, isn't he the best Private Eye in Pigeon Valley? He puts all his skills to work and finds vital clues which Loerie had overlooked. Now a daring plan is needed to trap the suspects and bring them before Spotted Eagle Owl's Court, where Leon springs his final surprise…
Janet Hurst-Nicholson draws on the habits and characteristics of the small creatures living in Pigeon Valley, Durban, to create a thrilling detective story. Barbara McGuire's illustrations capture the story's humour, while portraying the animals as they really are.
Reviews 
Links
Leon Chameleon PI and the case of the missing canary eggs  Amazon US
Leon Chameleon PI and the case of the missing canary eggs Amazon UK
Leon Chameleon PI and the case of the kidnapped mouse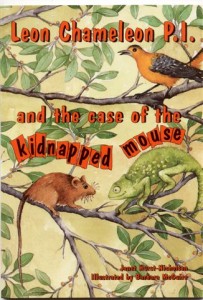 The Back Flap
A humorous, animal detective story for 7-12 year-olds.
"When Mr Woodland Mouse mysteriously disappears, Constable Mole is quick to enlist the help of Leon Chameleon, Private Investigator, whose expertise enabled the Pigeon Valley Police to solve the case of the missing canary eggs.
After organising a search, Leon realises there is only one creature in the valley who can spring the captured mouse from his prison. But just when he thinks Mr Woodland Mouse is safely on his way home, the plan goes horribly wrong…"
All the animal details of food, habits, and lifestyle are true to nature (apart from Constable Mole's sunglasses!) and the animals solve the crimes using their own natural abilities.  Children will absorb much knowledge of the small creatures of Africa without being aware of it.
A section of interesting facts has been added to this second detective story in the Leon Chameleon PI series. It provides valuable and little-known information on chameleons, moles and other creatures featured in the story.
One of the winning titles for the 2013 KART Kids Book List Award
Reviews
Links
Leon Chameleon PI and the case of the kidnapped mouse  Amazon US
 Leon Chameleon PI and the case of the kidnapped mouse  Amazon UK
The Race (an inspiring story for left-handers)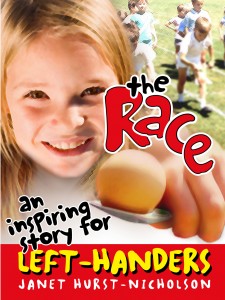 Vicky is left-handed and teased for being clumsy, but a visit from her Gran changes everything.
Vicky's Granddad has died and her Gran is coming for a visit. Vicky wants to cheer her up by embroidering a cushion as a gift, but Vicky is left-handed and she struggles to learn how to sew. She decides that winning a race in the school sports might be a better idea – but can she do it, especially when Graham threatens to spoil all her plans?
The story highlights some of the challenges faced by left-handers.
At the end of the book is advice on how to help left-handers; how to tell if a child is left-handed; the correct way for a left-hander to hold a pencil and to slant the paper; famous left-handers; percentage of the population who are left-handed; career choices for left-handers and cultural issues for left-handers.