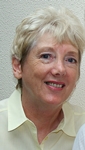 BIO
Jan Hurst-Nicholson has been writing for about 25 years. Her articles, humorous articles and short stories have appeared in South African and overseas magazines and these were compiled into a book: Something to Read on the Plane a bit of light literature, short stories & other fun stuff. Her first children's book was  Leon Chameleon PI and the case of the missing canary eggs published by Gecko Books, and was one of Bookchat's 1993 South African Books of the Year. This was followed by  Leon Chameleon PI and the case of the kidnapped mouse   (both now available as e-books on Amazon and Barnes & Noble) 'Leon Chameleon PI and the case of the bottled bat' is awaiting publication. These are humorous, animal, detective stories set in a nature reserve. Bheki and the Magic Light, which tells of a rural child's fascination with a torch, was published by Penguin SA. 'Jake,' was published by Cambridge University Press. Born in the UK, Jan emigrated from Liverpool to South Africa in the 1970s.  Her experiences moving to a new continent were the inspiration for her humorous novel, But Can You Drink The Water?, which was a semi-finalist (top 50 out of 5000) in the 2010 Amazon Breakthrough Novel Award. This is now available on Amazon as a Kindle digital book and has sold over 13 000 copies. Jan worked in the R&D department of a large bakery for several years, and this gave her the idea for  The Breadwinners  a family saga spanning 50 years and set in Durban. This is now available on Amazon as a Kindle digital book. Jan has also written a YA novel, Mystery at Ocean Drive  which was a runner-up in the 2010 Citizen/Pan MacMillan YA novel award, and is now available as a Kindle digital book.  Jan's latest book, published in 2013 is  a compilation of short stories titled I Made These Up (short stories for the fireside). Jan's writing also appears in 'Edge Words' (20 stories from the Cheshire Prize for Literature 2006) published by University of Chester, 'Chicken Soup for the Caregiver's Soul' and 'Chicken Soup for the Soul 101 best stories On Being a Parent,' and 'Summer Shorts'. Jan is a member of the South African Writers' Circle, and of SpeakOut, an organization that teaches public speaking (for when she becomes a famous writer!) She lives in Durban with two dogs that are forever on the wrong side of the door, one elderly cat, and the occasional visiting troop of boisterous vervet monkeys.
PRESS CLIPPINGS
BOOKS  
But Can You Drink The Water?
The Back Flap
A light-hearted look at emigration
When Frank Turner informs his wife and teenage son they are emigrating from Liverpool to sunny South Africa, he is unprepared for their hostile response. His defiant son makes his own silent protest, and his wife's assertion that "we never shoulda come" is parroted at every minor calamity.
The bewildered working-class scousers are thrust into an alien world of servants, strange African customs, unintelligible accents, and unexpected wild life ('crocodiles' on the wall).
Their uneasy interactions with Zulu servants, Afrikaner neighbours, and foreign officialdom exposes their naivety, but they each learn to cope in their own individual way; Mavis overcoming homesickness by hugging the knowledge that when Frank's contract ends they can return home; Gerry's sullen resentment giving way to love of the outdoor life, and Frank masking his own doubts with blustering optimism and bantering sarcasm.
Having overcome culture shock, the arrival of Mavis's parents introduces a divided loyalty when Gert and Walter's National Health glasses and ill-fitting dentures are seen through the eyes of the Turner's new South African friends. And when Mavis's sister 'our Treesa' and her opinionated husband Clive visit, Mavis surprises herself by hotly defending SA.
Set in the 1970s, BUT CAN YOU DRINK THE WATER? uses subtle observational humour, with an underlying pathos, to portray the upsets, hurt and changing family dynamics that emigration brings.  Based on a 13-part sitcom, it will appeal to fans of Educating Rita and Shirley Valentine, and to expats, and potential expats worldwide.
REVIEWS 
Links
Something to Read on the Plane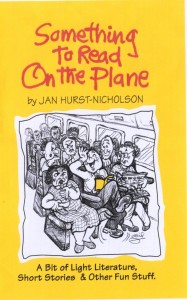 The Back Flap
And for your in-flight entertainment – A Bit of Light Literature, Short Stories & Other Fun Stuff. A light-hearted variety of humorous articles, short stories ranging from hypochondria to murder, plus a quiz, agony aunt column, limericks and a collection of malapropisms to keep you amused and divert you from the tedium of flying.  .
"This muesli must be old. It's got weasels in it."
Great to keep with you whilst travelling, and a perfect gift for both men and women.
REVIEWS
"Should be compulsory reading to keep incorrigible chatterers quiet" – Frequent Flyer.
"Could also be used to ram down their throats" – Flight Attendant.
"The stories about me are hugely exaggerated" – Author's Spouse.
"Shredded drafts of this book line my litter tray. Royalties from this book will go towards proper deodorized litter and reduce complaints about the smell" – Family Cat
"What a relief that will be" - Family Dog.
Reviews
Links
Something to Read on the Plane Amazon US
Something to Read on the Plane Amazon UK
The Breadwinners
The Back Flap
When an ambitious young immigrant opens a bakery in competition with his vengeful former employer it is the beginning of a bitter rivalry that spans three generations of hatred, jealousy, passion and betrayal as the bakeries grow from small family businesses into large corporations.
It is New Year's Eve 1924 and the fiery and volatile Charles McGill is devastated when Addy Brody, the woman he loves, announces her engagement to Lucas Connelly, his friend and co-worker.  Charles drowns his sorrow in drink and seduces Hilde Richter, the unattractive daughter of a wealthy Durban businessman. When Hilde finds she is pregnant her father offers to set up the penniless Charles with his own bakery if he will marry her. Charles readily agrees and, unknown to Hilde, the two men draw up a contract. It is the beginning of a battle for supremacy between Charles, Lucas, and Miles Davenport, their former employer.
As the bakeries grow and prosper, acrimony begins within the families, pitting brother against brother, and Charles becomes increasingly dissatisfied, realising that success means nothing if he cannot have the woman he loves.
The story covers a period of sixty years and leads us through the fortunes, joys and sorrows, successes and failures of the three families as they survive the great depression, the war years and the isolation of South Africa.
At 118, 000 words, THE BREADWINNERS is an epic family saga that explores the adage, 'from clogs to clogs in three generations'. It is based on the baking industry where the author worked for several years, and gives revealing insights into the growth of Durban and the baking industry. It will appeal to readers who enjoy historical fiction set in exotic locations, and those who read authors such as Barbara Taylor Bradford, Catherine Gaskin and Belva Plain.
Reviews
Links
The Breadwinners Amazon US
The Breadwinners Amazon UK
Mystery at Ocean Drive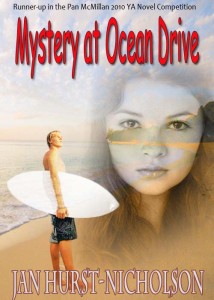 The Back Flap
When 17 yr old Jason Hunter sets out to discover the identity of the mystery girl at Ocean Drive he and his friends find themselves caught up in a risky intrigue.
Jason is delivering newspapers on his motorbike when a Mercedes sweeps out of a driveway in front of him. He loses control of his scrambler and almost ends up under the car's wheels. An attractive teenage girl leaps out to ask if he is hurt, but before Jason can reply the girl is bundled back into the Mercedes and driven off.
Jason's instincts warn him that the girl is in trouble.
The following day he sees her in an upstairs window, but when he asks to speak to her he is told that there is no young girl living there. Why?
Jason is not about to give up and he enlists the help of his friends, Mark and David. Together they make a daring attempt to learn the girl's identity, but just as it seems to be working, things go horribly wrong…
Has Jason's intriguing mystery now put all three boys in danger?
MYSTERY AT OCEAN DRIVE was a runner-up in the Citizen/Pan MacMillan 2010 YA novel award.
Reviews 
Links
Mystery at Ocean Drive Amazon US
Mystery at Ocean Drive  Amazon UK
Leon Chameleon PI and the case of the missing canary eggs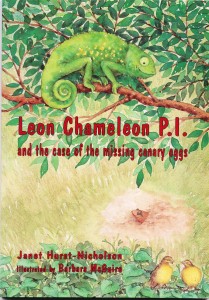 The Back Flap
A humorous, animal detective story for 7-12 year-olds.
When Mrs Canary's eggs mysteriously disappear, a frantic Mr Canary dashes straight off to the Pigeon Valley Police for help. Unfortunately, Sergeant Loerie and Constable Mole's hasty attempts to make an arrest lead them to the wrong suspects. Leon Chameleon PI, who has quietly kept an eye on developments, decides it is time to step in and offer his services – after all, isn't he the best Private Eye in Pigeon Valley? He puts all his skills to work and finds vital clues which Loerie had overlooked. Now a daring plan is needed to trap the suspects and bring them before Spotted Eagle Owl's Court, where Leon springs his final surprise…
Janet Hurst-Nicholson draws on the habits and characteristics of the small creatures living in Pigeon Valley, Durban, to create a thrilling detective story. Barbara McGuire's illustrations capture the story's humour, while portraying the animals as they really are.
Reviews 
Links
Leon Chameleon PI and the case of the missing canary eggs  Amazon US
Leon Chameleon PI and the case of the missing canary eggs Amazon UK
Leon Chameleon PI and the case of the kidnapped mouse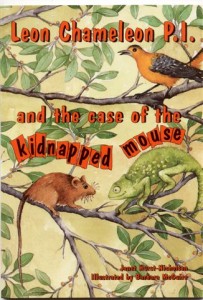 The Back Flap
A humorous, animal detective story for 7-12 year-olds.
"When Mr Woodland Mouse mysteriously disappears, Constable Mole is quick to enlist the help of Leon Chameleon, Private Investigator, whose expertise enabled the Pigeon Valley Police to solve the case of the missing canary eggs.
After organising a search, Leon realises that there is only one creature in the valley who can spring the captured mouse from his prison. But just when he thinks Mr Woodland Mouse is safely on his way home, the plan goes horribly wrong…"
All the animal details of food, habits, and lifestyle are true to nature (apart from Constable Mole's sunglasses!) and the animals solve the crimes using their own natural abilities.  Children will absorb much knowledge of the small creatures of Africa without being aware of it.
A section of interesting facts has been added to this second detective story in the Leon Chameleon PI series. It provides valuable and little-known information on chameleons, moles and other creatures featured in the story.
One of the winning titles for the 2013 KART Kids Book List Award
Reviews
Links
Leon Chameleon PI and the case of the kidnapped mouse  Amazon US
 Leon Chameleon PI and the case of the kidnapped mouse  Amazon UK