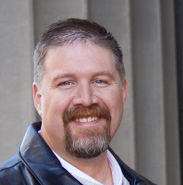 Jaime Buckley married young, winning the heart of a beautiful Samoan princess and together, they had 12 amazing children.
Unbeknownst to those children, their father was one of the original 'lost boys' of Peter Pan, which is why he never truly grew up. Though he is respected as a traditional father figure, Jaime still enjoys late night conversations with Santa Clause, flirting with the Tooth Fairy and still has an occasional beer with Bigfoot. Wizards and warriors seek his company while monsters under children's beds tremble at the mention of his name.
Jaime is an accomplished writer and illustrator of all things fictional, with a passion to entertain and uplift those he interacts with. He loves God, his country, his family and though his wife frowns when he proclaims it, he kisses the water she walks on.
A creative anomaly, he uses every resource, idea, and opportunity available to him to create & build relationships with others. Some of his favorite pastimes have been learning to play League of Legends, World of Warcraft, Everquest, Diablo 2 & 3 and RPGing with his kids. The only thing to top such excitement in his mind is chillin' with his girl, watching a romantic movie together.
Cultivating and encouraging his facial hair into a proper dwarven beard, Jaime is expanding his influence and friendships by stepping onto the Twitch platform as a Creative streamer and catering to his Patreon community, bringing his Wanted Hero creations to the world.
Connect with Jaime Online:
CHRONICLES OF A HERO (series)
---
Prelude to a Hero
Book 1 (FREE)
Who doesn't want to be noticed? Who doesn't want to be special? Wendell is a seemingly normal teen who's biggest goals are to get a job, buy a car and hopefully find a girlfriend. Unfortunately, the Universe has other plans for him. In the blink of an eye, his life…and world…vanish.
Untold power is placed in his hands and now he has an opportunity to become a legendary hero to millions of people.
That is…if he doesn't get killed and eaten first.
---
Race to Til-Thorin
Book 2
With the help of Chuck, Dax and a spitfire gnome named Alhannah, Wendell P. Dipmier is thrust into circumstances he never could have imagined. Accepting the mantle of the Hero will force him to find the courage and rise to the challenges before him…or destroy those around him.
Wendell's old life is about to end…in more ways than one.
---
Into The Fire
Book 3
Lost and alone, Wendell is left, for the first time, to his own design. Luckily, he befriends a young blacksmith's son and together they push on to Til-Thorin barely escaping as the enemy ravages the land.
But Wendell feels a strange draw to the keep and it'll require a sacrifice greater than he realizes to put this threat to rest.
In the blink of an eye, his life will change….forever.
---
Trench Wars
Book 4
The great wizard Morphiophelius refuses to give up on Wendell–even if he has to use forbidden magic. Now Dax, Alhannah and Lili must accompany Chuck into Clockworks City, home of 1.5 billion gnomes. But getting in is the easy part.
Now they must save Wendell's life, survive rebel alliances, government manipulation and find the last Demoni Vankil seal…while winning the greatest competition on the planet.
---
Second Chances
Book 5
Unfortunately, Wendell has learned that Gnomes may LOOK small and sweet, but they can be equally vicious, competitive and cruel. It's a lesson that could cost him his life…especially while fighting his way to the top of the Trench Wars charts.
What makes matters worse, is he was never prepared to uncover a nasty secret, hidden deep in the very bowels of Clockworks City itself.
A secret he's not willing to keep…
---
The Truth About Lies
book 6
Through a simple mishap of chance, Wendell's true nature is revealed to more than a billion gnomes. Clockworks City is thrown into chaos as citizens panic and both Wendell and Dax are captured by the Centurions and labeled invaders. What's worse, Dax is soon scheduled for execution. Wendell now has days to free himself, convert the city and save his friends…
His choices will ultimately bring the gnome population into the light…or plunge their fair city into the darkness.
---
The Price of Fame
Book 7
Isn't there supposed to be some kind of separation of Church and State? Then why do both seem to be working together to kill Wendell? The huge finale of Clockworks truths will unfold as wild events will push our hero to his limits…and beyond.
In the end, Wendell's most deadly enemy will become his protector…and only captivity will provide freedom, allowing him to escape certain death.
---
An Unsolvable problem
(origin story)

Even wondered about the origins of Dax?
Now's your chance =)
Author Jaime Buckley gives you a hefty glimpse into the life of one of the toughest character in fantasy.
For those craving to know a secret kept for over 600 years, …you won't want to miss this short story.
---
HÖBIN LUCKYFELLER'S FIELDGUIDES (series)
---
Demoni Vankil
Book1 (FREE)
An ancient puzzle box.
Fourteen letters.
A Council of Whispers.
…and a clerk.
Discover the 700 year old secret millions died to protect.
For those interested in an audio version, Jaime has something special–available ONLY through WANTEDHERO.COM:
DEMONI VANKIL AUDIOBOOK

---
CROSS POINT – A Choose your own ending book!

Fantasy author Jaime Buckley brings another adventure series to fans of the accidental hero… Step into the world of Wanted Hero, nearly a thousand years before the Chronicles began…at a time when Mahan is at war with the world. Travel with Dorbane, a Kutollum warrior and Valda, a beautiful Gypsy, to Castle Andilain.
But beware – each and every choice you make will affect the future.
---
Advanced worldbuilding

Every story requires WORLDBUILDING.
What if there was a way to simplify the process of WORLDBUILDING? A system that would open the door to your mind and create a constant flow of ideas?
Advanced WORLDBUILDING is a unique guide that takes you by the hand and helps you understand the 'why' of WORLDBUILDING. Written in the form of a conversation with a friend, taking you, step by step, through the process of creation with a focus on the end goal:
To tell a great story.
Advanced WORLDBUILDING provides you with the tools to craft your own "world journal," and does so in a simple, straightforward way. Wanted Hero creator Jaime Buckley provides tips, templates, and methods he uses to organize the notes you already have while unveiling a system to develop whatever your heart desires. Create continents, races, governments, religions, technology, magic, plant & animal life—all with a checklist of what readers will be looking for.
Detailed examples of the Wanted Hero world are provided and used, to demonstrate how the author achieved his own results.
Transform your notes into a personalized "hub" of information, which can be added to at any time. The guide provides master copies of all templates for your personal use…or as examples for you to create your own.
Advanced WORLDBUILDING is a fantastic tool for any writer, regardless of skill level…and a critical addition to any WORLDBUILDING arsenal.
"I must dedicate part of this review to the author, Jaime Buckley. This guy is a genius. The effort and heart he has obviously put into his work, the characters and this world is mind-blowing." — Books That Spark, UK
"Jaime is an amazingly talented storyteller, artist, and illustrator. The first time I saw his work I was blown away — and he's only gotten better since."— International & NYTimes Bestselling Author Barry Eisler
---

If you've ever wanted to know how to publish a book and get it to readers around the world, then this is the book for you. It doesn't matter what kind of budget you have…including no budget at all—MADE FROM SCRATCH will show you how to get your book completed, packaged and out to market in the shortest time possible.
Jaime Buckley, author of Prelude to a Hero & Advanced WORLDBUILDING, has spent over 10 years publishing comic books, graphic novels, 2 epic fantasy series, parenting & marketing books and more…
…and he was selling in 60 countries before the Kindle was invented.
Learn about Writing, Packaging, Publishing, Distribution, Promotion, Two Success Factors No One Wants To Talk About and gain instant shortcuts to success used by the author on every project he creates!
Develop the skills and perspectives to take full control over your own publishing project and leave the doubt behind. MADE FROM SCRATCH will change the way you view publishing. It gives you the tools to make a seemingly impossible goal…a complete success.
___________________________________________
SKEWED
A short story.
We make decisions every day, never knowing who might be watching over our shoulder. 
When Reuben learns the man he's responsible for wants to take his own life, he takes it to his superiors. He soon discovers, however, that his client isn't the only one with a skewed perspective.