JA Clement
Author of "On Dark Shores: The Lady"
BIO
JA Clement lives near London with her partner and as yet, no dogs. She has been writing her fantasy series, "On Dark Shores", for some years but only uploaded the first book "The Lady" in March. Books two and three are written and in various stages of editing, the first paperback is due out before the end of the year and there's a deal of story yet to be told before we get to the end…
She works fulltime, commutes further than might be considered strictly necessary and would tell you what she does in her free time if she could remember the last time free time occurred.
She is often to be found on Goodreads, Twitter or Wattpad, and hopes you will come and say hello.
PRESS CLIPPINGS:
04/08/2011: Interview with Catie @ Forbidden Passions
21/06/2011: Interview with Jenn at Frequent Reader
03/06/2011: Interview with TC at Booked Up
09/05/2011: Literal Exposure
25/03/2011: Galleycat
BOOKS: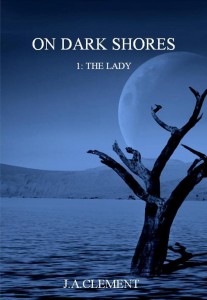 Trapped in fear and poverty after the death of her parents, the thief Nereia will go to desperate lengths to protect her beautiful younger sister from the brutality of Copeland the moneylender. No-one has dared to attempt escape before; the whole of Scarlock trembles in his grasp. Only Nereia's cunning and some unlooked-for help give her hope.
In a country still recovering from war, events are stirring, and the little harbour-town will not remain obscure for long; but in Scarlock, right now, Mr Copeland is coming to call – and this time he's not taking no for an answer….
In this first instalment in the "On Dark Shores" fantasy series, you will start a thrilling journey with Nereia, Mary and a host of other characters as they fight for a better life, for the things that are dear to them, or just to get through the day in this gritty and compelling story.
Currently available in various formats of ebook, it will be released in paperback in an omnibus edition with Book 2 when that becomes available in Spring 2012.
REVIEWS:
Assorted on Goodreads
Blog review pages:
Frequent Reader Infrequent Blogger
LINKS:
Smashwords          B&N for Nook      Sony         Apple (US)         Apple (UK)
 Have I missed any obvious links? Please let me know.
JAC