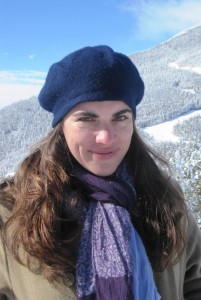 J.L. McCreedy is a shoe-string traveler, a street food fanatic and a (confused) attorney who prefers writing stories over legal briefs.  Her debut novel,   Liberty Frye and the Witches of Hessen
, is a middle grade fantasy blending fairy tale elements with real-life locations.
She first learned a love of writing — and developed an incurable condition of wanderlust — while growing up in Southeast Asia as the child of missionaries.  (Although it has been mentioned more than once that nice, missionary children do not pen novels about witches.)
In addition to working on her next book, she freelances for various magazines, consults for charitable organizations and keeps up her budget travel/lifestyle site: www.tongatime.com.
She currently lives in a cute, crumbling apartment in Tianjin, China with her husband, a pet gecko and an assortment of dehydrated, potted plants.
Author Interview:
Click here for Indie View Reviewer Roxanne Crouse's Interview with J.L. McCreedy!
To learn more about the world of Liberty Frye, the Grimm Brothers, and the places in Germany where the book took place, just visit www.libertyfrye.com.
Amazon Book Link         …         Barnes and Nobles Link
What readers are saying:
Reviewed by Carol Thompson for Reader's Favorite:
"[The Preface Warning at the beginning of this book] should also include, 'Don't read this book when you have anything else to do, such as feeding kids, feeding yourself, using the bathroom, or any task that requires the book to be put down for even a moment … The author takes the reader from small-town USA to Germany, with plenty of action and well-written prose. When first beginning this book, it came off as perhaps a Harry Potter knock-off, but in reading further, it is anything but. I highly recommend this book to anyone who enjoys YA fantasy.  This book is the best I've reviewed.  An amazing story."
Commentary from Judge, Writer's Digest Self-Published e-Book Awards:
"This, the first (I'm sure) of the Liberty Frye novels, does a great job of showing how to work in a specific genre while also expanding and enriching it. To rattle off aspects of the plot, the building blocks of this novel, would severely limit what's to come as we have a child (a girl) finding its way (through mysterious circumstances) into a world that is much richer & more vivid that previously realized. It's a coming of age story masquerading as a fantasy novel. But what's most interesting here is that despite a set-up we feel we might have read before, everything feels new. The writing is clipped & tight; very descriptive when it needs to be but working fully to propel the narrative forward. The characters are quirky & real enough that the reader invests real emotion in the struggles. Additionally, the magic as presented here is developed & plausible. We're not asked to grasp an entirely new system, or something without underpinnings. Here, the fantasy aspects are based on traditional fairy tales & lore, but presented in a way that makes them fresh & realistic as opposed to dusty & outdated. This is a very enjoyable book."
Mother Daughter Book Reviews: "Liberty Frye and the Witches of Hessen is filled with magic, adventure, and quirky characters.  We have the brave title character, Libby, whose parents have been protecting her from the truth; Libby's friends and family who loyally stand by her; and a collection of nasty villains seeking to claim her powers.  This book is strong on character development and rich in story with a plot filled with delicious twists and turns…"
"It's endless hoopla that will keep you on the edge of your seat! … It reminds me of my favorite middle grade books that I read when I was ten.  Only now I enjoy them as an adult…."  Melysah Bunting, Goodreads
"Hilariously funny and full of genuinely enjoyable and well crafted characters…." Beth Townsend, Plastic Rosaries
"This book would be a great one to sit down with your child and read together.  It is as fun and adventurous as other stories like James and the Giant Peach or The Indian in the Cupboard…"
Roxanne,RoxanneCrouseWriter.wordpress.com
"It is a very fun story and I hope that this turns into a series because this is a really great book…." Erik, ThisKidReviewsBooks.com
"I loved it, couldn't put it down! I liked the innocence of the main character Libby.  It is a very original story, fast paced and exciting…." Dawn, NoteWorthyReleasesBooks
"For Liberty (aka "Libby"), her mundane life as a pre-teen girl is on a direct collision course with her newfound destiny of magic – and I delighted in every minute of it…."A.J. Velaquez, Amazon Reviewer
"A delightful, fantastical tale…." Jimm Brumley, Amazon Reviewer
"It stresses the value of loyalty to one's friends, cautions about succumbing to evil influences, and teaches the importance of respecting ones elders. It is a great read for all ages…." Thomas Braun, Amazon Reviewer
A magical and fantastical tale with a touch of humour – brilliant!" The Kindle Book Review
"I absolutely adored the characterization throughout the book … It has a sort of Lemony Snicket vibe about it in that sense … I'd recommend this to girls who are a little young for Harry Potter…." L su, Amazon Reviewer(UK)
Other Blog Reviews of Liberty Frye and the Witches of Hessen: