Coffin Dodgers
"A no-holds-barred thriller plot with a sense of the ridiculous, lacing nastiness with some delightfully black comedy" – The Big Issue Scotland
"Marshall is one of those few comic novelists who manage to keep both a plot and the gags coming thick and fast" – Ray Banks, author of Sucker Punch and No More Heroes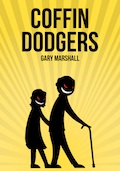 Coffin Dodgers is a fast, funny and fat-free thriller that's been compared to Christopher Brookmyre, Bateman, Tim Dorsey, Carl Hiaasen and the films Hot Fuzz and Shaun of the Dead.
Eighty is the new thirty. Nobody's having babies, the old massively outnumber the young and the hip crowd has become the hip replacement crowd.  Twentysomething barman Matt Johnson would be bored senseless if someone wasn't trying to kill him.
When Matt isn't playing silly pranks on his elders with his colleague Dave or laughing at Dave's dating disasters, he's trying to summon up the courage to ask best friend Amy out on a date. Then Matt narrowly escapes a car wreck, and he discovers that his accident was no accident. Someone's murdering young people, and dozens are already dead. Can Matt, Amy and Dave stop the killings? The answer involves guns, gangsters, an angry bear and plenty of irate pensioners.
Coffin Dodgers is available now from the usual suspects:
Amazon UK
Amazon US
Barnes and Noble.
iBooks
Diesel Ebook Store
Sony Reader Store
Coffin Dodgers is also available on Smashwords. Smashwords provides books in a range of formats – not just ebook ones but PDF and even online HTML. There are free samples for most of the different formats too.
About me
Hello there. My name's Gary, I'm in my late thirties, and I live just outside Glasgow with my wife, my daughter and a black labrador.
I'm a freelance journalist, columnist, author, copywriter, scriptwriter and radio talking head, and I write features, news stories and tutorials about technology, the Internet and pop culture for lots of magazines and websites. I've written lots of non-fiction books too: several books for young musicians, one on working from home and one about laptops. I've also co-authored lots of computing and music books, some of which I can talk about and some of which I can't. Before getting into journalism I played in various bands, some of which I like to talk about and some of which I don't.
I blog at www.bigmouthstrikesagain.com and tweet at twitter.com/garymarshall.