Frank Mundo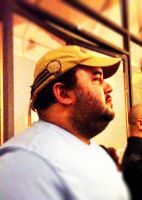 Frank Mundo is a full-time writer in Los Angeles. He has a BA in English from UCLA, where he also completed the Creative Writing Program. His stories, poetry, and essays have appeared in dozens of journals, magazines and anthologies in print and online. For over a decade, Mr. Mundo has also been reviewing books for the San Diego Union-Tribune, The New York Journal of Books, Westside Today, The Swamp, The Journal of Cultural Conversation and many more. Frank Mundo is the author of the award-winning novel in verse, The Brubury Tales (foreword by bestselling author and critic Carolyn See), a modern version of The Canterbury Tales, set in Los Angeles; and Gary, the Four-Eyed Fairy and Other Stories, an interconnected collection of his very best short stories published over the last 15 years. Frank's latest book, Different, is an illustrated novella for adults that reimagines Kafka's Metamorphosis and Alice in Wonderland.
Facebook, Twitter, Freado, Good Reads, Wattpad
Books
The Brubury Tales (Illustrated Edition)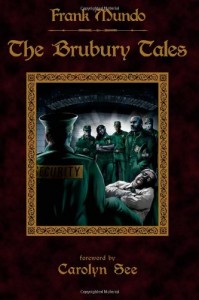 An ambitious homage to Chaucer's Canterbury Tales, The Brubury Tales (Illustrated Edition) takes Chaucer's story and frame to Los Angeles just after the riots in 1992, where seven security guards on the graveyard shift swap tales in an impromptu storytelling competition for Christmas vacation time. Written entirely in rhyming verse, the tales themselves are poetic updates of classic stories by Dostoevsky, Dickens, Boccaccio, O Henry, Poe, Twain, Gilman, Crane, Saki, Anderson, Bierce, and even Khayyam's Rubaiyat. Along with 11 original illustrations by Keith Draws, the book also contains a special foreword by California literary legend, Carolyn See, book reviewer for The Washington Postand bestselling author of Handyman and There Will Never Be Another You.

Awards for The Brubury Tales
– Poet Laureate Award Nomination from UCLA and CAL
– Reader Views Reviewers Choice Award for Poetry Book of the Year
– The Bookhitch Award for the Most Innovative Book of Poetry
– A Reason to Rhyme Award from Byline Magazine
– Selected for Powell Library's WORDs… exhibit.
The Brubury Tales Book Tailer
The Brubury Tales [by Frank Mundo] is a landmark book, in what is going to be — and already is — an exceptional, distinguished literary career. —Carolyn See
Mundo's skill is astounding and has a natural cadence. These stories are intriguing and compellingly human, and soon enough the reading becomes listening. -Sacramento Book Review
With inspiration from many literary classics and plenty of original spin, The Brubury Tales is a fine collection and not one to be missed. —Midwest Book Review
The Brubury Tales is a brilliant blend of writing, combining the style of Chaucer while putting a new slant on the short stories of the classical writers. —Reader Views 
A unique and powerful new book, The Brubury Tales draws upon Chaucer's Canterbury Tales and classic stories by Mark Twain, Edgar Allan Poe, and Charles Dickens, to name a few. Frank Mundo takes risks with his writing, which is sensitive, thoughtful, and gritty. —LA Books Examiner
"The Brubury Tales by Frank Mundo is a bold homage to Chaucer's Canterbury Tales. Mundo defamiliarizes the tale by placing it in Los Angeles in 1992 shortly after the Riots. His authentic L.A. childhood experiences came out in his verse…"  —Mike Sonksen for KCET.org
Paperback Version
Amazon, Barnes & Noble, Create Space
eBook Version
Amazon
One morning 12-year-old Gregory Gourde wakes up in his bed with an impossible new feature: his head has become a watermelon. We follow Gregory down a rabbit hole of sorts to a new world and an audacious exploration of what it really means to be different in this dark yet humorous nod to Kafka's "Metamorphosis" and Carroll's "Alice in Wonderland".
Awards for Different
2014 BigAl's Books and Pals Readers' Choice Awards Nominee
Review
Frank Mundo does not just throw words at the page in hopes that they stick…
This story will leave you thinking about it long after you have finished… The Story is told through Gregory's eyes with an omniscient narrator who pops in occasionally to move the story along or fill in past events of Gregory's life or other characters that played an important role…This is masterfully handled by the author… The characters are beautifully written and darkly wonderful… The plot moves at a nice pace throughout the book… A fantastic journey of self-discovery. Big Al's Books & Pals.
Paperback Version
Amazon, Barnes & Noble, Create Space
eBook Version
Amazon
Gary, the Four-Eyed Fairy and Other Stories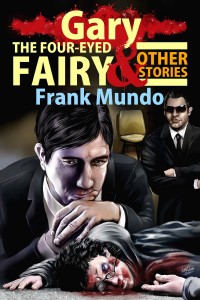 A dozen interconnected tales that follow the life and times of J.T. Glass, a Los Angeles security guard with an uncanny knack for finding trouble and falling in love — often at the same time.

Awards for Gary, the Four-Eyed Fairy and Other Stories
A Favourite Read for April 2012  multi-story.co.uk
"4-stars: GARY, THE FOUR-EYED FAIRY AND OTHER STORIES is an entertaining romp, full of irreverent humor that leaves you wanting more…chronicling the life and times of J.T. Glass, a security guard armed with a sharp tongue, keen wit and vivid imagination…each story in this collection can stand on its own, but read together, the book feels more like a novel told out of chronological order, or like a puzzle that engages you, the reader, to assemble and experience the transformation from boy to man. The dialogue is crisp, the nuances are rich, most of the stories move at a fast clip, and you'll be laughing or crying most of the journey… Mundo knows how to delight and surprise, no holds barred. He has an excellent command of story, and the courage to go dark."
–Indiereader.com
"Well worth a read…A sharply observed take on the human condition, it's full of off-beat humour, life lessons and moral dilemmas." Named a "Favourite Read for April 2012" – multi-story.co.uk
"When Carolyn See wrote her dissertation on the Hollywood novel in 1963, she could find only three Los Angeles writers who were not writing about the movie business. When she published her first novel in 1970, her editor told her Joan Didion was her main competition. Today, as she sorts through candidates for the anthology, she's coming across scores of new writers: Michael Jaime Becerra, whose new book, "Every Night Is Ladies' Night," is set among Latino immigrants in El Monte…Or Frank Mundo, a security guard who works the graveyard shift and has published his tales of overnight security. See guesses there may be several hundred serious writers in the region…" – Los Angeles Times
"Ordinarily this was supposed to be the time when students were supposed to helpfully venture 'constructive criticism,' since part of the class was about learning to do just that, but there was no constructive criticism that I remember, because Frank Mundo was the kind of person who already knew how to write and what to write — knew it in his bones. You could say his prose was perfect, and you'd be absolutely right on the money." – Carolyn See of The Washington Post (from the foreword to The Brubury Tales)
Interviews
Frank Mundo interviewed by Chris Treece
Frank Mundo Interviewed by The Nervous Breakdown
Frank Mundo Interviewed by Susan Whitfield
Cypress Park Public Library Interviews Frank Mundo
Frank Mundo Interviewed by Jess C Scott 
Living on the Edge BlogTalk Radio show with Andrea Hylen Interviews Frank Mundo
Pets and their Authors interview Frank Mundo
Underground Heroes on Frank Mundo Brubury Tales
Other work online
The New York Journal of Books
The Journal of Cultural Conversation
Marriage Before, During and After a Heart Attack