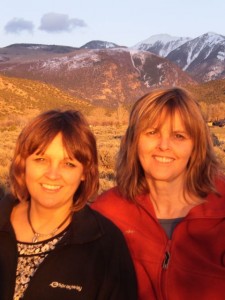 Hi, we are Lorraine Campbell and Pam Burks,  two sisters separated by the Atlantic Ocean.  We didn't exactly set out to write together. Both of us were already established short story writers before all those long telephone conversations led to Ellie Campbell.  We are equally passionate about writing, travel, horses, dogs, the outdoors, and although Pam now lives in Reigate, not far from London, with a husband, three children and a dog, while Lorraine is  on a small Colorado ranch near wild and wonderful Boulder with husband, three horses, five cats, one dog and four chickens –  we both believe in enjoying life to the fullest, be it digging up carrots in the allotment, listening to audio books while scooping manure in the corrals or going on a trail ride in the beautiful Rocky Mountains.
OUR BOOKS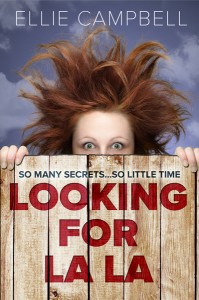 In a recent survey 65% of mothers admitted feeling undervalued, over-criticised and constantly tired. Cathy is no exception. Her dull, uneventful days as a stay at home, mother of two, are radically transformed however with the arrival of a heavily lipsticked postcard addressed to husband, Declan. Who is the mysterious La La? Could Declan really be having an affair? And is Cathy actually being stalked? Whatever – it will definitely prove riveting gossip for the Tuesday Twice Monthlies, Cathy's 'Mothers Restaurant Research' group where scandal flows as recklessly as the wine. But what starts as a light-hearted investigation with best friend Raz, soon turns into something much more sinister. With a possible murderer on the scene, a sexy admirer igniting long-forgotten sparks, and all her friends hiding secrets, it's not only Cathy's marriage that's in jeopardy. Add in the scheming antics of Declan's new assistant, the stress of organising the school Save The Toilet's dance and the stage is set for a dangerous showdown and some very unsettling, possibly deadly, revelations.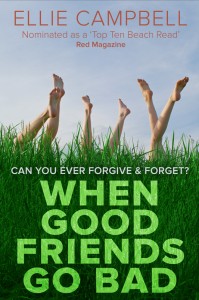 All through school, tomboy Jen, snobby Georgina, hippy Meg and gentle Rowan were inseparable. But when a childish prank turned bad their friendship was torn apart. Twelve years later Rowan organised a reunion dinner and all did not go well. Rowan never appeared; Georgina's shocking secret was revealed; Meg behaved outrageously; and Jen finally decided it was time to move on. And that's just what she did for the following ten years … Until now, when in the midst of her divorce Jen receives a desperate call from Meg. On a personal mission to track down Rowan, Meg manages to convince Georgina and Jen to put aside their differences and help her. But none of them even begin to imagine the extent to which their loyalties will be tested as their past finally catches up with them.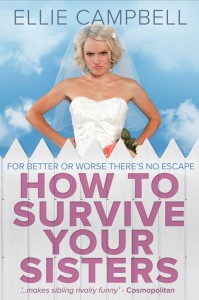 A wonderfully warm and witty debut novel about family secrets and sibling rivalry. The four MacLeod sisters are no strangers to sisterly rivalry and with one of them about to be married, there are bound to be fireworks. Perfectionist Natalie wants the 'wedding of the year'. Harassed mother, Milly, just wishes her bridesmaid's dress wasn't the size of a tent. Career-obsessed Avril secretly moons over a married man and world traveler, Hazel, the youngest, yearns to be taken seriously. Forced together for the first time in years, and with an unexpected guest stirring up old resentments, squabbles are inevitable. But when tragedy strikes things really fly apart – as some shocking skeletons emerge rattling from the crowded MacLeod closet…
Check us out:
Website: www.chicklitsisters.com
Facebook: https://facebook.com/elliecampbellbooks
Twitter: @ecampbellbooks
Contact us: