AUTHOR BIO:
My love of the sea began while growing up in the San Francisco Bay Area, and continues today with visits and vacations to Cambria on the California coast.
While I've been an avid reader since early childhood, I didn't start writing seriously until later in life.
I live in Arizona with my husband, a thankful rescue dog, and an insane but lovable cat.
Like me on my Facebook Author Page
AUTHOR INTERVIEWS
Interview by Kaitlin Snider
Interview by Jalyn Ely
Interview by Marie McKean
Interview by Amanda Sawyer
Interview in January 2014 Young Adult Historical Fiction Newsletter
Book: Secrets of the Realm
Synopsis: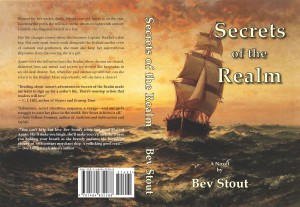 Blamed for her uncle's death, fifteen-year-old Annie is on the run. Knowing the dangers she will face on the streets of eighteenth century London, Annie disguises herself as a boy.
Her life changes course when she becomes Captain Hawke's cabin boy. Not only must Annie work along side the Realm's motley crew of outcasts and gentlemen, she must also keep her superstitious shipmates from discovering she is a girl.
Annie vows she will never leave the Realm, where dreams are chased, shattered lives can mend, and secrets are stowed like keepsakes in an old desk drawer. But when Annie's past catches up with her, can she stay on the Realm? More importantly, will she have a choice?
GENRE:  Young Adult Historical Fiction
WHAT OTHERS ARE SAYING:
"Reading about Annie's adventures in Secrets of the Realm made me want to sign up for a sailor's life. There's nonstop action that readers will love."
– C. J. Hill, author of Slayers and Erasing Time
"You can't help but love Bev Stout's feisty but good-hearted Annie. She'll make you laugh, she'll make you cry, and she'll have you holding your breath as she bravely endures the hardships aboard an 18th century merchant ship. A rollicking good read."
– Dee Lillegard, children's author
"Adventure, secret identities, suspense, a voyage – and one girl's struggle to earn her place in the world. Bev Stout delivers it all"
– Amy Fellner Dominy, author of Audition & Subtraction and OyMG
REVIEWS:
Jalyn Reads
Novel Tease
The YA Lit Chick
Nik's Picks
Dandelion Dreams
The Vivacious Dreamer
The talking (blogging) bookworm
Amanda's Nose in a Book
RoseBuz
The Story Sanctuary
Once Upon a YA Book
Candace's Book Blog (audiobook review)
Rockin' Book Reviews
Flip That Page
Bilbo's Book Ends
Simon Okill's Review
Goodreads
WHERE TO PURCHASE:
Buy paperback at CreateSpace eStore
Buy paperback, Kindle, and audiobook at Amazon.com
Buy paperback and Nook at Barnes & Noble
Buy Kobo (epub) at Kobo.com
Buy audiobook at Audible.com
Buy ebook and audiobook on iTunes for Mac, PC, iPad, iPhone, or iPod Touch
MENTIONED ON THESE PAGES:
Five Small Press/Indie Titles You Won't Want To Miss
Clean Indie Reads