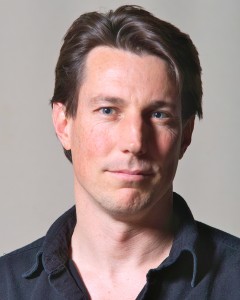 Benjamin is the author of the literary thriller Patriarch Run, the first book in a series that will include Fidelity and The Story of the Boy. He also writes about parenting, education, sustainability and national security.
Benjamin works as an Advisor at a Colorado high school where he has made a career out of mentoring young people as they come of age. His work with adolescents has informed his stories, which are typically themed around fatherhood and coming-of-age. You can learn more at BenjaminDancer.com.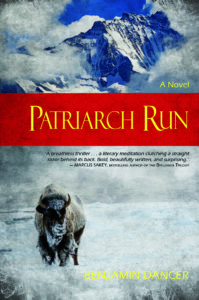 Nine years ago, Jack Erikson was deployed to China to protect the United States from a cyberattack. Now, suffering from a drug-induced amnesia, he is unable to recognize his own son. What Jack knows for sure is that an elite group of operators is determined to kill him.
What he does not yet remember is that he controls a cyber weapon powerful enough to return human civilization to the Stone Age. If Jack lives long enough to piece together his mission and his identity, he will be forced to choose between the fate of humankind and that of his own family. Read an excerpt!
PRAISE FOR PATRIARCH RUN
"Patriarch Run accomplishes something few thrillers have achieved: it gets the guns right, and it gets the psychology of the gunfight right. Benjamin Dancer writes the gunfight scenes with a realism seldom seen in fiction." – LT. COL. DAVE GROSSMAN, author of On Killing: The Psychological Cost of Learning to Kill in War and Society and On Combat: The Psychology and Physiology of Deadly Conflict in War and in Peace
"Unsparing, violent and cinematic, Patriarch Run starts with a bang and doesn't let up. Benjamin Dancer is an immensely talented writer; his assured, lean prose and stark realism will appeal to fans of Cormac McCarthy and Don Winslow." – A. J. BANNER, international bestselling author of The Good Neighbor
REALISM
"The description of the vulnerabilities of our infrastructures, especially that of the often neglected-to-mention vulnerability of our food supply system due to its dependency on the long term availability of electricity, seems to me both accurate and thought provoking. Or at least, it ought to be. Works such as this may serve a larger purpose than 'mere' entertainment by alerting the public, and even some government agencies, to the dangers that lurk out there while there is still opportunity to do something about them in a way that often obscure official reports and studies are unable to accomplish." – DR. MICHAEL J. FRANKEL, former Executive Director of the EMP Commission; former Associate Director for Advanced Energetics and Nuclear Weapons, Office of the Deputy Undersecretary of Defense (S&T); Chief Scientist, Nuclear Phenomenology Division, Defense Threat Reduction Agency; Congressional Fellow, US Senate; Chief Scientist, SDIO Lethality Program; Research Physicist at the Naval Surface Weapons Center; National Security Fellow at The Johns Hopkins Applied Physics Laboratory
"Patriarch Run captures the vulnerability of our nation's critical infrastructure. In this case the fiction is as frightening as the reality. A seemingly futuristic story about a new way of warfare, played out against a seemingly futuristic background of disillusioned patriotism, divided personal loyalties, and identity crisis–except Dancer understands that the future is now!" – DR. PETER VINCENT PRY, Executive Director of the EMP Task Force on National and Homeland Security, a Congressional Advisory Board; served in the Congressional EMP Commission, the House Armed Services Committee, and the CIA; author of Blackout Wars
COMING-OF-AGE
"In Patriarch Run we have a first-rate novel, full of intrigue, excitement and gorgeous prose, as well as a gripping exploration of our gendered culture and the poignant moments and difficult decisions entailed in coming of age. Without being heavy-handed about the right choices, Dancer provokes our much needed questioning of the rules by which we live." – TERRY A. KUPERS, M.D., Professor at The Wright Institute, author of Revisioning Men's Lives and Prison Madness
"Patriarch Run is a compelling coming-of-age story that explores the universal longing for a father." – DAVE STALLS, co-founder of Street Fraternity, former CEO of Big Brothers Big Sisters of Colorado
"This thoughtful thriller invites readers to consider both motherhood and fatherhood on multiple levels—emotional, psychological, even practical. A gripping coming of age story, Patriarch Run demonstrates the real meaning of mature self-acceptance in the face of terror, trauma and abandonment." – GLORIA DEGAETANO, founder and CEO, Parent Coaching Institute
SUSTAINABILITY
"Benjamin Dancer has illustrated that our greatest villain is overpopulation. Can the global community confront this most daunting adversary—too many people on a limited planet?" – PAUL R. EHRLICH, Bing Professor of Population Studies Emeritus; President, Center for Conservation Biology
"In Old Testament times, there were only about 30 million people on Earth, yet they were already fighting over wells. With 250 times that number today, as Benjamin Dancer's thriller notes, we're literally fighting over everything. Atop that, nature is fighting all of us, for its very life. Overpopulation isn't just one more environmental problem: if there weren't so many of us, there wouldn't even be environmental problems. Fortunately, this one is solvable, humanely and surprisingly cheaply. I hope that once the blood from this dark spy saga dries, Dancer's readers are inspired to inquire how. They just might find their hopes rekindled." – ALAN WEISMAN, author of Countdown and The World Without Us
"Patriarch Run reminds us that progressive, human-rights enhancing initiatives that help women and men plan their families are the best option for slowing down and eventually halting global population growth. Funding family planning information and services today, along with encouraging small family size decisions, are far preferable to a population-driven apocalypse tomorrow." – WILLIAM RYERSON, President of Population Media Center, CEO of Population Institute