Barbara Watkins resides in Missouri with her husband and loyal boxweiler, Hooch. In her writings, she loves to evoke a false sense of security and expectations, as she leads her reader into a world of the unknown.
In 2010, Watkins collaborated with New Zealand director, Dimi Nakov, on a screenplay for a short movie entitled, BlindSide in which her name appears in the films end credits for voice-over monologue. BlindSide has been accepted into the Cannes short film corner, as part of the 65th Festival de Cannes, and the 7th Cyprus International Film Festival 2012.
 Her charitable contributions include supporting the Partner in Hope program through the St. Jude Children's Research Hospital.
Psychological/Thriller: Thorns of an Innocent Soul (Novella)
BOOK DESCRIPTION A young woman tormented by her own demons is torn between wanting to love her mother and a need to hate her. Growing up in an abusive environment, she loses her self-confidence and her self-respect. Determined to have the life she has always wanted with the only man to ever love her, she realizes the choices she makes could change her destiny forever. And that one horrific night will decide her fate. Can the pain she has endured and inflicted upon others ever be released? Or is her soul lost forever? Only she has the power to remove the thorns from her innocent soul.
Thorns of an Innocent Soul is optioned for a movie with Zodiac Entertainment (New Zealand Production Company)
Paranormal/Thriller: Hollowing Screams (Novel)
BOOK DESCRIPTION It is bizarre to say in our civilized culture some human beings still act out in a violent primitive manner causing bodily harm and death. For this reason alone incarcerating facilities will always exist. The terror of being thrust into a world in which time cannot be calculated, distance cannot be measured, and our own true existence is in question is incomprehensible. In 1971, a mysterious stranger warned a small community of their impending doom. She prophesied that if they ignored her warnings they would experience a chain of devastating events. The outcome of their fate would remain in whether they chose to believe in something that could not be scientifically validated. Is it safe to say that unexplained phenomenon does exist? If you asked the people of Patton, they would say, "Of course it does and its name is Lola."
Armand Mastroianni, Producer/Director says, "Just finished Hollowing Screams and may I say it is very creepy with so many twists and turns that it kept me enthralled till the final page. It's a book that would make a terrific movie and a book a director would have a field day with. Your characters are well drawn, immediately engaging. It's one of the few times that a back story is so compelling that the reader is committed to see the outcome….and the outcome delivers big time."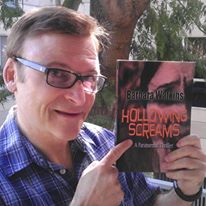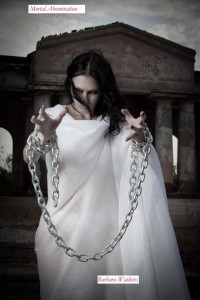 Supernatural/Thriller: Mortal Abomination (Digital Short)
BOOK DESCRIPTION An underground internet reporter tells the story of a psychic condemned to prison when she fails to divulge her premonition concerning the assassination of our President of The United States. Set in the near future, Mortal Abomination, tells the story of psychic, Maria Torres, revealing her trials and tribulations as she struggles to convince our government of an impending doom. Is it lucid to persecute and incarcerate one for having a numinous ability to see the future? The story of Mortal Abomination is similar to the Salem Witch trials of 1692, as Maria Torres is persecuted and tortured because of her unique ability to foretell the future…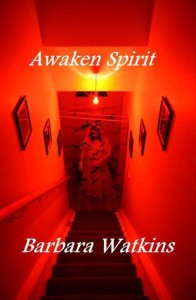 Supernatural/Thriller: Awaken Spirit (Digital Short)
BOOK DESCRIPTION Doors that open and shut by themselves… the soft touch on your shoulder as if to get your attention… only to turn around to find no one there… the sound of footsteps on an empty flight of stairs… the quiet whisper in your ear waking you from a deep sleep, only to realize you're alone in the pervading silence. They had always believed that when you die your soul went to heaven or hell, no in between. After a young family moves in an old Victorian home on the outskirts of town – they quickly find that they are not alone. When ghostly images emerge, and voices from within the walls cry out in pain, they begin to question their own sanity.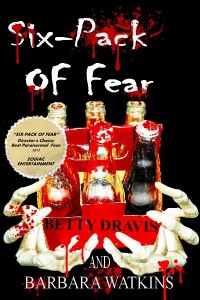 Paranormal/Horror: Six-Pack of Fear (co-author, Betty Dravis)
BOOK DESCRIPTION International Best-Selling Authors, Betty Dravis and Barbara Watkins, introduce their readers to another six-pack of spine-tingling tales with this second installment of six short stories, Six-Pack of Fear. Journey into the unknown where nothing is as it seems; where the macabre, murder, terror and the paranormal happily invite pure evil to celebrate the dance of death. Sit back and relax! Pop that can of 'Blood'…uh, I mean beverage of  choice…and prepare to GET YOUR FRIGHT ON! SWEET SCREAMS, horror lovers!
Paranormal/Horror: Six Pack of Blood (co-author, Betty Dravis)
BOOK DESCRIPTION INTERNATIONAL BEST SELLER – HORROR/OCCULT "Six-Pack of Blood" received Zodiac Entertainment's "Best Paranormal/Horror" Award. It's a compilation of six short, malevolent stories by award-winning authors Betty Dravis and Barbara Watkins. Be sure to lock your doors and leave the lights on before reading these bloodcurdling, terrifying tales of revenge, lust, murder, cannibalism, witchcraft and more. Who in the world is safe when such benign things as snow domes, dolls, a Caribbean cruise and an innocent Sunday outing turn malevolent? Blood is everywhere…
AWARDS & BANNERS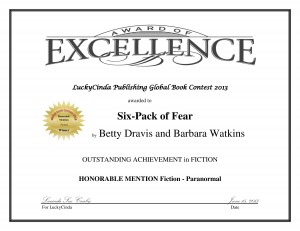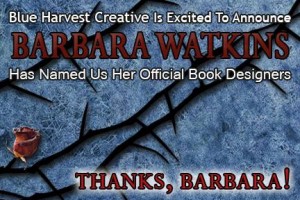 QUOTES:
"As a writer, I will go down any dark alley, inch my way through the tightest crawl space, and feed on your every fear. I will take your sense of calm and tear it to shreds." – Paranormal/Horror Author Barbara Watkins
MY LINKS:
Web Site  FAN PAGE IMDB BLOG FACEBOOK HOLLOWING SCREAMS FAN PAGE TWITTER