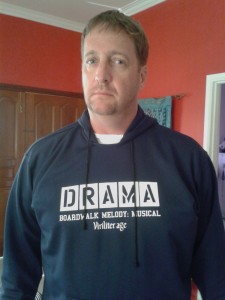 "Of course I love to write or I wouldn't have my own page on Indieviews! But beyond that, my sweatshirt says it all: drama. Whether on stage or in the pages of my novels, I love to create human drama which resonates to readers and theatre-goers.  I started writing plays seven years ago and that has led me to the novel writing which I equally love. I hope you'll check out some of my writing, including my novels listed below."
Mark W Sasse grew up in western Pennsylvania, but he has lived, worked, taught, and wrote for most of the past twenty years in both Vietnam and Malaysia. His Asian experiences provides a unique twist to his storytelling. Besides novel-writing, he loves writing for the live stage and has a drama group of young actors called The RLT Players which is one of his driving passions. They perform original short plays and musicals. Sasse's play "No in Spite of Itself" won Best Script in Penang's Short & Sweet Theatre Festival 2013, while his script "Drive All Night" won the Audience Choice Award at the same festival in 2012. His script "Almighty Might" won two awards at the KL Short & Sweet Festival 2013 including Best Director and Best Supporting Actor. "Almighty Might" is also the starting off point and inspiration of Sasse's fourth novel which is in the works and set to release in 2015.
The novels:
July 2014 "The Reach of the Banyan Tree"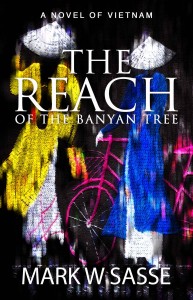 Chip Carson intends to marry a young Vietnamese woman named Thuy until a tragic accident lands him in prison, forever altering the outlook of their relationship. As he struggles to cope with their strained love, a mysterious stranger appears, bearing a journal about Chip's grandfather who parachuted into French Indochina at the end of World War II. As the words of the journal reveal a life that Chip never knew, he begins to understand the depth of love and sacrifice needed in order to have a second chance with Thuy. Part historical fiction, part contemporary love story, The Reach of the Banyan Tree explores the effects of war, love, culture, and family obligation in twentieth century Vietnam through the eyes of three generations of American men, who each lost their soul in the tangled reach of the banyan tree.
October 2013 The Recluse Storyteller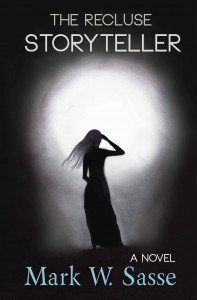 The twins, beckoned by an ominous streak of light across the sky, climb Harper's Hill to encounter an apparition of their missing father.
The reverend stands on a muddy ridge, the barrel of a rifle in his neck, looking down on a Vietnamese village, scarred by war and regret.
The brash terrorist, Red Hat, desperately tries to walk away from life unscathed and unattached.
The stories haunt Margaret every waking moment, but they are anything but random. A fractured view Michael Cheevers' red hat through a discreetly cracked door sends her off on adventure. A glimpse of the Johnson twins from apartment 2D transports her mind to the lonely hill on a Midwestern prairie in 1887. The regular letters from Reverend Davies bring her to the brink of exhaustion as she stares intensely into the heart of war, deep in the jungle of Vietnam.
Margaret is not insane, at least not in a clinical sense. She's like a midnight raccoon, painfully aware of her surroundings, gleaning crumbs of information at every turn. Her eyes peer incessantly in the night, stealing glances of the neighbors through partially opened doors.
But the tales she weaves were not meant to merely hold empty court to the receptive dead air of her apartment. Her stories were meant to embolden the lives of the inhabitants of that drab apartment block because her story is also their story–and everything would be different if they could only hear the prophetic words of the rambling recluse.
The Recluse Storyteller weaves five stories into one as the loner, Margaret, not only searches for meaning from her reclusive life, but also gives meaning in the most unexpected ways to the troubled souls of her apartment complex. Part adventure, part tragedy, and part discovery, The Recluse Storyteller bridges genres, bringing hope, life, and redemption to the broken relationships of modern society.
December 2012 – Beauty Rising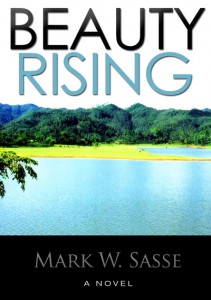 "My heart sank. I dumped my father's ashes in the heart of communist Vietnam – over a thousand miles from the death of his comrades – over a thousand miles from the smile of that girl. How could I have been so stupid?"
Only the bumbling, overweight, thirtyish, stay-at-home Martin Kinney could have mistakenly flubbed his dying father's request with such gusto. This thousand mile mistake awakens the ghosts of long-held family secrets and puts Martin on a fateful course with an unlikely romantic interest – a young, beautiful, yet troubled Vietnamese woman named My Phuong.
With its cross-cultural setting and unlikely romance, the 61,000 word novel Beauty Rising creates a powerful, unique voice in today's literature. In a swift- moving, dialogue-driven prose which is funny, honest, tragic and unpredictable, Beauty Rising explores the depths of culture, family, and love as the Vietnam War, a generation removed, continues to hang on the periphery of society, cursing families and causing destruction.