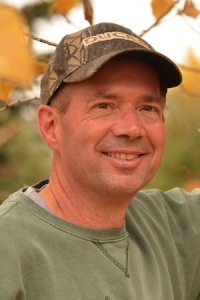 BIOGRAPHY
John A. Heldt is the author of the critically acclaimed Northwest Passage and American Journey series. The former reference librarian and award-winning sportswriter has loved getting subjects and verbs to agree since writing book reports on baseball heroes in grade school. A graduate of the University of Oregon and the University of Iowa, Heldt is an avid fisherman, sports fan, home brewer, and reader of thrillers and historical fiction. When not sending contemporary characters to the not-so-distant past, he weighs in on literature and life at johnheldt.blogspot.com.
BLOG
BOOKS
Northwest Passage: The First Three Novels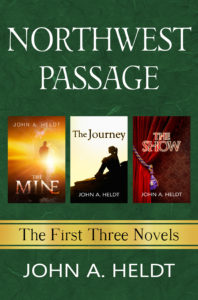 In John A. Heldt's celebrated Northwest Passage series, an abandoned mine, a haunted house, and a theater restroom are not just curiosities. They are portals to the past. Step into each portal and see the twentieth century through twenty-first century eyes. In The Mine, a cavalier college senior explores a dusty adit in 2000 and emerges in 1941 as a world war approaches. In The Journey, a recent widow tries to reconnect with her past at her thirtieth reunion and finds herself in 1979 and her senior year of high school. In The Show, a jilted young woman from 1941 seeks answers in 2000 but finds them in 1918, the time of her parents' courtship. Trapped in the corridors of time, three resourceful individuals, victims of fate and circumstance, find romance and redemption in the not-so-distant past.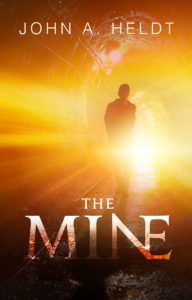 In May 2000, Joel Smith is a cocky, adventurous young man who sees the world as his playground. But when the college senior, days from graduation, enters an abandoned Montana mine, he discovers the price of reckless curiosity. He emerges in May 1941 with a cell phone he can't use, money he can't spend, and little but his wits to guide his way. Stuck in the age of swing dancing and a peacetime draft, Joel begins a new life as the nation drifts toward war. With the help of his 21-year-old trailblazing grandmother and her friends, he finds his place in a world he knew only from movies and books. But when an opportunity comes to return to the present, Joel must decide whether to leave his new love in the past or choose a course that will alter their lives forever. The Mine is a love story that follows a humbled man through a critical time in history as he adjusts to new surroundings and wrestles with the knowledge of things to come.
The Journey: Northwest Passage 2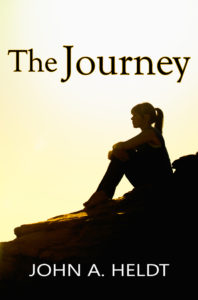 Seattle, 2010. When her entrepreneur husband dies in an accident, Michelle Preston Richardson, 48, finds herself childless and directionless. She yearns for the simpler days of her youth, before she followed her high school sweetheart down a road that led to limitless riches but little fulfillment, and jumps at a chance to reconnect with her past at a class reunion. But when Michelle returns to Unionville, Oregon, and joins three classmates on a spur-of-the-moment tour of an abandoned mansion, she gets more than she asked for. She enters a mysterious room and is thrown back to 1979. Distraught and destitute, Michelle finds a job as a secretary at Unionville High, where she guides her spirited younger self, Shelly Preston, and childhood friends through their tumultuous senior year. Along the way, she meets widowed teacher Robert Land and finds the love and happiness she had always sought. But that happiness is threatened when history intervenes and Michelle must act quickly to save those she loves from deadly fates. Filled with humor and heartbreak, The Journey gives new meaning to friendship, courage, and commitment as it follows an unfulfilled soul through her second shot at life.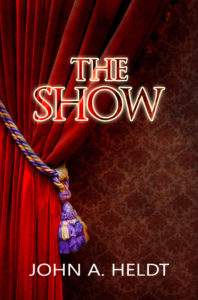 Seattle, 1941. Grace Vandenberg, 21, is having a bad day. Minutes after Pearl Harbor is attacked, she learns that her boyfriend is a time traveler from 2000 who has abandoned her for a future he insists they cannot share. Determined to save their love, she follows him into the new century. But just when happiness is within her grasp, she accidentally enters a second time portal and exits in 1918. Distraught and heartbroken, Grace starts a new life in the age of Woodrow Wilson, silent movies, and the Spanish flu. She meets her parents as young, single adults and befriends a handsome, wounded Army captain just back from the war. In The Show, the sequel to The Mine, Grace finds love and friendship in the ashes of tragedy as she endures the trial of her life.
When Kevin Johnson, 22, goes to Wallace, Idaho, days after his college graduation, he expects to find rest and relaxation as his family prepares his deceased grandfather's house for sale. Then he discovers a hidden diary and a time portal that can take him to 1910, the year of Halley's comet and the largest wildfire in U.S. history. Within hours, Kevin finds himself in the era of horse-drawn wagons, straw hats, and ankle-length dresses. Traveling repeatedly to the same time and place, he decides to make the portal his gateway to summer fun. The adventure takes a more serious turn, however, when the luckless-in-love science major falls for pretty English teacher Sarah Thompson and integrates himself in a community headed for disaster. Filled with humor, romance, and heartbreak, The Fire, the sequel to The Journey, follows a conflicted soul through a life-changing journey as he makes his mark on a world he was never meant to see.
The Mirror: Northwest Passage 5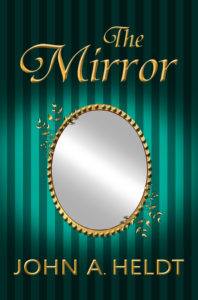 On September 11, 2020, Ginny and Katie Smith celebrate their nineteenth birthday at a country fair near Seattle. Ignoring the warnings of a fortune-teller, they enter a house of mirrors and exit in May 1964. Armed with the knowledge they need to return to their time, they try to make the most of what they believe will be a four-month vacation. But their sixties adventure becomes complicated when they meet a revered great-grandmother and fall in love with local boys. In The Mirror, the continuation of The Mine and The Show, the sisters find happiness and heartbreak as they confront unexpected challenges and gut-wrenching choices in the age of civil rights, the Beatles, and Vietnam.
American Journey: The First Three Novels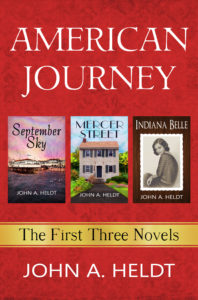 Meet a mysterious professor, step into a hidden chamber, and take the time-travel plunge! The opportunity awaits in the first three novels of John A. Heldt's celebrated American Journey series. In September Sky, a reporter and his estranged son find southern belles, lawlessness, and danger as they travel to Galveston, Texas, on the eve of its devastating 1900 hurricane. In Mercer Street, a family of Chicago women, representing three generations, takes a sentimental journey to Princeton, New Jersey, in the turbulent months before World War II. In Indiana Belle, a lonely doctoral student follows a trail to the Roaring Twenties, where a beautiful society editor, a cold-blooded killer, and a century-old mystery await. Filled with history, romance, and adventure, the American Journey series takes readers on a ride through the most memorable eras of the 20th century.
September Sky: American Journey 1
When unemployed San Francisco reporter Chuck Townsend and his college-dropout son, Justin, take a cruise to Mexico in 2016, each hopes to rebuild a relationship after years of estrangement. But they find more than common ground aboard the ship. They meet a mysterious lecturer touting the possibilities of time travel. Within days, Chuck and Justin find themselves in 1900, riding a train to Texas, intent on preventing a distant uncle from being hanged for a crime he did not commit. Their quick trip to Galveston, however, becomes long and complicated when they wrangle with business rivals and fall for two beautiful librarians on the eve of a hurricane that will destroy the city. Filled with humor, history, romance, and heartbreak, September Sky follows two directionless souls on the adventure of a lifetime as they try to make peace with the past, find new purpose, and grapple with the knowledge of things to come.
Mercer Street: American Journey 2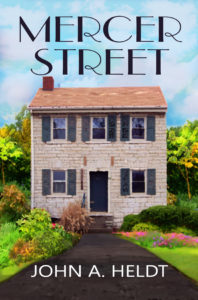 Love, honor, and courage take center stage in the second book of John Heldt's American Journey time-travel series as three women from the present become entangled in the past in the tension-filled months leading up to World War II. Weeks after her husband dies in the middle of an affair, Susan Peterson, 48, seeks solace on a California vacation with her mother Elizabeth and daughter Amanda. The novelist, however, finds more than she bargained for when she meets a professor who possesses the secret of time travel. Within days, the women travel to 1938 and Princeton, New Jersey. Elizabeth begins a friendship with her refugee parents and infant self, while Susan and Amanda fall for a widowed admiral and a German researcher with troubling ties. Filled with poignancy, heartbreak, and intrigue, Mercer Street gives new meaning to sacrifice and commitment as it follows three strong-willed souls on the adventure of a lifetime.
Indiana Belle: American Journey 3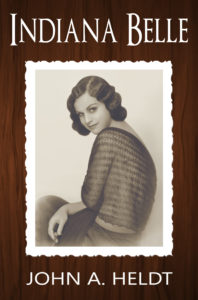 Providence, Rhode Island, 2017. When doctoral student Cameron Coelho, 28, opens a package from Indiana, he finds more than private papers that will help him with his dissertation. He finds a photograph of a beautiful society editor murdered in 1925 and clues to a century-old mystery. Within days, he meets Geoffrey Bell, the "time-travel professor," and begins an unlikely journey through the Roaring Twenties. Filled with history, romance, and intrigue, Indiana Belle follows a lonely soul on the adventure of a lifetime as he searches for love and answers in the age of Prohibition, flappers, and jazz.
Class of '59: American Journey 4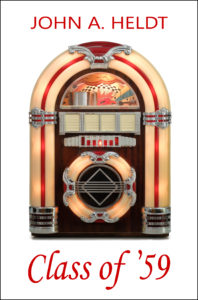 When Mary Beth McIntire settles into a vacation house on June 2, 2017, she anticipates a quiet morning with coffee. Then she hears a noise, peers out a window, and spots a man in 1950s attire standing in the backyard. She panics when the trespasser sees her and enters the house though a door to the basement. She questions her sanity when she cannot find him. In the same house on March 21, 1959, Mark Ryan finds a letter. Written by the mansion's original owner in 1900, the letter describes a basement chamber, mysterious crystals, and a formula for time travel. Driven by curiosity, Mark tests the formula twice. On his second trip to 2017, he encounters a beautiful stranger. He meets the woman in the window. Within hours, Mary Beth and Mark share their secret with her sister and his brother and begin a journey that takes them from the present day to the age of sock hops, drive-ins, and jukeboxes. In Class of '59, the fourth book in the American Journey series, four young adults find love, danger, and adventure as they navigate the corridors of time and experience Southern California in its storied prime.
Hannah's Moon: American Journey 5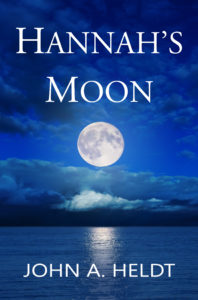 After struggling for years to have a child, Claire Rasmussen, 34, turns to adoption, only to find new obstacles on the path to motherhood. Then she gets an unlikely phone call and soon learns that a distant uncle possesses the secrets of time travel. Within weeks, Claire, husband Ron, and brother David find themselves on a train to Tennessee and 1945, where adoptable infants are plentiful and red tape is short. For a time, they find what they seek. Then a beautiful stranger enters their lives, the Navy calls, and a simple, straightforward mission becomes a race for survival. Filled with suspense, romance, and heartbreak, Hannah's Moon, the epic conclusion of the American Journey series, follows the lives of four spirited adults as they confront danger, choices, and change in the tense final months of World War II.
River Rising: Carson Chronicles 1
Weeks after his parents disappear on a hike, engineer Adam Carson, 27, searches for answers. Then he discovers a secret web site and learns his mom and dad are time travelers stuck in the past. Armed with the information he needs to find them, Adam convinces his younger siblings to join him on a rescue mission to the 1880s. While Greg, the adventurous middle brother, follows leads in the Wild West, Adam, journalist Natalie, and high school seniors Cody and Caitlin do the same in Johnstown, Pennsylvania. Like the residents of the bustling steel community, all are unaware of a flood that will destroy the city on May 31, 1889. In River Rising, the first novel in the Carson Chronicles series, five young adults find love, danger, and adventure as they experience America in the age of bustle dresses, gunslingers, and robber barons.