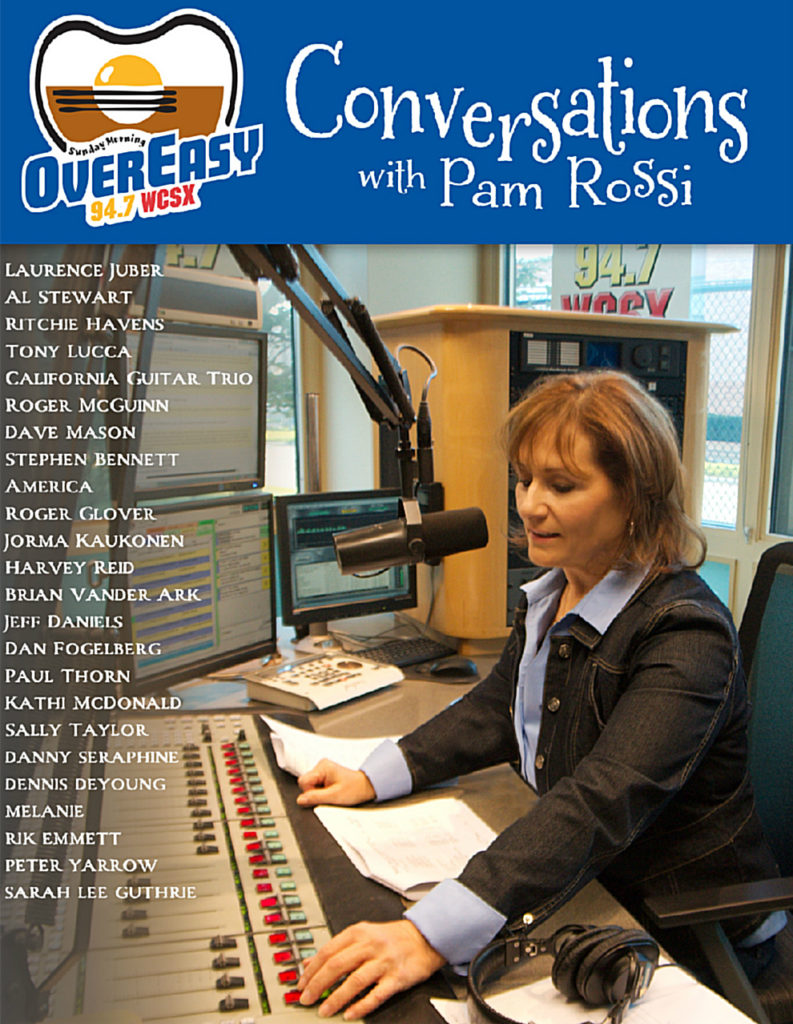 Loyal listeners were constantly commenting on the great interviews and wondered how to go back and enjoy them again. That got the ball rolling.
Pam Rossi – 20 November 2017
About the book
What is the book about?  
As a radio host, I was able to invite musical guests into the studio to talk and hear music. Two friends having a conversation about the artist and their music. I took those recordings and transcribed the interviews which is what the book is.
When did you start writing the book?  
The actual interviews took place from 2000-2012 and I started the actual book 2 years ago.
How long did it take you to write it?  
About 18 months
Where did you get the idea from?  
Loyal listeners were constantly commenting on the great interviews and wondered how to go back and enjoy them again. That got the ball rolling.
Were there any parts of the book where you struggled?  
I needed to get permission from the radio station plus get signed releases from everyone in the book.
What came easily?  
Writing the intros to each section and each artist.
Are your characters entirely fictitious or have you borrowed from real world people you know?  
This is all exact words from our conversations.
We all know how important it is for writers to read. Are there any particular authors that have influenced how you write and, if so, how have they influenced you?
No, in fact because of the logistics, this type of book isn't normally done
Do you have a target reader?
Music lovers, historians, biography enthusiasts.
About Writing
Do you have a writing process? If so can you please describe it?  
I do not.
Do you outline? If so, do you do so extensively or just chapter headings and a couple of sentences?  
For this book, I just kept a spreadsheet. Artists, dates of interviews, what was the audio format, when it was sent to the transcriber and returned, when the proof listening was edited, release form sent and received, edited file sent to publisher, photos taken…
Do you edit as you go or wait until you've finished?  
Edit as I went.
Do you listen to music while you write?
If yes, what gets the fingers tapping?   I sometimes listened to the interview and that artists music before I wrote the introductions.
About Publishing
Did you submit your work to Agents?
No
What made you decide to go Indie, whether self-publishing or with an indie publisher? Was it a particular event or a gradual process?  
I happened to meet my indie publisher when he brought another author to one of my internet interview shows and we got talking about my idea for this book and he ran with it.
Did you get your book cover professionally done or did you do it yourself?  
My publisher used his go to gal for the cover.
Do you have a marketing plan for the book or are you just winging it?  
The honest truth is my publisher died this past fall and his family didn't want to keep the business going.  I put the book on the back burner until now.
About You
Where did you grow up?
Metro Detroit area
Where do you live now?
Canton, Mi, suburb of Detroit
What would you like readers to know about you?  
I am a radio on air personality now for over 30 years, a voice over artist specializing in non-broadcast like training, whiteboard videos, telephony and more plus I am an audio book narrator with 30 books on Audible now with the majority on non-fiction.
What are you working on now?  
I focus mainly on the above careers but am also writing a children's book series and am in the very beginning stages of a true to life fiction novel.
End of Interview:
For more from Pam, visit her website or like her Facebook page.
Get your copy of Conversations with Pam Rossi from Amazon.