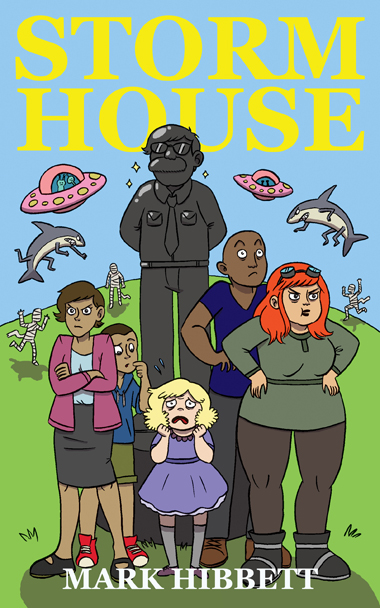 In the pub one night one of my friends asked why I was writing something that even I found a bit run of the mill. 'Why don't you write the sort of thing you actually like?'
Mark Hibbett – 5 October 2017
The Back Flap
The first day in a new job usually involves meeting new people, a health and safety induction, and not being able to log-in to your computer. Joanne Hussein's first day at Sir Hugo Storm's House Of Unusual Interest involves all of these things plus mummies, exploding statues, shark-men from outer space, and a terrifying high-speed race through London's secret underground system. Along the way she teams up with Ariadne Storm (nominal boss), Professor Margot Danson (actual boss) and Doug Walton (bossed around) to revive a long-lost adventurer and save the world from an alien invasion.
Storm House is a science-fiction adventure full of ideas, jokes and thrills that tells the secret story of an organisation which has been trying to defend Britain from the weird, uncanny and rum since Victorian times. They haven't always entirely succeeded, but at least they're trying.
About the book
What is the book about?
It's about a team of museum workers who secretly protect the UK from monsters, aliens and general weirdness. It's also about an unusual group of people getting to know each other, and things exploding.
When did you start writing the book?
I started it in 2014 as a screenplay – I was doing an MA in Creative Writing at City University in London, and Storm House was my equivalent of a thesis or final exam.
How long did it take you to write it?
The screenplay took around six months, then I sent it around various production companies and agents and nearly all the ones who replied said the same thing – that it would be far too expensive for anyone to ever film. After a few of those my girlfriend suggested that I turn it into a book instead, so I did! That took about a year, doing half an hour here and there whenever I had some spare time at work.
Where did you get the idea from?
For the final MA submission I'd originally planned to write a drama/comedy called Mum and Dad about two middle-aged single parents getting together, and the implications for their respective extended families. In the pub one night one of my friends asked why I was writing something that even I found a bit run of the mill. 'Why don't you write the sort of thing you actually like?' she said so, I had a think and remember a recent visit to the John Soane Museum in London (http://www.soane.org/). It's a very strange, very brilliant, private museum packed with odds and sods collected by the Victorian architect who built the bank of England, and that gave me the idea for Sir Hugo Storm's House Of Unusual Interest, or 'Storm House' for short!
Were there any parts of the book where you struggled?
The hardest part was making sure that all of the characters were in the right place at the right time. I went through several drafts with some of them in two places at the same time!
What came easily?
Once I'd worked out who the characters were the dialogue was the easiest. I know it's dreadful when people say 'the characters started speaking for themselves' but they pretty much did. My favourite is the relationship that develops between Doug and Sir Hugo as the story goes on, it's lovely!
Are your characters entirely fictitious or have you borrowed from real world people you know?
They're almost entirely fictitious. I'm currently writing the second book though, and that's got a character who's named after, and basically is, one of my old bosses.
We all know how important it is for writers to read. Are there any particular authors that have influenced how you write and, if so, how have they influenced you?
In order, they'd probably be Geoffrey Willans (real-life is funny), Douglas Adams (ideas can be funny), Alan Moore (you can do something new and amazing with old characters), Jane Austen (characters can be funny), Terry Pratchett (being funny can also be serious) and, over-riding everything else, Stan Lee (you can write whatever the heck you like).
Do you have a target reader?
Not really. A couple of people have told me that Storm House is a kids' book, but the only person I had in mind when I wrote it was me!
About Writing
Do you have a writing process? If so can you please describe it?
I like to write a little bit at a time, and do it often, so tend to plan everything in advance so I can write for half and hour or so a few times a day and build that up into something bigger. It's a great feeling when you finish off months of little bits and stand back to discover you've created something enormous!
Do you outline? If so, do you do so extensively or just chapter headings and a couple of sentences?
Definitely, extensively! When I wrote the original version of Storm House I was mentored by the writer and script editor Andrew Cartmel. He made me go through several versions of the outline before he'd let me even begin the 'proper' writing, to make sure that the characters and the plot were all sorted out first.  It's a great way to do it – it's an awful lot easier to spot inconsistencies and fix errors in the outline than in a full text, and then when you finally do sit down to write the first draft you're full of ideas and chomping at the bit to get going.
Do you edit as you go or wait until you've finished?
I think it's best just to keep going until you get to the end, then go back to the beginning again to start editing. That way you don't need to worry about it being perfect, so you're freer to write whatever you like, safe in the knowledge that you can always sort it out later. Also, doing it that way means that by the time you get to the end of the book you've probably forgotten what you wrote at the start, so it becomes like a collaboration with yourself.
Did you hire a professional editor?
No – I was lucky enough to have a mentor on the original screenplay, and I got a lot of feedback from that which I fed back into the drafts of the novel.
Do you listen to music while you write? If yes, what gets the fingers tapping?
I usually have 6music on if I can, it's great!
About Publishing
Did you submit your work to Agents?
Yes – my original plan was just to publish it myself, but a couple of people suggested that I at least try the traditional route so I bought a copy of the Writers and Artists Yearbook, identified the ones which seemed likely (it's quite easy with science fiction, as so many agents rule themselves out in their entry!) and sent it off.
What made you decide to go Indie, whether self-publishing or with an indie publisher? Was it a particular event or a gradual process?
It was a very particular event. Storm House got picked up by an agent, which was very exciting, and I had a thrilling three weeks or so reading contracts and talking to them about which publishing houses they'd send it to and how it might be publicised. Then I got an email to say that the person who'd signed me was leaving the company and so they were dropping me. It was devastating, especially because I'd politely emailed all the other agents to tell them I'd got representation so they didn't need to read the manuscript, but after a bit of moping around I decided to pick myself up and go back to the original plan of publishing it myself. I'm really glad I did, it's been enormous fun!
Did you get your book cover professionally done or did you do it yourself?
I try to do most things myself, but for the cover I got some professional help. When I did some research into self-publishing beforehand I'd found that that the cover made a huge difference to how seriously people were going to take your book. I commissioned Rachael Smith to do it as she'd worked on some posters for events that friends had put on, and she was a pleasure to work with. It looks like a proper book!
Do you have a marketing plan for the book or are you just winging it?
I definitely have a plan, though it's more of a List Of Things To Do than a proper professional marketing plan. I've played in DIY bands for the past twenty years so I've had quite a lot of experience trying (and usually failing) to get some publicity, so it's quite good fun to be doing it in a slightly different area which, so far, seems a bit more friendly.
Any advice that you would like to give to other newbies considering becoming Indie authors?
Make sure you make it as good as you possibly can before unleashing it on the world (especially spellchecking and getting the cover right), and be prepared for absolutely nothing to happen for long periods!
About You
Where did you grow up?
I'm from Peterborough in the UK midlands. It's one of those places that people say they've changed trains at once but never visited.
Where do you live now?
We've got a flat in the former Athletes' Village in Stratford. The team from San Marino stayed in our flat, all three of them!
What would you like readers to know about you?
I've got a music website FULL of all sorts of things to read and listen to – there's decades of lyrics, articles, videos and all sorts of nonsense there!
What are you working on now?
I'm about halfway through the outline for the next Storm House book, tentatively titled The Utopians, and I'm also working on a few short stories.
End of Interview:
In addition to his website, you can also follow Mark on Twitter.
Get your copy of Storm House from Amazon US or Amazon UK.