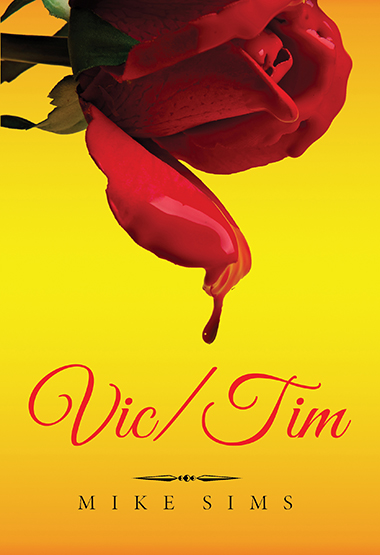 I have been told by some that some of the events that happen in the book are too ridiculous and do not happen in real life. The funny thing is the ones they talk about were the ones that did come from real life.
Mike Sims – 5 September 2017
The Back Flap
Each book in the series stands alone as Vic/Tim which is #4 in the series timeline, actually was the first book written. When it was written people asked how Vickie got her start so the series began. Vickie in this book is in the prime of her life and is assaulted by a man named Tim hence the title of the book; Vickie and Tim. Vickie decides to use her unusual and unique method of revenge on Tim. However things are not as simple as they seem and their lives become intertwined. Vic/Tim deals with many relevant social issues and mindsets. It is a dark comedy as all the books are in this series, however it sets the stage for the final book soon to be published.
About the book
What is the book about?
Vic/Tim is about a woman named Vickie who has gone through very harsh times in life.  She is a rape survivor from her teen years.  Now in her forties, she is confronted by a rapist named Tim.  However, she is physically powerful and he has no idea what he has got himself into.  Vickie decides to revenge herself upon him in every aspect of his life.  However, in this process the two become intertwined in their lives and families.  Things are not as simple as they may seem.  Vic/Tim generated a lot of response and people wanting to know more about Vickie so I expanded it to a five book series.  Vic/Tim is officially #4 in that series now with prequels Vickie and Valkyrie already out.  The next prequel is almost finished and there will be a final book to follow Vic/Tim.  The final one will tie the rest together and show what Vickie's destiny finally is.
When did you start writing the book?
I Started writing this book as a short story along with numerous other short stories I have written since my teenage years.  This one came to me in 2005 and was meant to be a dark comedy about a woman revenging herself on a man.  However, as it was put down in words it turned dramatic and the ending was not what I expected.  The story took a life of its own and I realized this was too big to be a short story.  Yet I had never written a novel before and had no idea how.  So it sat for eight years till one day it came to me how to make it a full book.
How long did it take you to write it?
It took two years to get it to three drafts.
Where did you get the idea from?
It just sprang into my head one day unexpectedly.  My imagination runs once in a while like that and a story forms from seemingly nowhere.
Were there any parts of the book where you struggled?
There were technical issues because it deals with psychological drama.  So I had help from crises prevention psychologists that were friends and people of other professions.  Even a famous astrophysicist helped with one character.  The hardest part was detailing an event that was molestation.  This one part was a short passage but took two weeks to write.  I had to be very careful to not make it a how to guide for perverts but give the feel of how traumatic and damaging the experience was.   One thing mainly is because the event is based on a real-life event I have permission to write.
What came easily?
The character interaction came easily as the story plays like a movie in my head and I am just taking dictation.  The characters have the general story but often times I really have no idea what they will fully say till it plays out.
Are your characters entirely fictitious or have you borrowed from real world people you know?
Mostly fictitious, but some taken from real life experiences.  I have been told by some that some of the events that happen in the book are too ridiculous and do not happen in real life.  The funny thing is the ones they talk about were the ones that did come from real life.
We all know how important it is for writers to read. Are there any particular authors that have influenced how you write and, if so, how have they influenced you?
Mark Twain is a good example.  I actually am not much of a reader.  I tend to worry I might inadvertently copy someone's work.
Do you have a target reader?
Vic/Tim and the other books in its series are adult related and deal with harsh issues.  I have had mixed reactions.  Women love the book but I have had several men for hours tell me the story was great but they have a problem with Vickie.  Some have told me that the character was like reading their life.  So it is meant for someone that likes hard hitting drama.
About Writing
Do you have a writing process? If so can you please describe it?
The story formulates in my mind for a good while.  When I have the entire general story done, my mind then works on scenes.  I am a visual person and often told my books read like a screenplay.  It is because I am watching the story unfold like a movie while I take dictation.
Do you outline? If so, do you do so extensively or just chapter headings and a couple of sentences?
No, I will come up with nifty sayings that jot down in notes to use in other chapters or even other books.  When I sit down to type out the story it is already formulated in my mind what to write.
Do you edit as you go or wait until you've finished?
I write as I see it and not worry about editing.  When I finish, I will come back to a second draft to correct obvious misspells and expand plots, characters , etc.  The third draft is where I work on story flow, narrative, continuity, all to make sure the book makes sense.
Did you hire a professional editor?
Absolutely because I do not trust my writing technical skills.  An editor is paramount.
Do you listen to music while you write? If yes, what gets the fingers tapping?
Yes, I put the headphones on and listen to music to tune out noise and it helps put my brain in a state to focus on the story.  Usually a song that reminds me of the book story in general.  It might even be the same song repeating.  After I get writing, I am not really paying attention to the music.
About Publishing
Did you submit your work to Agents?
I did originally with Vic/Tim in 2014/2015.  I submitted to over 500 of them and was turned down by all.  Even was recommended by a celebrity friend of mine to her agent and was still turned down.  I soon realized I would find bigfoot before an agent.
What made you decide to go Indie, whether self-publishing or with an indie publisher? Was it a particular event or a gradual process?
I submitted my book to second tier publishers that did not require an agent.  After not hearing from any of them I was picked up by Tate Publishing.  They charge a retainer but offered to take my book on very cheaply, and publish any other books of mine at no cost to me.  So I started with them until I realized they were going under.  I moved my books from them and published under my own banner Mazzaroth.
Did you get your book cover professionally done or did you do it yourself?
The original Vic/Tim and Vickie were done by Tate which were very eye catching.  I owned the rights to them so I continued to use them.  I did design the third book Valkyrie which had a striking logo I use for advertisements now.  I also created the video book teaser for the third book.
Do you have a marketing plan for the book or are you just winging it?
My wife has a marketing degree and we had a clear plan.  Before Tate Publishing I had no idea how the book business worked.  However, it did not take long to figure out the framework for it.  There is so much more I still have to learn but we managed to do some very inventive things.  Vic/Tim did end up on the desk at a TV network and in the hands of some celebrities.
Any advice that you would like to give to other newbies considering becoming Indie authors?
Do a lot of asking and join a guild.  The Houston Writer's Guild is a very good resource for me.  I also had the fortune of knowing several best-selling authors that shared their wisdom.  Be careful of services that take a lot of money from you for doing things you could easily do with just a little learning.
About You
Where did you grow up?
I was born in Alamogordo, NM but spent most of my life in Texas, having lived back and forth from Austin to Houston.
Where do you live now?
Katy, TX
What would you like readers to know about you?
I worked for years in the IT field and always dreamed of being a writer.  For years only wrote short stories, mostly for friends to read.  I am happy to now be working on a variety of books of many subjects and hope they are entertaining and helpful.
What are you working on now?
I am finishing up the Vickie series but at the same time working on a few other standalone books.  One book is about a young Mexican boy living in a poor village that discovers something that changes the world.  It is a short story I wrote many, many years ago and friends loved it.  It is almost done.
Also my Vickie series of books are being translated into multiple languages.  Vickie has just been released in Spanish.  Also very soon they will be available in English audiobook format.
End of Interview: