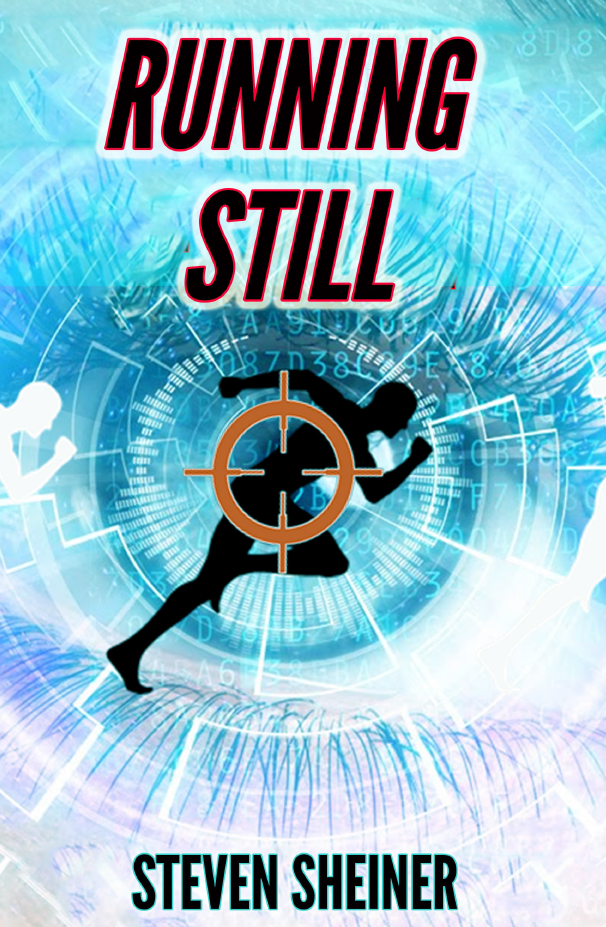 Each day was a new adventure. I was never really sure where the story would take me, so I had the same feeling of 'what happens next' as I hope the readers will.
Steven Sheiner – 10 August 2017
The Back Flap
When Jack Turner's wife and kids are diagnosed with a new form of cancer, he is baffled. As a former collegiate athlete, he and his family live a healthy lifestyle. Now, suddenly, they are sick. But why isn't he? And how is there already a drug for this new disease? Jack will stop at nothing to get answers, and to save his family. With the help of some surprising and unexpected friends, he uncovers a conspiracy that is bigger than anything he could have imagined. But is it more than he can handle?
Filled with action, drama, and suspense, Running Still is a David vs. Goliath type tale that spotlights the frightening power of Big Pharma and what can happen when billions of dollars are at stake.
About the book
What is the book about?
Running Still follows the story of Jack Turner, a former competitive runner, who moves his family from New York to small town. Despite living a healthy lifestyle, within a year of the move, his wife and kids are diagnosed with a never before seen type of cancer. But not Jack. He will stop at nothing to get answers and to save his family. But what he discovers is more than he ever could have imagined. A conspiracy on the grandest of scales. He enlists a few of his friends to help him, but it is an uphill battle, a genuine David-vs-Goliath tale.
When did you start writing the book?
January 2017
How long did it take you to write it?
Three and a half months.
Where did you get the idea from?
I've always been health conscious and into fitness. More and more people are taking prescription drugs, and one day I just started to wonder if that was by design. That simple question became what is now Running Still.
Were there any parts of the book where you struggled?
I struggled with the death of a child. As a father myself, there is no greater pain than the loss of a child. I can't even imagine it. So to put it on paper and consider the emotion and feelings involved was tough.
What came easily?
Surprisingly, the story just flowed. Once I started writing, I couldn't wait to sit down again and keep it going.
Are your characters entirely fictitious or have you borrowed from real world people you know?
They are largely fictitious with perhaps a dash of reality mixed in.
We all know how important it is for writers to read. Are there any particular authors that have influenced how you write and, if so, how have they influenced you?
Absolutely. I am a big fan of John Grisham and James Patterson. There is no question their story-telling and writing style influenced mine. I've already begun to hear the comparisons, which certainly isn't a bad thing.
Do you have a target reader?
Fans of Grisham, Patterson, Michael Crichton and Robin Cook will certainly enjoy this book. But anyone who enjoys a good page-turner filled with action, suspense, intrigue, and even some conspiracy theory.
About Writing
Do you have a writing process? If so can you please describe it?
Before I sat down to write the book, I wrote two or three pages of notes. The gist of the story, the main characters, and some key things I needed to happen during the story. After that, I just sat down and wrote. Each day was a new adventure. I was never really sure where the story would take me, so I had the same feeling of 'what happens next' as I hope the readers will.
Do you outline? If so, do you do so extensively or just chapter headings and a couple of sentences?
I do not. I didn't know where the story was going until I wrote it, and I certainly didn't have the ending mapped out. I prefer to let my imagination take me in a direction, rather than following a predetermined one that has already been laid out in an outline.
Do you edit as you go or wait until you've finished?
Both. As I wrote, I read. And if I didn't like something, or felt something needed to be changed for where the story was going, I would edit as I went along. And, of course, once I was finished writing, I scoured over the entire book repeatedly.
Did you hire a professional editor
I had several sets of eyes go over the book once it was finished, including my own.
Do you listen to music while you write? If yes, what gets the fingers tapping?
It depends on the mood I'm in. For the most part, I like to write in silence. I want to be able to hear my thoughts and ideas, and not be distracted by the music or lyrics.
About Publishing
Did you submit your work to Agents?
I have, yes.
What made you decide to go Indie, whether self-publishing or with an indie publisher? Was it a particular event or a gradual process?
I wanted to get my book out there as soon as possible. My goal was to create enough buzz, sales, and positive reviews to attract the attention of a traditional publishing house.
Did you get your book cover professionally done or did you do it yourself?
It was a combination. The designers I spoke to struggled to grasp the concept I was looking for. Ultimately, I created a rough draft of the design I had in mind, and let the professionals do the rest.
Do you have a marketing plan for the book or are you just winging it?
I am focused largely on social media promotion, because I feel I can reach the largest audience in the least amount of time.
Any advice that you would like to give to other newbies considering becoming Indie authors?
Just do it. Don't worry about what other people say or think. Put your ideas on paper and start writing. And don't stop until you're happy with how it looks and reads. It's your story, your book, so don't let anyone make it less than that.
About You
Where did you grow up?
South Florida
Where do you live now?
South Florida
What would you like readers to know about you?
I spent the last 20 years as an Optometrist, but always wanted to pursue a writing career. This year I decided it was about time.
What are you working on now?
My new novel is going to be quite different from my last. Without giving away too many details, a good Samaritan does a good thing, but incurs the wrath of some rather unsavory people as a result. It's going to be a pulse-racing edge-of-your-seat story that will keep readers engrossed until the very end.
End of Interview:
For more from Steven, visit his website, like his Facebook page, or follow him on Twitter.
Get your copy of Running Still from Amazon US or Amazon UK.