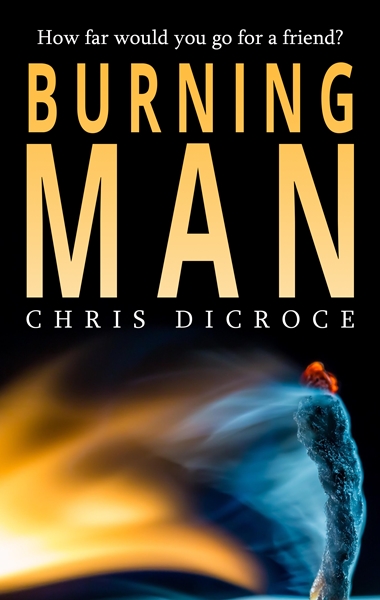 I set out to write a great story. That was the goal. I didn't think about a genre or a demographic. That would have been constraining. For me, trying to sculpt something for a specific audience before knowing what the piece was going to be would be disaster.
Chris DiCroce – 5 August 2017
The Back Flap
How far would you go for a friend?
 One week ago, music legend Dash Nelson was on the way down. His music, iconic. Revered. And, it's not selling. But he's got one more record in him and it just might be his best one yet.
On the morning after the record release party for Heavy Clutch, Dash is roused from a scotch-induced slumber with the news that his long-time manager and best friend, Paul West, was found dead. Dash abandons his family, friends, and his record to keep a promise he made to Westie many years ago. A promise that he's certain will land him in prison.
When Westie's body goes missing from the morgue, rumors circulate. A mysterious offshore transfer of three hundred thousand dollars brings the FBI to Nashville, but Dash is nowhere to be found.
After a cross-country road trip and a sacred burial ceremony that pushes Dash to the limits of his own sanity, he hops on a plane to a tiny Western Caribbean island to fulfill one final wish for Westie. An unexpected turn of events leaves him fighting for his life aboard a sailboat with Westie's biggest secret.
From Dash and Westie's aeonic friendship comes Burning Man. A simmering novel that twists in the grasp of DiCroce's unique storytelling.
About the book
What is the book about?
Burning Man is an adventure story about love, loyalty, and friendship. Nashville music legend Dash Nelson is in the twilight of his career and fading fast, but he just made the best record of his life. On the morning after the record release party, his manager and best friend Paul West (Westie) is found dead. Dash abandons his family, friends, and his record to keep a promise he made to Westie many years ago.
There's a suspicious money transfer, a cross-country road trip, a Native American burial ceremony, Molotov cocktails and scooter crashes. You'll laugh when you think you shouldn't and cry because you just can't help it. It will leave you asking, just how far would you go for a friend.
When did you start writing the book?
I started the outline for Burning Man last July (2016) and began actually writing in early August (2016).
How long did it take you to write it?
I had the first draft of Burning Man finished at just under 50,000 words sometime around the end of October.
Where did you get the idea from?
I'm not really sure how it all came together as it is now but, after 25 years in Nashville as a singer-songwriter, I had a deep understanding of the music business and all its parts. Without giving away plot details and spoiling the story for any readers, some of the events that occur in the story loosely happened to me many years back. When searching for the plot line, I just drew from those old experiences. As a songwriter and author, I'm always jotting things down on scraps of paper and typing them into the notes on my phone for use at a later date. I guess it all just came together for this story. It's been a pretty crazy ride.
Were there any parts of the book where you struggled?
I wouldn't say I struggled much at all on this story. I had worked hard on the outline so I knew where I wanted it to go. The main battle for me was believability for the characters, good dialogue, and continuity within the story.
 What came easily?
The dialogue came very easily for me. I enjoyed writing it. After many years writing songs, this just seemed like a really long song. It's the extreme of songwriting. Massive extensions of a story line, but I felt like I knew the characters personally, so it was easy to hear them speak and feel what they might be feeling.
Are your characters entirely fictitious or have you borrowed from real world people you know?
I've borrowed from villains and good guys throughout my career. There are mashups of several people and some dear friends. From some, I just borrowed a unique mannerism or appearance traits and blended them into my own characters.
We all know how important it is for writers to read. Are there any particular authors that have influenced how you write and, if so, how have they influenced you?
I know I keep going back to this and I'm sorry but, as a songwriter, I am affected (influenced) by everything from a good song in a car commercial to everyday conversations I hear traveling through the streets, in a market, or at the airport. I have several authors I love. John Steinbeck, Tom McGuane, Tom Robbins to name a few.
As far as their influence on me I would say this. They do what they do so well that it makes me try harder. Makes me look at each line and ask myself, "is it the best I could do?" I try not to take the easy way out when it comes to adding an element that could elevate the scene just a tad. Sometimes it backfires.
Do you have a target reader?
This should be a no-brainer. I should say I do but, honestly the answer is no. I set out to write a great story. That was the goal. I didn't think about a genre or a demographic. That would have been constraining. For me, trying to sculpt something for a specific audience before knowing what the piece was going to be would be disaster. I think if you like those guys I listed above, Steinbeck, McGuane, and Tom Robbins, you'll probably be able to to enjoy Burning Man and identify with my characters and storyline. You'll get the dark humor and the emotional stuff.
About Writing
Do you have a writing process? If so can you please describe it?
My process? Hm. Well, with my first two releases being non-fiction, the process was quite easy. Write what you know in your own voice. This current book, Burning Man, is my first fiction novel. To be honest, the process was simply to get up every day and go write. I live on a sailboat with my wife and our dog. We travel all the time so finding a quiet place to work is the first part of any process for me. My quiet space this time happened to be the library at the University of South Florida St. Petersburg, right next to an excellent coffee shop called the Grind. (Thank God for that place!)
I would wake up early, walk the dog, make coffee for my beautiful wife and be in the library, seated, ready to write by 9:30 or 10 am. I usually stayed there until 4 in the afternoon and tried to write at least 2000 words a day. Around 4 pm my brain would start to wander and my focus would wane. That's when I knew it was time to pack it up for the day.
Do you outline? If so, do you do so extensively or just chapter headings and a couple of sentences?
 Yes, I do outline. I do a paragraph for each chapter but I'm not rigid about this. If I need two paragraphs to get the point across, I write two paragraphs. Sometimes, as with Burning Man, I had streams of dialogue that I didn't want to forget, so I wrote it in my outline while it was fresh in my head. Therefore, some chapters of my outline for Burning Man have three pages and many, many paragraphs. Do what works.
Do you edit as you go or wait until you've finished?
I wait until I'm finished. If I were to edit as I went along, I'd end up tossing the whole thing in the garbage. I can't be creative and critical at the same time. I did three re-writes before handing the final draft to my editor.
Did you hire a professional editor?
 Well, my wife Melody is a professional editor and graphic designer. She worked with a New York Times best-selling author for a while before quitting to live a gypsy lifestyle on our sailboat. (She'll tell you I'm not paying nearly enough for her services though.)
Seriously… a professional editor is paramount in getting your work to the next level. Someone who is not afraid to be honest with you. And if you really care about the work being great, you will put aside your ego and hurt feelings when they tell you, "That chapter sucks or this character isn't working." It's all for the good of the book, right? Make it the best it can be. Never skimp on editing or cover design / artwork and layout.
Do you listen to music while you write? If yes, what gets the fingers tapping?
I don't listen to music. I need quiet. I sit in the farthest corner of the library and stare out the window. I'd be curious to know if your other interview subjects listen to music. That's very interesting to me.
About Publishing
Did you submit your work to Agents?
I did submit Burning Man to several agents. We had a few requests for additional pages but ultimately no serious offers.
 What made you decide to go Indie, whether self-publishing or with an indie publisher? Was it a particular event or a gradual process?
Having published two prior books on Amazon, I'm familiar with the self-publishing process. I like doing things myself and owning the rights to my work. When I was active in the music business, I ran my own label and produced my own records for that label. While it is certainly more difficult to reach large audiences without the support of a major publisher, the flexibility and royalty percentages on the indie end are more attractive to me. Also, if you consider the reality that most publishers aren't going to invest heavily on a first-time author, the decision becomes easier.
Once you get your book done, it becomes all about marketing. You can have the next New York Times best-seller but, if nobody knows it's out there, it won't matter. That's the big upside to a publisher, their network of distributors, reviewers, and their relationships with the press outlets to get your book noticed.
Did you get your book cover professionally done or did you do it yourself?
My wife and I did the cover. As I said earlier, she's a great designer. We both have a critical eye for the correct fonts and colors. We spent a lot of time picking out our favorite books, comparing the different covers and discussing what we thought worked and what didn't.
If we had a significant budget (or any budget for that matter), we'd let someone else do it. The thing that made the cover of Burning Man so easy was the great image that photographer Andrew Arnold took. It's easy to design and build around a stunning image. I think it came out really nice.
Do you have a marketing plan for the book or are you just winging it?
We are concentrating on a grass-roots effort through sources such as The IndieView, appropriate podcasts, radio and print, and other independent promotional opportunities. I still have several contacts in the music industry back in Nashville as well.
With Burning Man, we've done something really unique. We've included a free 4 song soundtrack for download when you buy the book. In the story, there are several times where the main character starts to sing a song lyric or two. Due to licensing legalities, we used my songs. When the book was finished, we thought it would be a great idea to include those songs as a soundtrack for the book. I don't think anyone has done that in the past.
Essentially, we're cross-marketing the book with music. It's a book about a music figure, so it just makes sense.
Any advice that you would like to give to other newbies considering becoming Indie authors?
Start small. Work hard and trust the process. Don't try to write War and Peace right out of the gate.
Most of all, my advice would be to start. Put your butt in the seat and start writing. Get on with it. Don't belabor the idea and overthink it. Almost as important, don't give up. Once the book is done, the real work starts.
About You
Where did you grow up?
Philadelphia, PA. moved to Nashville when I was 23.
Where do you live now?
I live on my sailboat with my wife Melody and our dog. Currently we are in Guatemala. We spent the last five months in Cuba, Mexico, and Belize. I have no idea where we're headed.
What would you like readers to know about you?
I want my readers to know that I appreciate the investment they made in me. I am honored they put time into a work that I produced. That's a very big thing for me. Most of all, I want them to read my books or listen to my music and get something out of it. Whether it's strictly entertainment or something more.
What are you working on now?
I'm working on making sure Burning Man is a success. Then I'll begin the next book. I'm excited about the process.
End of Interview:
For more from Chris, visit his website or check out this video trailer.