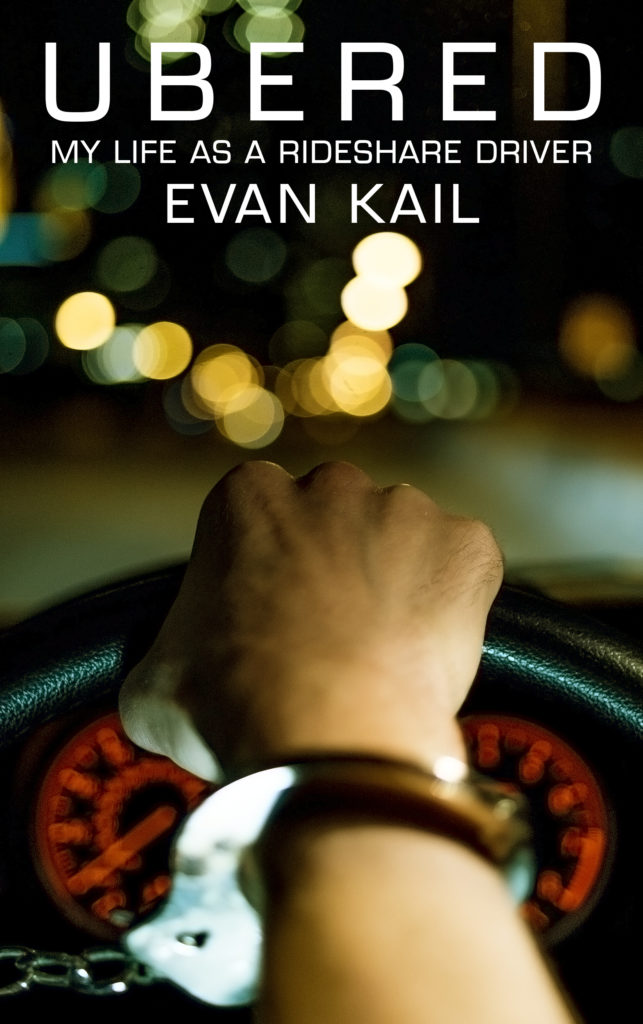 I wrote the first draft of Ubered entirely in my car between rides. While I was keeping my rideshare diary, as soon as something would happen, I would write it down the moment the passenger was out of the car.
Evan Kail – 11 April 2017
The Back Flap
His family's wealth has long evaporated, and now serendipity is all Evan Kail can salvage from his riches to rags nightmare. He's been chasing a screenwriting dream ever since he was in college, and he's put everything on the line to attain it. So when a new phenomenon called "Rideshare" enters his market in Minneapolis, Kail seeks opportunity in a job he believes will pay well and afford him time to pursue his calling. His only item of value, a BMW sports car purchased in the glory days of wealth, affords him a down payment on a used luxury sedan. Before Kail knows it, he's a soldier in the trenches of a tech revolution, and he's in way over his head.
Ubered is a journey through the jungles of a wild young mind in an even wilder adventure driving full-time for Uber and Lyft. Over the course of one year, Kail dances with all hosts of personalities and professions, battles all sorts of scenarios, and struggles to realize what it means to be an independent contractor, and not an employee. Prepare for the craziest year of Kail's young life, one that would leave him grappling to understand the very meaning of fate and all he thought was sacred.
About the book
What is the book about?
Ubered: My Life As A Rideshare Driver is a memoir about my life as a full time Uber and Lyft driver, the commitment I undertook acquiring a used luxury car for the job, the hardships I encountered as a direct result of the rideshare apparatus, and the thousands of fascinating human specimens I met along the way.
When did you start writing the book?
November, 2015.
How long did it take you to write it?
Six months.
Where did you get the idea from?
I got into "rideshare" (Uber and Lyft) because I had just been signed to a reputable Los Angeles talent management company for my screenwriting, something I had been pursuing since I was in college. My manager advised I write a new screenplay that could be filmed for cheap since my other screenplays were too expensive to sell as a first-time writer. I thought I was on the verge of success and needed a job that would both pay well and allow me downtime to write. That was when Uber and Lyft came to my market in Minnesota. Both companies advertised big dollars to be made. After doing a little research online, I went out and financed a used BMW 5 Series. I believed a fancy car would translate to job security, as drivers depend on their rating to keep their job, and I also thought it would incentivize passengers to tip. A week after I started driving, I began keeping a diary of my travels and quickly realized I had stumbled onto an incredible subject for a book. I then developed a list of rules to "thicken the plot" in order to write the best product possible. One such rule was if a passenger invited me into their home after the ride, I had to oblige them and say "yes." That rule ended when a passenger pointed a gun at me after inviting me inside.
Were there any parts of the book where you struggled?
Some days the writing came easy, while others were a struggle. I was suffering from a spellbinding bout of depression while I undertook this project. Writing Ubered was the only thing that cheered me up during an exceptionally gloomy period of my life, but there were days when I was too tapped with melancholy to put pen to paper.
What came easily?
From start to finish, this story is a puzzle comprised of events that all fell so perfectly into place, it made me question the very definition of fate and all I held sacred. I found meaning in chaos, and the excitement I felt from living through such a dazzling and turbulent affair filled me with the inspiration to write.
Are your characters entirely fictitious or have you borrowed from real world people you know?
This is an entirely true account. The only things I changed were the names of some of my passengers.  Others were kept the same in hopes those I wrote about someday find my book and see the impression they made on me, for good or for bad.
We all know how important it is for writers to read. Are there any particular authors that have influenced how you write and, if so, how have they influenced you?
George R R Martin's Game of Thrones series was hugely influential as I crossed out of the world of screenwriting and entered the world of books. George has screenwriting credits but I think he is a fantastic author, and his style is something I picked up on from reading his books. Additionally, the work of Tucker Max (I Hope They Serve Beer In Hell) served as somewhat of a guidebook for how to critique people in a humorous manner, especially drunks.
Do you have a target reader?
Adults ages 18-30; customers of Uber and Lyft.
About Writing
Do you have a writing process? If so can you please describe it?
I wrote the first draft of Ubered entirely in my car between rides. While I was keeping my rideshare diary, as soon as something would happen, I would write it down the moment the passenger was out of the car. Sometimes it was just a quote. Other times it was a long story about something they would tell me or something that would happen on the ride. Then an event happened on the one-year anniversary of giving my first ride that sufficed as a perfect ending to my book. I kept giving rides after that, but between rides, every time I had a spare second, I was working on this book. I'd find a story from my diary, hammer it out, and then catalogue it chronologically. After six months of nonstop work, I had a finished, 105-k word manuscript.
Do you outline? If so, do you do so extensively or just chapter headings and a couple of sentences?
My outline was my diary, and the dates of each entry were how I organized it.
Do you edit as you go or wait until you've finished?
I waited until I had the full story on paper before I began the editing process. I finished the first draft in May 2016 after six months of work. I spent the summer editing, and finally in late July I had a draft I was satisfied with.
Did you hire a professional editor?
Yes, I hired a professional editor.
Do you listen to music while you write? If yes, what gets the fingers tapping?
No.
About Publishing
Did you submit your work to Agents?
Yes, I am in the process of a query letter campaign. As of this writing, no agent has agreed to read any material despite rave reviews from Amazon customers.
What made you decide to go Indie, whether self-publishing or with an indie publisher? Was it a particular event or a gradual process?
I had to tell this story and let the world know what happened to me and what Uber and Lyft are doing to their drivers. Publishing is a long uphill battle, and the quickest way to get my material out there was to self publish first and build from there.
Did you get your book cover professionally done or did you do it yourself?
Tomas Aksamit of Future Frame Productions helped me create and design the cover.
Do you have a marketing plan for the book or are you just winging it?
I made a press kit when I first launched the book and have used it to be featured in newspapers and on several major radio shows. I am also heavily advertising the book on social media, including on my YouTube channel.
Any advice that you would like to give to other newbies considering becoming Indie authors?
Have a solid plan once your book is done for how you can market it and build a platform.
About You
Where did you grow up?
Edina, Minnesota
Where do you live now?
Minneapolis, Minnesota
What would you like readers to know about you?
I am an active user of social media and post videos to YouTube every week. My videos range from life lessons to skits to humor, wit, intrigue, and martial arts. I am a second degree black belt in taekwondo and a first degree black belt in Kumdo. I am also an outspoken member of the LGBTQ community and advocate on a variety of progressive issues.
What are you working on now?
I am writing a follow-up book of untold rideshare stories as well as my first fiction book, which I intend to be a series. It's an action crime thriller but as of this writing I cannot share any further details.
End of Interview:
For more from Evan, like his page on Facebook, follow him on Twitter, or check out his Youtube videos.