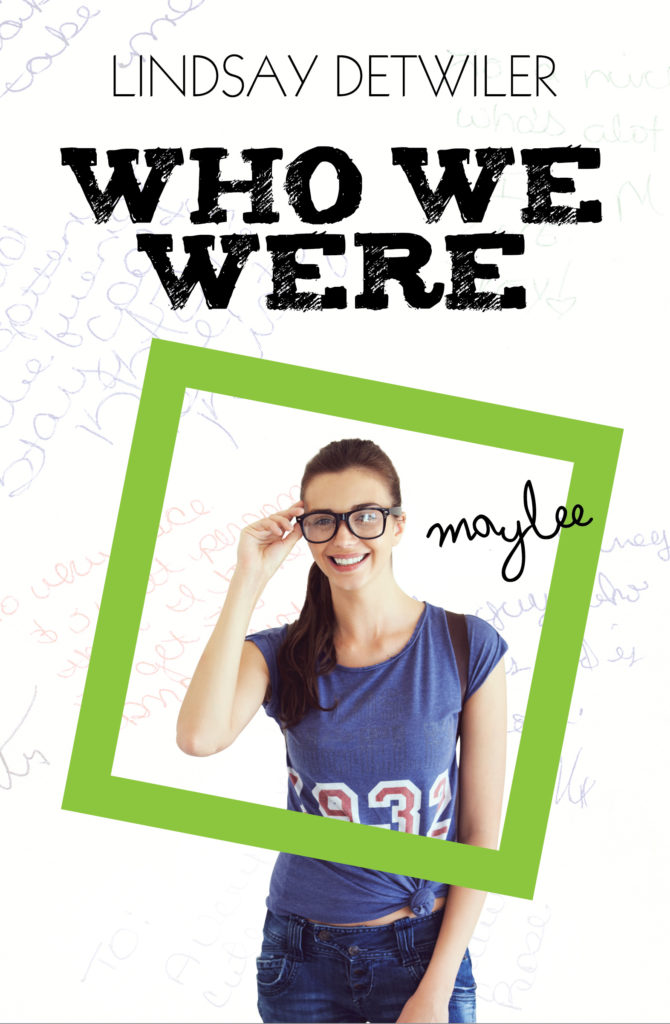 I didn't want either to be completely vilified because I feel like in real life, no woman is completely innocent or completely guilty when it comes to drama. I wanted to find a way for them to be polar opposites but also believable.
Lindsay Detwiler – 14 March 2017
The Back Flap
"I guess that's the thing about high school reunions, though. They make you snap a little."
In the ten years since high school graduation, Maylee's career, living arrangements, family, and especially her love life are at a standstill. When her twin brother, Mitch, falls for her high school enemy at their ten-year reunion, Maylee's life is catapulted into chaos.
Maylee's hatred for the blonde-haired Josephine isn't the only thing she discovers at her reunion. Benson Drake, the introvert from high school, has matured into a sexy intellect. Now a writer and bartender, Benson's grown into a man with a perfect balance of quirky wit and sex appeal. After a wardrobe malfunction, a spy mission gone wrong, and a dangerous cup of coffee, Maylee and Benson explore something they never even thought about during senior year. Along the way, they find out that reconnecting with the past can change you… or maybe just help you find your true self.
About the book
What is the book about?
At twenty-eight, Maylee Keagan doesn't quite have the life she'd imagined upon graduating from high school. Her job isn't what she thought it would be, her love life is a disaster, and she lives with her twin brother, Mitch, due to financial issues. However, she decides to attend her ten-year reunion, mostly just to see what her archenemy from the past, Josephine, is up to. Things, however, don't go as planned for two reasons.
Mitch falls in love with Josephine.
Maylee literally falls for Benson Drake, the introverted nerd from high school who has morphed into a sexy grownup.
As Maylee and Benson navigate the waters of a relationship they never expected, Maylee is also forced to handle the fact that Josephine is back in her life in a big way.
This book explores the bond of family, love found at unexpected times, and the fact that drama between women doesn't fade away easily.
When did you start writing the book?
I started writing the book last May. I was getting ready to attend my own ten-year reunion and wanted to capture the mix of emotions that went with that.
How long did it take you to write it?
It took me about three months to finish the book, but I was also working on some other projects at the time. I felt really invested in the book, so it didn't take a lot of time.
Where did you get the idea from?
I was inspired by the fact my own ten-year high school reunion was coming up. There were so many mixed emotions about the event that I thought there was good story potential. I was also inspired by the fact that every woman seems to have a Josephine in her life. I wanted to write something women could relate to.
Were there any parts of the book where you struggled?
I struggled to strike a character balance with Maylee and Josephine. I didn't want either to be completely vilified because I feel like in real life, no woman is completely innocent or completely guilty when it comes to drama. I wanted to find a way for them to be polar opposites but also believable.
What came easily?
The humorous scenes came easily. I was really inspired by Shauni's character. She is Maylee's best friend and basically the opposite of who I am as a person. It was fun to explore a wild personality that also adds some excitement to Maylee's life.
Are your characters entirely fictitious or have you borrowed from real world people you know?
Although Maylee and I certainly share some commonalities, my characters are completely fictitious. I think Josephine has elements of the "mean girl" we've all probably experienced, so she seems true to life. However, all of the characters only actually exist in the book.
We all know how important it is for writers to read. Are there any particular authors that have influenced how you write and, if so, how have they influenced you?
I am always inspired by Nicholas Sparks because I think he can weave love stories that are beautiful and emotional. However, I also love Jojo Moyes and Liane Moriarty. They capture real women's issues with a touch of humor. I love that they can make me laugh and cry in the same book. That's really what I want to achieve in my books.
Do you have a target reader?
With this book, my target reader is any woman who has dealt with a rivalry with another woman or who has experienced a situation with a "mean girl." Women specifically in their late twenties/early thirties will probably relate to Maylee's struggles and specific situation.
About Writing
Do you have a writing process? If so can you please describe it?
I don't have a strict process. I try to just write when I feel like it, which is usually pretty frequently. When I'm in the drafting phase, I tend to write fast so I don't lose my momentum. I will try to walk away from the work for a while so I can return to it with fresh, objective eyes to edit it. Once I get an idea I like, though, I work very fast.
Do you outline? If so, do you do so extensively or just chapter headings and a couple of sentences?
I do a very loose outline. Usually, I just have an idea of what main event will happen in each chapter or how the chapter will drive the plot forward. Sometimes, these outlines change as I go because the characters really do take over the story at a certain point.
Do you edit as you go or wait until you've finished?
I do both. If I feel like I'm losing motivation or getting stuck at a point, I will go back to the beginning of the work and edit. I usually find that I like what I've written, and this gives me the motivation to finish the story.
Do you listen to music while you write? If yes, what gets the fingers tapping?
I don't. I like complete silence when I'm writing so I don't get pulled out of the "writing zone."
About Publishing
Did you submit your work to Agents?
I did at one point after my first novel was published, but now that I have a publisher I absolutely love, I don't see a need to obtain an agent. I love Hot Tree Publishing and feel like it's a perfect fit for my works.
What made you decide to go Indie, whether self-publishing or with an indie publisher? Was it a particular event or a gradual process?
I think the big secret to publishing is finding what fits for you. I truly believe I found my home and where I'm supposed to be with Hot Tree Publishing. When you find what works for your writing, you just know.
Did you get your book cover professionally done or did you do it yourself?
My publisher has cover artists who design the covers.
Do you have a marketing plan for the book or are you just winging it?
At first, I started out my winging it. Who We Were is my sixth novel, so I'm learning the ropes and being a lot more strategic with my planning and goals. This is still something I'm working on mastering.
Any advice that you would like to give to other newbies considering becoming Indie authors?
The biggest thing is to be patient. Success comes in so many forms and doesn't always happen over night. Focus on the good things and celebrate your accomplishments. Know that you will find your path in the field when you are meant to and in the way you are meant to. Trust in yourself and your craft.
About You
Where did you grow up?
Hollidaysburg, Pennsylvania
Where do you live now?
Hollidaysburg, Pennsylvania
What would you like readers to know about you?
In addition to being a writer, I am also a high school English teacher in my hometown. I am married to my junior high sweetheart, Chad. I write about our marriage and our life together as a contributing blogger for The Huffington Post. I'm a crazy cat lady—we have five. I am also obsessed with my mastiff, Henry. He is actually a character in every single one of my books.
My goal with my writing is to write romances that are emotional but also real. I try to focus on stories and choices that the modern woman has to make. My characters aren't perfect. They change their minds. They make mistakes. They deal with situations that many of us have dealt with. I strive to show that love is beautiful but also very complicated.
End of Interview:
For more from Lindsay, visit her website, follow her on Twitter, or like her Facebook page.
Get your copy of Who We Were from Amazon US or Amazon UK.