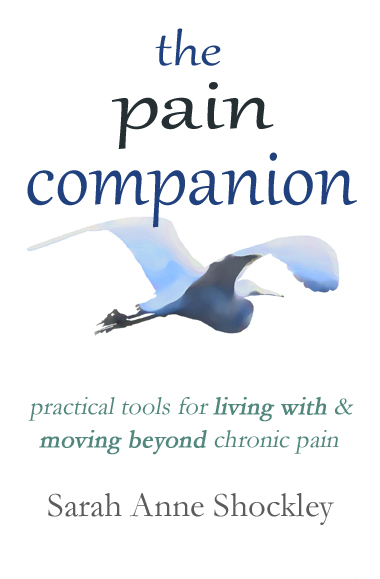 I write from a very genuine place, and my writing is about things that I have experienced on a deep level for myself. I am less interested in whatever the next hot topic is, and more interested in what is showing up in my life right now, and how it might be useful to others.
Sarah Anne Shockley – 18 January 2016
The Back Flap
How do we live with chronic pain and not fall into depression and hopelessness? How can we take this journey with less hardship and create more ease and well-being in the midst of persistent pain? Living with chronic pain is a very demanding path on all levels: physical, emotional, psychological and spiritual. It is relentless and unforgiving, and tests our ability to cope with extreme challenges on a daily basis.
The Pain Companion is a practical and compassionate guidebook to living with and moving beyond chronic pain based on the author's 8 years of managing debilitating nerve pain. It contains a wealth of insights and wisdom to mitigate the impact that living with chronic pain has on well being, self-image and relationships, including 33 specific ways to alleviate pain's emotional and mental stresses and 11 simple meditative exercises to help change the relationship with pain from enemy to ally in healing.
About the book
What is the book about?
The Pain Companion addresses the many emotional and psychological stresses that come with living in chronic pain and gives ways to ease these stresses on a daily basis.
When did you start writing the book?
I started writing about the journey I was on with pain about 4 years ago.
How long did it take you to write it?
It took about 3 years to write the book. The time it took was more about my physical limitations then the length of the book.
Where did you get the idea from?
When I started, I wasn't writing a book, I was working through my experiences with pain by writing about it. I had tried everything to move the pain out of my body, but nothing was working. One day I thought, well, maybe I can write it out. So, very slowly, I began to write about what it's like to live with pain, and how pain takes over your experience of yourself and life. Then I began to record the ways that I had found to relieve pain by working with it as an ally rather than fighting against it as an enemy. Over several years, I filled a number of notebooks and when I read them over, realized I had some valuable insights and information that could benefit others in pain. That's when the process of editing and book-making began.
Were there any parts of the book where you struggled?
I think the most difficult part was deciding what to keep and what to let go of. At one point, I realized I was trying to address too much in one book, so I divided the material into two books. The Pain Companion is the first, All Pain Has a Purpose, the second.
What came easily?
The initial drafting came easily, since I was writing from my own experience and writing as honestly and deeply as possible, and I find that process very enjoyable. The challenges came in trimming it down and honing what I had.
We all know how important it is for writers to read. Are there any particular authors that have influenced how you write and, if so, how have they influenced you?
I've read so many books over the years, that I can't say there is any particular author that influenced me in terms of non-fiction writing. I can say that I most enjoy non-fiction writers who allow their own voice to come through – who are not overly academic, but bring their own insights and perceptions into their writing. I guess that's what I was striving for – to be authentic in my writing, and to write from direct experience.
Do you have a target reader?
My audience is pain sufferers looking for compassionate advice on how to ease the intense emotional and mental stresses that accompany living with pain, and those desiring a natural and holistic approach to pain relief.
About Writing
Do you have a writing process? If so can you please describe it?
My writing process may be a bit unusual because my body is not able to handle a lot of typing, writing, or sitting at one time. So, I might get down a few sentences, then pace for awhile, then make a cup of tea, then get down a couple more sentences, then get up and go for a walk, then write a few more, then I might stop for the day. It's a necessarily slow process.
Do you outline? If so, do you do so extensively or just chapter headings and a couple of sentences?
The Pain Companion was not outlined before writing, but I did structure it after the first draft. I let it flow out as it wanted to over several years and then looked at what I had. I created a structure from that, using a general outline which involved completely dropping some sections and developing new ones once I decided what I wanted the final book to entail. For my shorter ebooks (Living Better While Living With Pain, Taking An Easier Path Through Pain) I did a general outline of section headings and notes, then a very drafty draft of longer notes, and only then dove into the writing.
Do you edit as you go or wait until you've finished?
I usually write a full draft before doing any editing.
Did you hire a professional editor?
I did not hire a professional editor for The Pain Companion, but benefited from the careful scrutiny of a particularly gifted writer friend and the input of about a half dozen other careful readers.
Do you listen to music while you write? If yes, what gets the fingers tapping?
I rarely listen to music while writing. Not because I don't love music, but because I do. Music pulls me right in, so I'm either fully focused on writing or fully focused on music, but, alas, can't do both.
About Publishing
Did you submit your work to Agents?
No, I did not.
What made you decide to go Indie, whether self-publishing or with an indie publisher? Was it a particular event or a gradual process?
Since I am still working with chronic pain, I need to be able to regulate my schedule carefully and not feel pressured by a publisher's timetable.
Did you get your book cover professionally done or did you do it yourself?
I have done graphic design in the past, so I did the cover myself, with lots of input from other eyes during its various renditions.
Do you have a marketing plan for the book or are you just winging it?
Yes, I do have an overall plan, but I keep it flexible to adjust for new opportunities.
Any advice that you would like to give to other newbies considering becoming Indie authors?
Develop a social media presence as early as you can in the writing process.
About You
Where did you grow up?
I grew up in Connecticut, went to undergraduate school in northern Vermont, and graduate school in California.
Where do you live now?
I live in the San Francisco Bay Area.
What would you like readers to know about you?
I write from a very genuine place, and my writing is about things that I have experienced on a deep level for myself. I am less interested in whatever the next hot topic is, and more interested in what is showing up in my life right now, and how it might be useful to others.
What are you working on now?
I will be releasing a workbook to go with The Pain Companion this spring, and towards the end of the year, a second full book called All Pain Has A Purpose, which explores the healing relationship between chronic physical pain and chronic emotional pain.
End of Interview:
For more from Sarah, visit her website, drop by her blog, follow her on Twitter, or like her page on Facebook.
You can get your own copy of The Pain Companion from Amazon US (paper or ebook) or Amazon UK (paper or ebook).