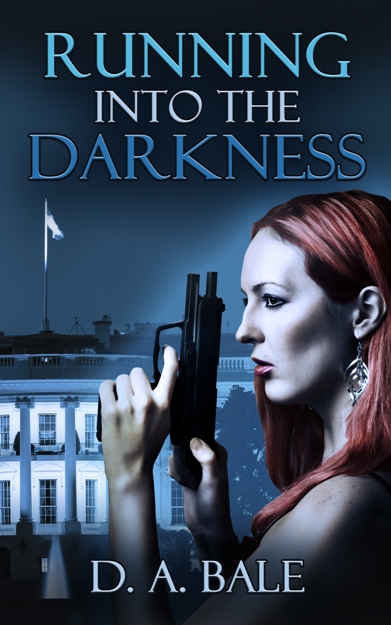 With the gritty content of my current series, I'd have to say they're more targeted to the eighteen and older crowd who like mysteries, thrillers, suspense, etc. Just remember there's that dark edge to it.
D.A. Bale – 15 March 2015
The Back Flap
Samantha never intended to kill the President. As a doctor, she swore an oath to protect life – not take it. But that was before he ordered the murder of her family.
Swept from the frigid New York City winter, Dr. Samantha Bartlett returns to the Midwest to once again confront the sting of death – and face those she left behind. But she's not alone. A strange man she dubs "Shades" haunts her every step as she seeks answers to the inferno which claimed her grandmother's life, an eerie reminder of her parents' deaths. The secrets Samantha uncovers forever shatter the image of those she only thought she knew.
Confronted by Shades, Samantha joins a secret underworld known only as the Elite, where a web of power and control is woven deep within governments worldwide. Their sights are set on the seat of domination behind the Resolute desk that is the powerhouse of nations – the presidency of the United States of America. Samantha becomes the Elite's unlikely key to infiltrating the White House at its most intimate levels.
The Hippocratic Oath. All doctors swear by it. But the most despicable deeds must be avenged. The quest for blood swallows Samantha in a veil of darkness and threatens to destroy everything she once stood for.
And from the darkness there is no escape.
About the book
What is the book about?
Each novel in the Deepest Darkness series lives up to it's title.  When you break it down to brass tacks, Running into the Darkness is an exploration in the question how far is too far.  This takes on various meanings as the story progresses, from how far you go when seeking revenge to asking if there is a point where we become unworthy of love, redemption, etc.  Don't misunderstand, this isn't a sappy, drippy love story.  RITD is a thriller novel that doesn't hold back from throwing the hard punches.  It's dark, gritty, fast-paced, and disturbing on several levels as we follow our characters from their everyday lives until they are thrust into a world of espionage smothered with a heaping dose of vengeance.  Some fall down the crapper willingly while others seek truth and justice only to get a target on the back.  This theme leads us further in the second of the series Piercing the Darkness until culminating with Rising from the Darkness.
When did you start writing the book?
Running into the Darkness was an idea that germinated back when I was tussling with the world of banking and politics.  At the time, I was writing a fantasy series and exploring a few other works on the human condition.  But my main character, Samantha, wouldn't leave me alone.  She came across very real to me as I struggled to come to terms with some of the things I saw among the real-world political spectrum.  After a couple of years, I finally decided to give her a voice and start the process of telling her story sometime back in 2005.
How long did it take you to write it?
Too long!  From start to publishing was over five years, though it sat mostly undisturbed on my desktop a couple of those years trying to find a publisher.
Where did you get the idea from?
Life – seriously, there's some pretty messed up stuff in the realm of reality.  Few people are able or willing to see it in day-to-day living, but put it in the form of a fictionalized novel and you have the chance to grab someone's attention.
Were there any parts of the book where you struggled?
Very much, mostly with some of the characters.  The initial scenes with Warner were extremely difficult.  He's a powerful man who uses said power for many of the wrong reasons.  Initially I just alluded to these moments when I first started writing, but as things progressed, I realized how important it was to actually 'show' those interactions.  At the time, someone had also challenged me not to be afraid to make my bad guys REALLY bad.  Thus I felt the need to bathe repeatedly after a day of being in Warner's psyche.
What came easily?
Joe.  He's your quintessential good guy, always striving to do the right thing no matter what position it places him in.  There's a very strong sense of justice he carries, right and wrong, good and bad with him.  Very little gray area exists in his world during Running into the Darkness.  But that comes crashing down on him in Piercing the Darkness.  Everything he thought and believed is challenged.  We'll find out how – or if – he comes to terms with it in Rising from the Darkness.
Are your characters entirely fictitious or have you borrowed from real world people you know?
Fictional characters with an amalgamated dose of reality for good measure.  If I tell you anymore, we might have a problem.
We all know how important it is for writers to read. Are there any particular authors that have influenced how you write and, if so, how have they influenced you?
When I'm deep in the throes of writing, I read very little to avoid outside influences.  That said, there are several authors I've enjoyed over the years: Dean Koontz, Clive Cussler, JRR Tolkien, Charles Dickens, etc.  I read a wide variety of authors and genres but only for pleasure.  As an author, I believe it is important to be true to your own 'voice' and avoid imitation.
Do you have a target reader?
With the gritty content of my current series, I'd have to say they're more targeted to the eighteen and older crowd who like mysteries, thrillers, suspense, etc.  Just remember there's that dark edge to it.
About Writing
Do you have a writing process? If so can you please describe it?
Usually when I get an idea for a new novel or series, I'll write out a little treatise of the overall story and do a few character sketches so that when I decide to return to write the novel, I'll have a firm grasp to re-conceptualize it.  For me, characters are the most important part to get firmly in my head before sitting down to write.  What makes them tick?  How do they see the world?  What things in their past have shaped who they've become?  What kind of wrenches can I throw into their lives to jolt them off track and mess with their world?  Conflict is the key to telling a good story, and my poor characters get to experience plenty of that.
Do you outline? If so, do you do so extensively or just chapter headings and a couple of sentences?
I'm a pantster for the most part – writing is a very organic process.  However, once I start writing I keep track of what's happened in the chapter and scenes just written and whose point-of-view I've told it from.  That way I can go back and see where I need to add more action or where I can insert another character POV scene or where I might move a scene to instead of deleting it when writing the second draft.
Do you edit as you go or wait until you've finished?
I've got a very strong internal editor who just won't shut up.  She just nags and nags like a hyper-controlling spouse.  When I first started writing, I learned everything I could about NOVEL writing (there's a difference from the other writing disciplines).  I've always been a good proofreader of articles, research papers, etc., but I needed to learn the currently accepted novel writing constructs if I wanted to publish.  I used to go through five, ten, and sometimes as many as twenty drafts when I first started novel writing.  Now I usually do a first then second draft with perhaps a few additional tweaks right before publishing.  Once you've got the basics down, editing as you go is just as natural as the writing, though I let the editor out of the cage a bit more with the second draft.
Did you hire a professional editor?
My critique group has been together for more than a decade – they act as editors before my beta readers gain access.  It's a much cheaper option, though it's not for everyone and groups are only as good as their members.  Our core members all started out taking a novel writing class together at a local community college, and we've been together since.  However, I always caution writers that if they can't find a good critique group in their area or a good online group as a second options, it is in their best interests to hire a professional who will give it to them straight.  Just remember to do a little research ahead of time to make sure you get what you're paying for.  Editing is different than proofreading.  Novel editors are different than magazine editors.  Do your homework when shopping for an editor for your novel – and don't be afraid to ask for an example.  Most editors will provide you with a free five page or so edit if you ask so you can see what service level they provide.
Do you listen to music while you write? If yes, what gets the fingers tapping?
Yep, big music junkie here.  When writing, I listen mostly to movie orchestral soundtracks because if songs have words to them, I find myself singing along instead of writing.  I have a lot of Hans Zimmer, James Newton Howard, James Horner, Harry Gregson-Williams, Trevor Rabin, Steve Jablonsky, Edward Shearmur, Daft Punk, Danny Elfman – the list could go on and on.
About Publishing
Did you submit your work to Agents?
At one time I tried the traditional route.  After spending a few years stuck in the starting gate, and with the landscape rapidly changing with the advent of eReaders, I decided to self-publish and never looked back.
What made you decide to go Indie, whether self-publishing or with an indie publisher? Was it a particular event or a gradual process?
It was more gradual.  For a long time, vanity publishing was consider a death knell for those hoping to publish.  Plus it was expensive to self-publish and stock an enormous supply of copies.  Most bookstores would look down their nose at you when trying to get a foot in the door for a signing, and as an indie you could forget about the big boys.  Marketing?  Exhausting.  I saw firsthand how insurmountable the mountain was when a friend tried that route twenty years ago.
But eReaders changed all of that in rapid fashion.  Little to no cost for the author if you do it all yourself.  Quick turnaround to start selling in a matter of days instead of months or years.  The marketing?  That's still a challenge for most of us, but we indies are learning how to manage the curve more every day.  I try a few things out from time-to-time and share on my blog with readers about what I've discovered works and what doesn't.
Did you get your book cover professionally done or did you do it yourself?
When I first published, I pretty much tried doing it all in house to save money.  However, when I made the jump to CreateSpace for paper copies, I didn't want those awful covers to live for posterity.  So I bit the bullet and hired a professional.  Best decision I ever made, bar none!
And you can quote me on that one.
Do you have a marketing plan for the book or are you just winging it?
Tech savvy I am not.  I published in 2011 and 2012, then spent the last two years learning about social media and marketing avenues for indies.  Feel like I've barely scratched the surface, but I now need to finish writing my third and final book in the Deepest Darkness series before I go any further.  A plan?  Keep learning and doing and see what sticks when you throw it at the wall.  Then don't forget to share what you've learned with others.
Any advice that you would like to give to other newbies considering becoming Indie authors?
As a professional reviewer and novel editor, I continually see newbies make the mistake of rushing an unpolished manuscript to publication so they can call themselves a published author.  No one else has provided insight and input, except maybe a few biased family or friends which, sorry to burst the bubble, don't count.  No other sets of eyes have gone over it with a critical fine OR wide-toothed comb.  It is imperative for your long-term career as an author to take the time to study and learn about novel writing, understand show versus tell, passive versus active voice, and so utterly important – how to properly delineate point-of-view shifts.  Take a novel writing class at a local university or community college.  And yes, it can get expensive, but find a good novel editor who will give you your money's worth on that first novel.  You'll more than make it back in sales if you put out a quality product from the get-go.
Then don't stop – run! – and write that next novel to avoid becoming a one-hit-wonder.  Otherwise readers will wonder where you went.
About You
Where did you grow up?
A tiny, little town in Kansas that allowed for lots of exploration, wandering, and creativity development.  Hey, what else was I supposed to do?
Where do you live now?
That's classified. J  I've traveled all across the United States and prefer the history of the East Coast coupled with the mountains and snow of Alaska.  If only it wasn't such a long flight from A to B.
What would you like readers to know about you?
That I love to hear from them.  Don't be shy!  Tell me what you liked and didn't like about my stories, about reviews I've written on my blog or interviews posted of other authors.  It's never a bother to hear from fans and fellow authors.  Tell me about how killing off a character made you sad or mad.  What would you like to see happen for Sam in Rising from the Darkness?  Starting a dialogue with someone is what makes all of the solitary writing worthwhile.  If I've helped a fellow reader or writer in any way, I always appreciate hearing from them.
What are you working on now?
Three things actually.  Over the summer of 2014, I wrote a non-fiction book on what it means to be an indie author, about what reviewers are looking for and how authors should approach reviewers.  I've been letting that one percolate and adding to it as new ideas and situations pop up.  There's never a dull moment as a novel reviewer.
During NaNoWriMo 2014, I pulled myself away from Rising to create the skeleton of a new humorous series about a hyper-observant bartender babe who finds herself in the center of a murder investigation.  Of all the fiction genres, humor is probably the hardest to write and do it well.  I live for a challenge.
But my main focus as 2015 begins is to finish writing Rising from the Darkness, the third and final novel in the Deepest Darkness series.  Fans have been more than patient as they wait to close out Samantha's journey.  Though it will be bittersweet to say goodbye to these characters, I've made a promise to fans and am committed on delivery.  Not much longer now!
End of Interview:
For more from D.A. Bale, visit her website, follow her on Twitter, or like her Facebook page.
Get your copy of Running into the Darkness from Amazon US (paper or ebook), Amazon UK (paper or ebook), Barnes & Noble, or Smashwords.