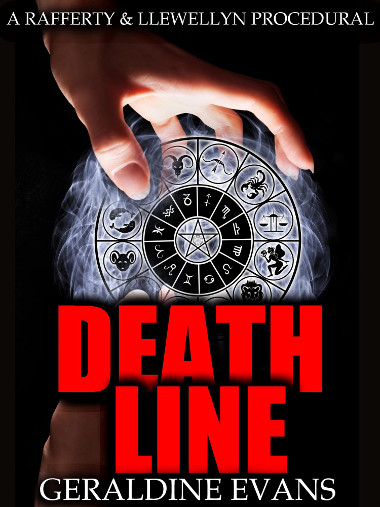 I've had no cause to regret my momentous decision. I've lost that jaded feeling and have rediscovered the love of words that was becoming bruised as a poorly-paid traditional author.
Geraldine Evans – 20 April 2014
The Back Flap
About the Series:
The Rafferty and Llewellyn mystery series features working-class lapsed Catholic Detective Inspector Joe Rafferty who comes from a family who think  – if they must have a policeman in the family – he might at least have the decency to be a bent one.
In Death Line:
Jasper Moon, internationally renowned 'seer to the stars', had signally failed to foresee his own future. He is found dead on his consulting-room floor, his skull crushed with a crystal ball and, all, around him, his office in chaos.
Meanwhile, Ma Rafferty does some star-gazing of her own and is sure she can predict Detective Inspector Joe Rafferty's future— by the simple expedient of organising it herself. She is still engaged on her crusade to get Rafferty married off to a good Catholic girl with child-bearing hips. But Rafferty has a cunning plan to sabotage her machinations. Only trouble is, he needs Sergeant Llewellyn's cooperation and he isn't sure he's going to get it.
During their murder investigations, Inspector Rafferty and Sergeant Llewellyn discover a highly incriminating video concealed in Moon's flat, a video which, if made public, could wreck more than one life. Was the famous astrologer really a vicious sexual predator? Gradually, connections begin to emerge between Moon and others in the small Essex town of Elmhurst. But how is Rafferty to solve the case when all of his suspects have seemingly unbreakable alibis?
About the book
What is the book about?
Death Line is about the murder of a 'seer' who fails to predict his own murder. Jasper Moon is a palmist/astrologer and a bit of a showman.  He is a wealthy homosexual who is regularly on TV and writes numerous magazine columns. The themes are greed, deception and lies and the way the past tends to come back and bite you.
When did you start writing the book?
I started writing Death Line immediately after I'd finished writing Down Among the Dead Men, the second in the series. Death Line is one of my backlist books that I published as a digital edition.  It was originally published as a hardback by Macmillan around 1995.
How long did it take you to write it?
About a year. It sounds as if it took longer than it really did because I was working full-time then, in an office job, and could only write during evenings, weekends and holidays.
Where did you get the idea from?
I'd long been interested in New Age subjects like palmistry and astrology—my party piece used to be reading the palms of the other partygoers! Not a good idea offering such a freebie at a party as it tends to mean you never get to the kitchen and the alcohol.
The idea of writing a mystery about such a 'seer', one who, because of deception, failed to foresee his own future—or lack of a future, stemmed naturally from this interest. As an added bonus, I hardly had to do any research as I was so familiar with the subject from previous study.
Were there any parts of the book where you struggled?
Yes! I got myself into a tangle because the plot was complicated and I had to take a week's holiday from work in order to untangle it. One of the problems of being a 'seat of pants' writer, but nowadays, I do try to make some sort of a plan, no matter how basic. It makes the writing life so much simpler.
What came easily?
The elements where palmistry was involved. And the characterisation and dialogue of my protagonists; I knew them so well by this, my third book in the series. I think dialogue (unlike plotting!) is one of my strengths as a writer.
Are your characters entirely fictitious or have you borrowed from real world people you know?
The characters that feature in just this book are entirely fictitious. But my main characters, DI Joe Rafferty and Sergeant Llewellyn, are both aspects of myself. Ma Rafferty is an amalgam of my own mother and various Irish women I used to know when, as children, my siblings and I holidayed in Dublin with our maternal grandmother. I often think of my poor nan now; she lived alone and every year during the school summer holidays, she had four boisterous young hooligans descend on her for six long weeks. I think I'd have run away from home if I'd been her.
We all know how important it is for writers to read. Are there any particular authors that have influenced how you write and, if so, how have they influenced you?
I love the Dialzel and Pascoe novels of the late Reginald Hill. Dialzel's dialogue is side-splittingly funny and so apt to the character, who's a bit gross, but smart. I suppose he could be deemed a breed of 'professional Yorkshireman'. I so admired Reg Hill's skills with dialogue that I did my best to sharpen up the dialogue of my own characters and would edit and edit until I felt it was as perfect as an imperfect human could get it. Nothing would do but the most fitting word—no substitutes allowed. If I was at work, and writing during my lunch break, I'd have to jot 'something like such and such' in the margin and wait until I got home and could look in my thesaurus.
Do you have a target reader?
Yes, I write for a woman of middle years or older, who prefers to read mysteries without a lot of gore. Ones who like some humour in their reading, and perhaps a little family interest.
About Writing
Do you have a writing process? If so can you please describe it?
It's funny, but I had a better writing process and routine when I worked full-time. Most of my spare time was spent writing, tightening and editing.
But now, with all the social media commitments, I find I often struggle to find writing time and seem unable to get into a routine. Perhaps when I've finished formatting the remainder of my backlist, I'll be able to be more organised.
Email can be a real time-suck given my propensity to sign up for lists and forums that look interesting and then forget to alter the notifications I want to receive. Consequently, I'm bombarded from all over the web on a daily basis. I really must go back into each of them and make some much-needed alterations before I expire from email overload.
Do you outline? If so, do you do so extensively or just chapter headings and a couple of sentences?
No way is my outlining extensive. Nowadays, I'd say it's a little more than a couple of sentences, but not by much. That's for my mysteries, but for my historical novels, I outline extensively. I need to because I write what is generally termed 'Biographical Fiction', which closely follows the actual life and experiences of a given character from history. So I need a timeline of events in the world as well as in the life of the character. But I've loved history for years, so it's no hardship.
Do you edit as you go or wait until you've finished?
I tend to edit as I go insofar as I check through the previous day's work and improve any infelicitous words or phrases. Then, when I've finished, I'll go over the complete book several times. To my chagrin I always manage to find something to improve. But I think all authors say that; no book is ever perfect.
Did you hire a professional editor?
I do now that I'm writing original to kindle novels, but as I've mostly been publishing from my backlist which had already had a professional edit, they did without a second one as, when I first turned indie in 2010, I couldn't afford it.
Do you listen to music while you write? If yes, what gets the fingers tapping?
I always have the radio set to BBC Radio 2—the commercial stations with their endless ads are enough to drive one to murder. I love Abba, the Beach Boys, The Rolling Stones, The Kinks; mostly sixties and seventies stuff, though there are some modern songs that have a good beat and good lyrics. Trying to keep up, but as I have no loud-music-loving teenagers living in the house, I'm not forced to become an involuntary 'fan' of the latest hits.
About Publishing
Did you submit your work to Agents?
Yes, but at first I submitted directly to publishers (you could back then). I think it was only with my third or fourth novel that I got an agent. I no longer have an agent as we parted company when I turned indie. Another fifteen per cent saved, though I might consider applying to agents again for foreign deals.
What made you decide to go Indie, whether self-publishing or with an indie publisher? Was it a particular event or a gradual process?
It was the exhausting seven-day weeks. My writing income was incapable of supporting me until I turned indie, so I had always had to have a day job.  But I read a lot of blogs, mostly American ones, and Joe Konrath convinced me (and many other authors)I could earn a full-time living as a writer if I turned indie. I remained doubtful about this for a little while, but I burned my boats when I turned down my publisher's latest contract—I didn't like the terms demanded. So, it was the indie world for me. I've had no cause to regret my momentous decision. I've lost that jaded feeling and have rediscovered the love of words that was becoming bruised as a poorly-paid traditional author.
Did you get your book cover professionally done or did you do it yourself?
It's a bit of an amalgam. I've used a site called selfpubbookcovers a lot. With them, they supply the picture and you decide on the font, its size, colour and positioning, as well as the extent of any drop shadows, etc. I've tried to restrict the palette of my covers to just three colours: red, white and black, so there's cohesion to the series. I call it the Cheapskate's version of custom covers.
Do you have a marketing plan for the book or are you just winging it?
I'm sheep-like and follow the herd—they seem  to know far more about marketing than I do, so why not? If it's Bookbub this week, they're who I'll go with. But their results are impressive; I was certainly impressed with mine (I had a Bookbub ad on Death Line on 9 March). Since taking out the ad, the first three books in my Rafferty & Llewellyn series have enjoyed greatly improved sales. The book reached No 2 free overall on Amazon.com and No 1 in both Police Procedurals and British Detectives. I would definitely like to use them again. But they're expensive and I'll have to do a bit of robbing Peter AND Paul, to do it. I tend to study kboards/Writers' Café closely, and try to learn from those who seem, unlike me, to have marketing in their blood. It's very fortunate that indies are a generous lot and tend to share their knowledge.
Any advice that you would like to give to other newbies considering becoming Indie authors?
I'm a Libran, with the scales as my symbol, so I would naturally say: 'Weigh and balance'. It really, I think, depends on what you want from your career. The trouble is, of course, that most writers' 'wants' list rarely gets a single tick. Most end up as poorly-paid mid-listers rather than the best-selling blockbusters they probably aspire to be.
It's necessary to remember that, when you sign with a traditional house, you're likely to be signing away your rights for years, if not forever. You'll get no more marketing done for you than an indie would, and you'll have little or no say over covers, publishing date or price.
Against that, you'll get an advance (mostly getting lower), a professional editor and a copy and proof reader (though nowadays, even from the Big Six (Five? Four?), you can't rely on getting your book so closely edited).
As an indie, you have to meet these costs yourself, but with the advantage, that, if you sell, you'll probably recoup these costs within a few months.
But, many writers earn and sell little, for various reasons. They might not write in a popular genre (romance, mystery, etc), their book might be full of typos and poor formatting and with a poor, home-produced amateur cover. Hugh Howey recently put together a report on the difference in earnings between traditional and indie authors. It makes interesting reading. According to Hugh's report, an enormous number of both traditional and indie authors earn below $10,000 a year (often way below). But, if you become a best seller as an indie, you can earn a fortune, and if you do, you get to keep seventy per cent of the sale price of the book (Amazon), as long as you price it between certain parameters.
This compares very favourably with the percentage you would receive as a traditionally-published author.
Series do very well in the indie world. I was fortunate when I turned indie because I had a large backlist, with fourteen books in my main, Rafferty & Llewellyn series, and I managed to get the rights back to nearly all of them. And if a reader likes your books, they're likely to go on to buy the rest of the series.
I would say, if you're an entrepreneurial control-freak, like me, you'll do well as an indie. But don't expect to become a best seller immediately after uploading one book; most indies are in it for the long haul. Very few are lucky or talented enough to rise from the pack to stardom, so don't expect it. But if you're a realist, prepared to learn and work harder than you've ever worked before, the indie world could be just the ticket.
About You
Where did you grow up?
I grew up on various south London council estates, as the youngest of four siblings.
Where do you live now?
I live in a market town in Norfolk (UK), where I moved in 2000.
What would you like readers to know about you?
That background doesn't matter, you can still make a success of your writing if you love words and the music they can make, and if you're happy to spend the rest of your life learning. I left school at sixteen after a basic education (I'd never even heard of the subjunctive until I was well into my twenties and even then I had a hazy notion what it was). But I was fortunate in that I'd always loved reading, so became familiar with words and sentence construction naturally rather than through some grim grammar grind. Okay, my sentence construction might still leave something to be desired, but then the same can often be said of authors who graduated from university with a First in English Lit.
Although someone from my working-class background may find it harder to get a writing career off the ground, if you're determined enough and stick at it, you'll do it. Ignore any nay-sayers and don't forget—you can always turn indie (not a realistic option when I started out).
What are you working on now?
I've got several things on the go: I'm formatting two more books from my Rafferty series backlist, I'm checking through the proof of the paperback edition of my historical, Reluctant Queen (a Goodreads Giveaway until 30 April 2014), and gearing myself up to get on with the second draft of Asking For It #16 Rafferty, as well as making a start on the research for a second historical. Fortunately, I have a very slapdash attitude to housework and can ignore cobwebs and dust for weeks on end.
End of Interview:
For more, visit Geraldine's website and sign up for her newsletter. Like her Facebook page or follow her on twitter.
Get your copy of Death Line from Amazon US or Amazon UK.