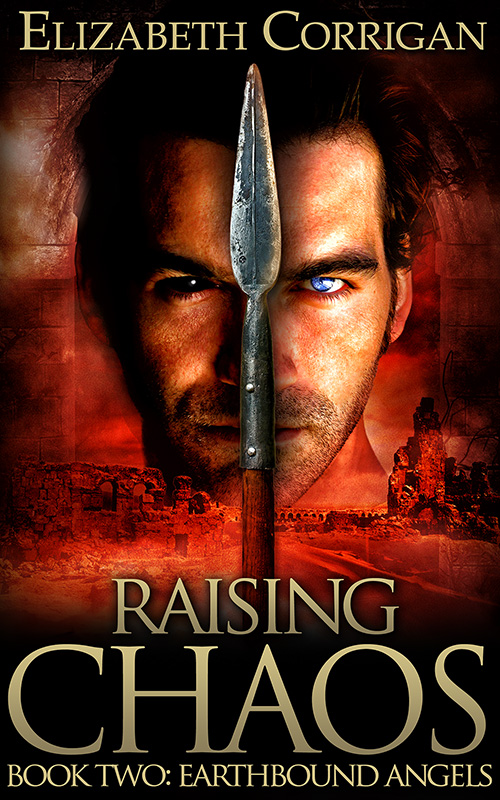 My characters are largely made up. I don't know any immortal angels who embody virtues, after all. But there is one sort of exception to this. I created the character Siren as a kind of joke side character—me, if I were an angel.
Elizabeth Corrigan – 13 April 2014
The Back Flap
When good fails, chaos rises to the challenge.
The daily life of a chaos demon is delightfully sinful—overindulging in Sri Lankan delicacies, trespassing on private beaches in Hawaii, and getting soused at the best angel bar on the planet. But when Bedlam learns that the archdemon Azrael has escaped from the Abyss in order to wreak vengeance against the person who sent her there—Bedlam's best friend, Khet—he can't sit idly by.
Only one relic possesses the power to kill Khet, who suffers immortality at Lucifer's request: the mythical Spear of Destiny, which pierced Christ's side at His crucifixion. Neither angel nor demon has seen the Spear in two thousand years, but Azrael claims to know its location. Bedlam has no choice but to interpret woefully outdated clues and race her to its ancient resting place.
His quest is made nearly impossible by the interference of a persnickety archivist, Keziel—his angelic ex—and a dedicated cult intent on keeping the Spear out of the wrong hands. But to Bedlam, "wrong" is just an arbitrary word, and there's no way he's letting Khet die without a fight.
About the book
What is the book about?
At the start of Raising Chaos, the archdemon Azrael, angry about what happened at the end of Oracle of Philadelphia, has decided she wants to murder Bedlam's best friend Khet (also known as Carrie, Caela, and a slew of other things). Azrael is thus seeking the Spear of Destiny, the only weapon that can kill the immortal Khet. Bedlam, though, is determined to find the spear before Azrael does, so he has to race around the globe to find it.
When did you start writing the book?
I started writing Chaos in summer/fall 2011, nine months to a year after I finished Oracle.
 How long did it take you to write it?
I wrote the first half of the book in about a month, and then I put it aside for a while. In the spring, one of my friends asked me when I was going to get around to finishing it, because she needed something good to read. That, along with getting a publishing contract for Oracle, inspired me to finish it that summer.
 Where did you get the idea from?
In the early planning days, I expected Oracle to be a stand-alone novel. Then somewhere in my plotting I decided that Carrie needed to have immortal friends. After I created Bedlam and Gabriel, I realized they were so awesome that they needed books of their own. I decided pretty early that I wanted Bedlam to travel around the world—the first book was about Hell, and the third book would be about Heaven, so I wanted book two to be about Earth. I decided to do a Spear of Destiny story because I've always been interested in it as an artifact, and it made for a logical continuation of the events in Oracle.
In one of the side plots of Chaos, the angel Siren describes how she became one of the least popular angels in Heaven. A lot of the reason I wrote this was that readers of Oracle said that Mephistopheles was their favorite archdemon, and I wanted to give him a back story for them. It also gave me the opportunity to reveal some key pieces of the mythology in my world.
Were there any parts of the book where you struggled?
The third storyline deals with what Carrie/Khet is doing while Bedlam is trying to save her life. This part was most difficult for me because there wasn't really anything supernatural going on. Carrie can read minds, sure, but most of what she was doing dealt with ordinary things like making friends, getting a job, and going shopping. I wanted to get back to the world-ending stuff! I had to work with my editor a lot to get this part of the tale up to snuff, but I think with some added angst and excitement, I made it work.
What came easily?
I actually really like writing both Bedlam and Siren. They both have humorous elements to their character, Bedlam with his randomness and Siren with her sarcasm. I rarely try to be funny, but often I look back at a scene I've just written and discover that it's quite amusing. I think it's because with these two characters, I can really get inside their heads.
Are your characters entirely fictitious or have you borrowed from real world people you know?
My characters are largely made up. I don't know any immortal angels who embody virtues, after all. But there is one sort of exception to this. I created the character Siren as a kind of joke side character—me, if I were an angel. I made her the angel of honesty, because I am a compulsive not-liar, and I gave her an amazing singing voice (even though mine is just decent). Her real name is even mine flipped around into more traditional theophory: Zabethiel. I'm a lot less confrontational than she is, but when I describe her to my friends—"a sarcastic crusader for the forces of good!"—my friends recognize what I did without having to be told.
Do you have a target reader for this book?  
I hope that people who liked Oracle will be motivated to pick up Chaos. I think there is a lot in this second book that will appeal to readers who may have had mixed opinions about Oracle. For one thing, I believe I have grown as an author, and for another, Chaos is about everyone's favorite character from book 1. In general, I want the series to appeal to fans of urban fantasy, as well as to people who like to think about the Christian religion in a new way.
How was writing this book different from what you'd experienced writing previous books?
In Chaos, I use multiple first person points of view, which is something I've never done before. I had to be careful all the time to make sure the characters sounded distinct from each other and that a reader could easily determine who was narrating at any point in time. And since the characters were in such different parts of the world, I also had to make sure all my timing lined up. You can actually check me, as I have the narrator and time stamp posted at the beginning of each chapter.
What new things did you learn about writing, publishing, and/or yourself while writing and preparing this book for publication?
I learned that writing a second book involves just as much sweat and just as many tears as writing a first one. I kind of thought/hoped that after I had one book published, the writing process would get easier from there. But it turns out there are always more things to learn, more ideas to show instead of tell, and more birds that are just dying to chirp in the background of your Pakistani forest scene. Which is good, because it means I can keep getting better and better, and I will always have something to strive for.
End of Interview:
Get your copy of Raising Chaos from Amazon US (paper or ebook), Amazon UK (paper or ebook), or Barnes & Noble.
Be sure to enter the contest below for a chance to win some great prizes from Red Adept Publishing.