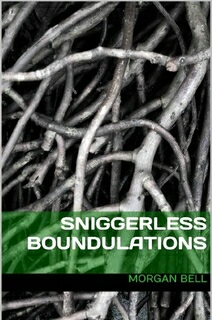 . I am an extremely picky reader, and I don't like filler. If you can say what you want to say in 500 words why write more?
Morgan Bell – 27 February 2014
The Back Flap
This collection of fifteen stories contains bizarre medical conditions, industrious creatures, conniving cops, killers, dead bodies, a rescue mission, homoeroticism, nonchalant students, a secret garden, and the road to hell.
Australian author Morgan Bell masterfully blurs dreams and reality into a concoction of whimsical horror, in the form of microfiction, vignettes, and short stories.
About the book
What is the book about?
Sniggerless Boundulations is a collection of fifteen short stories, largely about domestic tensions, with a few speculative fiction pieces. The overarching themes are fear, anxiety, time, aging, and jealousy.
When did you start writing the book?
Since 2011 I have been writing flash fiction for a local writers group in Newcastle NSW. The majority of the pieces in the book were generated from flash fiction. Others were competition entries. I moved house at the end of 2013 and in the packing process I salvaged all of these scrap pieces of paper that I had written these tiny tales on. Once I saw them all together I realized there were recurring themes.
How long did it take you to write it?
Most of the flash fiction took 1-2 hours to write per piece. Stories like Telfer Speck and Granted and Shark Fin Soup took a couple of weeks each in the spare time around my day job. For a longer more planned piece I would have to disconnect from the internet and set aside a few hours several nights a week to put the story together.
Where did you get the idea from?
My writers group gave weekly written and visual story prompts, and short story competitions give topics or themes to write from. I am often influenced by music and from everyday interactions, people watching, and dreams.
Were there any parts of the book where you struggled?
Because the content was written quite organically over a long period of time, most of the "work" seemed to be in the proofreading, editing, and formatting. Simple things like formatting dialogue consistently over the whole collection, to get one cohesive set of work, were the biggest challenges.
What came easily?
Knowing where a story or scene ends. I find these stories come to natural conclusions. Sometimes the purpose is simply to leave an impression or convey a feeling. Some have more traditional wrap-up style endings. Playing with the language of a story prompt and matching it to an emotion, or experience, or idea, that is the fun part, like a game of connect the dots.
Are your characters entirely fictitious or have you borrowed from real world people you know?
Many of my characters share traits from people in my real life. More often than not they are composite characters, a few different people rolled into one. A situation may be based on real life, but I invent the backstory or extrapolate the consequences. A few of my family members have recognized themselves, or elements of themselves, in my writing. Of course a lot of the characters are different incarnations of me.
We all know how important it is for writers to read. Are there any particular authors that have influenced how you write and, if so, how have they influenced you?
I learnt about the method of "free indirect" writing from a book by literary critic James Wood called How Fiction Works. I love the narrative voice of Oscar Wilde, and the juxtaposition of oddities in the works of Angela Carter. There have been stories by Tobias Wolff (Hunters In The Snow), and Raymond Carver (Why Don't You Dance) that have really struck a chord with their minimalism and dirty realism, deeply flawed characters causing ripple effects on those around them. Most recently Australian author Cate Kennedy has been a great inspiration with her short story collection Dark Roots.
Do you have a target reader?
Basically myself. I am an extremely picky reader, and I don't like filler. If you can say what you want to say in 500 words why write more? I am a qualified technical writer, so it is ingrained in me to boil things down to the bare essentials. I write things I would read, they suit busy people, direct people, and people who like to remember vivid dreams. As a genre I would say contemporary literature (short fiction).
About Writing
Do you have a writing process? If so can you please describe it?
I keep a skinny moleskine notebook in my handbag at all times. If I have an idea, or catch a bit of passing dialogue, or a dream sticks with my throughout the day, I write them in the notebook. I like to write sitting up at a desk or table surrounded by people. I will often write while listening to other writers read their pieces, or stay back late at work to write. Often it is pen to paper if I do not have a computer at my disposal. But for a more involved piece I like to do internet research on etymology of terms and weave factual content into dialogue, it's kind of a postmodern nod to the saturation of information that permeates 21st century life.
Do you outline? If so, do you do so extensively or just chapter headings and a couple of sentences?
Anything that is more than one self-contained scene I will do a loose outline. I often do an old-school mind-map on a piece of paper to brainstorm all the ideas and images and plot points I want to cover.
Do you edit as you go or wait until you've finished?
I know it is not advised, but I do edit as I go. I will give it a proper edit at the end, but I usually don't find the sneaky mistakes until I read the work aloud. I think live reading, or even reading to yourself if you don't have a captive audience, is an important part of the process.
Did you hire a professional editor?
No, I edited myself, and did the cover design myself. I proofread for a living so I thought I might as well take advantage of my own services.
Do you listen to music while you write? If yes, what gets the fingers tapping?
No, I can't listen to music while writing, it is very distracting, but I like to be around people talking, go figure! I find music very inspirational in the pre-writing phase, especially songs with evocative lyrics and imagery. I am a total fan girl of Chris Cornell as a lyricist. My story Garsdale was partly inspired by a song from his Soundgarden days called Mind Riot (from the album Badmotorfinger). The story Telfer Speck was influenced by songs from the album Furr by Blitzen Trapper. I will appropriate a phrase or image and write a backstory to it or develop a character around it. I listen to music when I am by myself and I let my imagination take me away.
About Publishing
Did you submit your work to Agents?
No I didn't. I wanted my work to be unencumbered by commercial editing. My book is a little piece of me, and I didn't want to be censored or conformed in form or style.
What made you decide to go Indie, whether self-publishing or with an indie publisher? Was it a particular event or a gradual process?
My writers group began producing ebooks for anthologies and competitions which I always found extremely exciting. Once I saw I had enough pieces for a stand-alone collection I was really keen to put them into an ebook. Part of it was the novelty factor, trying a new process, creating a cover design, all those fun things. Part of it was to archive and preserve my work for future reference. There was a huge interest from people who wanted to read my work in a hardcopy format, so I obliged and converted the manuscript using a Lulu template and a lot of trial and error getting it print-ready. Both formats were available for sale within two weeks of deciding to combine my stories into a collection.
Did you get your book cover professionally done or did you do it yourself?
I created my book cover myself using the tools in Kindle Direct Publishing. There were some limitations with font, case, layout etc, but I was really happy with the end product, and used the same cover for my paperback edition.
Do you have a marketing plan for the book or are you just winging it?
Basically winging it. I am utilising my creative writing contacts in the Newcastle writers scene to spread the word a bit. And as a blogger and social-networking addict I am slowly finding online channels to bring exposure to my book. I am speaking at the 2014 Newcastle Writers Festival for a story I contributed to the She: True Stories project, that may be a good opportunity to network.
Any advice that you would like to give to other newbies considering becoming Indie authors?
Just go for it. Put it out there. Worst case you add to the pool of human culture in a niche way and get the satisfaction of seeing your work presented in a professional way. The great thing about self-publishing is you have control over revising your manuscript even after it's published, so the pressure is off if you are a perfectionist.
About You
Where did you grow up?
As a little kid my family moved around Australia a lot. If you asked me where I was born I would say Melbourne, if you asked me where I was from I would say Newcastle, if we were standing in Newcastle when you asked me I would say Swansea (a southern suburb of Newcastle, on the entrance to Lake Macquarie).
Where do you live now?
I am currently living in West Ryde in Sydney. I work as a civil engineer and have probably spent equal amounts of time living in Sydney and in Newcastle throughout my career.
What would you like readers to know about you?
I always thought I would write as a hobby when I was retired. Since turning 30 I thought what the hell am I waiting for, I could die tomorrow, we are all slowly marching towards death. This could be depressing or it could be invigorating. I don't want to be an old lady regretting never having expressed myself, and no longer able to remember the stories she wanted to write down
What are you working on now?
I am working on another collection of short stories called Laissez Faire, due to be released later in 2014. I recently completely a short story called The Switch, which is being published in the 2014 Hunter Speculative Fiction Anthology, based on Germanic folklore.
End of Interview:
For more, visit Morgan's website or  follow her on twitter.
Get your copy of Sniggerless Boundulations from Amazon US (paper or ebook), or Amazon UK (paper or ebook).