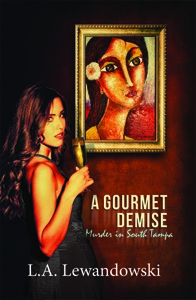 I thought I was finished with the book, but I didn't feel completely satisfied with the ending. I had a long conversation with a close friend and suddenly I knew what I was missing. For the next couple of days I rewrote the ending. It captures exactly the twist I wanted to leave in the readers mind.

L.A. Lewandowski – 16 February 2014
The Back Flap
After escaping the brutal murders in Montauk, Katherine Montgomery breathes a sigh of relief and settles into her sophisticated mansion on Tampa Bay. In this sultry paradise her world is filled with tennis, growing her art gallery business, and nights filled with dear friends at the Gaspar Gourmets dinner club. Her life seems ideal until a close friend dies suddenly. But the accident may not be what it seems, and Detective Frank Olson is assigned to investigate. Katherine is immediately attracted to the smart, handsome detective. She can't help but wonder, however, if his interest in her is as a woman or a suspect. When another friend dies after an elegant event attended by the local elite, it becomes obvious there is a common thread. Katherine's world is turned upside down as the police investigation focuses more closely on her intimate circle of friends. Frank follows a trail of clues, leading him to suspect a malignant secret curdling below the beautiful surface of the Gaspar Gourmets. Can he solve the puzzle before the killer strikes again?
About the book
What is the book about?
 A Gourmet Demise: Murder in South Tampa opens at the funeral of a local A-list lawyer. His unfortunate death, at first ruled an accident, quickly becomes a 'suspicious death' as another South Tampa man dies mysteriously. Suspicion is cast on a small circle of friends, members of South Tampa's elite and also the Gaspar Gourmet dinner club. The book is full of the things my readers have asked for: great food and wine, luxurious surroundings, intriguing characters and a sexy mystery to unravel.
When did you start writing the book?
I started the book back in 2011. Unfortunately, I had a number of surgeries in a row, and while on pain medication I had the idea for my vampires. I put the fifty pages I had written to the side and wrote the vampire book. After that was published in 2012 I immediately returned to "Gourmet."
How long did it take you to write it?
The book took about a year and a half. I had to do a good deal of research. I wanted to include Santeria and I knew nothing about it. Also, murder mysteries can be tricky. The timeline must be correct, and you need to place enough clues so when the murderer is unmasked it makes sense to the reader. But, you don't want it to be too obvious.
Where did you get the idea from?
I belong to a dinner club. People who cook and dine with each other develop a special relationship. Sharing a meal you have labored over is a gift to your guests. So, I decided to create a dinner club full of chic people who live in the most exclusive area of Tampa. All of the characters exist in my mind… except a set of tennis playing twins.
Were there any parts of the book where you struggled?
Yes. I thought I was finished with the book, but I didn't feel completely satisfied with the ending. I had a long conversation with a close friend and suddenly I knew what I was missing. For the next couple of days I rewrote the ending. It captures exactly the twist I wanted to leave in the readers mind.
I was also fortunate to have a local detective agree to read the manuscript. He pointed out any areas where the police might use different words when questioning a suspect, procedural protocol, and he explained the correct way to obtain a search warrant. I had no idea how these things worked.
What came easily?
Characters come easily to me. I like people. I observe and appreciate the idiosyncrasies of my fellow man. The food description comes easily because I love to cook and entertain.
Are your characters entirely fictitious or have you borrowed from real world people you know?
The characters are in my head. I might borrow a haircut description, but otherwise I create from scratch. Except for the two tennis players.
We all know how important it is for writers to read. Are there any particular authors that have influenced how you write and, if so, how have they influenced you?
I read a lot. Although I adore Oscar Wilde, I realize I will never write like that. Instead, I try and alternate a classic of different genres with a book from an independent author. I find as much inspiration from the indies who write wonderful books as I do from Hemingway, Chandler, or Golden.
Do you have a target reader?
Absolutely. I write a stylish book. When I attended book clubs after my first novel was published I asked a lot of questions. I looked around the room at these professional, smart, thirty-five and older women who traveled and liked the finer things in life. That is my audience.
About Writing
Do you have a writing process? If so can you please describe it?
I find that I write best in the morning before my brain starts to get cluttered. I try to write straight for a couple of hours, and then get up briefly to move. Then it's back to my desk.
Do you outline? If so, do you do so extensively or just chapter headings and a couple of sentences?
I start with a simple outline which I revise as I go along. Any ideas that occur to me I add in the Word.doc under a section headed by the word Notes:. This way I don't lose any little ideas or embellishments that pop into my head. I also use a lot of Post-it notes, but those can get messy.
Do you edit as you go or wait until you've finished?
I try not to edit too much as I go along. For me, it is better to dump my brain first and then go back and edit or expand on an idea.
Did you hire a professional editor?
Yes. A professionally edited manuscript is the only way to get critical feedback on the corrections that will ensure a quality product I can be proud of.
Do you listen to music while you write? If yes, what gets the fingers tapping?
If I am writing I often listen to the local classical station. That sort of music washes over me and encourages clear thought. A side benefit is if I am outside the plants like it, too.
About Publishing
Did you submit your work to Agents?
Yes. I sent out about twenty e-mails, and received a response from a New York agent. She asked for more of the sample of Born to Die, but turned it down.
What made you decide to go Indie, whether self-publishing or with an indie publisher? Was it a particular event or a gradual process?
I started following a couple of threads on LinkedIn in 2011. There I met Kat Brooks, Lin Robinson, Dan Mader, David Antrobus, Rosanne Dingli, Valerie Douglas and some other indie authors. I was so impressed with them—they knew so much. I knew almost nothing about publishing, or the novel process. I was asked by Stephen Hise to write a weekly post for Indies Unlimited, and I accepted. It is the best thing I ever did for my writing career. Reading the posts that my fellow authors write push me to be the best I can be. I never would have accomplished as much if I weren't surrounded with these amazing writers.
Did you get your book cover professionally done or did you do it yourself?
I have a professional graphics artist out of New York who does my covers. He is very talented and a fellow Rutgers alumna.
Do you have a marketing plan for the book or are you just winging it?
I have pages of marketing ideas. A friend who owned her own businesses helped me with the plan, and she suggested a few things I never would have thought of. I haven't hit all of them yet, still working…
Any advice that you would like to give to other newbies considering becoming Indie authors?
Yes. Don't rush to publish, do your homework. Get beta readers and ask for their honest opinion. Surround yourself with professionals who are positive and tell you that you CAN do this. Hire an excellent editor. Remember you are your brand, and always pay it forward.
About You
Where did you grow up?
I grew up in northern New Jersey. Exit 156. I graduated from Rutgers University with a degree in political science and French literature.
Where do you live now?
I live in Tampa, Florida. It is sixty-three degrees outside this lovely Valentine's Day.
What would you like readers to know about you?
I love talking to people. I've been told I'm funny, but a bit on the intense side. I'm driven.
What are you working on now?
I need to finish the next vampire story, which will be shorter than the vamp book. I started a dystopian short story, but I'm not sure where that one is going. And of course, the next murder mystery. Pirates, anyone?
End of Interview:
For more, visit L.A.'s blog, follow her on twitter or Pinterest, and like her page on Facebook.
Get your copy of A Gourmet Demise from Amazon US, Amazon UK, Barnes & Noble, and Smashwords.