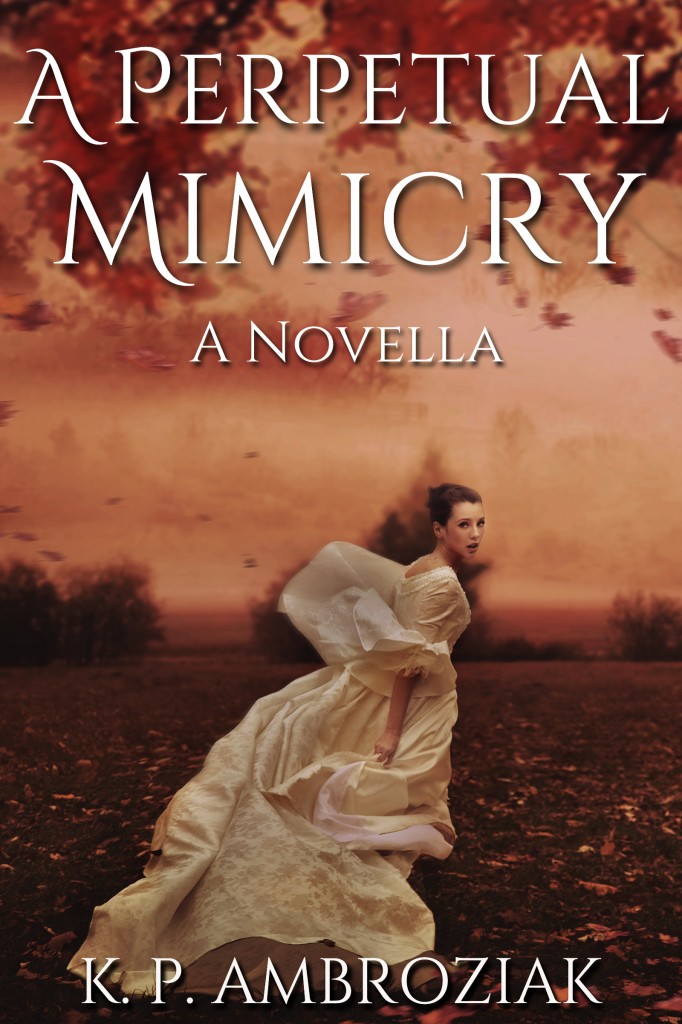 I think anyone who loves romance will enjoy it. It is, at its core, a love story—a human story, despite its protagonist being a fallen angel.
K.P. Ambroziak – 2-13-2014
The Back Flap
Ani is a fallen angel sentenced to eternity on earth. Lost and helpless in his wingless state, he suffers the anguish of mortality until he meets Simon.
Simon is the first angelic exile to walk the earth and the best guide a banished angel could ever ask for—only Simon knows how to become winged once again.
But Ani's human inheritance is more than he expects. When he falls in love with Sarah, the girl haunting his memories, he is doomed to live a heartache greater than the plucking out of his wings.
About the book
What is the book about?
The novella is about a fallen angel who is sentenced to eternity on earth – or so he thinks. He is forced to live in a human body, though it can be any one of his choosing. When he selects Ani, a boy he finds wandering alone in a field of sheep, he not only inherits his body but his memories too. Soon the angel, as Ani, is besotted with Sarah, the girl the boy has always loved, and he undergoes the most significant of human experiences—to love and to lose. Ani is changed forever when he realizes that Sarah is the one person who can save him from his endless sentence on earth.
When did you start writing the book?
I began the novella in some form or another several years ago.
 How long did it take you to write it?
I worked on it, on and off, for three years.
 Where did you get the idea from?
I don't know. I suppose I have always loved the idea of the fallen angel and his plight as one who is rejected by his maker. Milton, specifically Paradise Lost, has a big influence on me and I suppose my affection for his Satan has gotten to me over the years.
Were there any parts of the book where you struggled?
Yes, many. I took my time with this novella because it was my first "real" work. In fact, it was the second manuscript I ever wrote. I wrote a fairly crappy novel that has never, and will never, see the light of day, and I think "A Perpetual Mimicry" is the result of having trudged through the discomfort of that writing project. With this novella, I chose my phrasing carefully, selecting and placing each word with purpose. Nothing feels wasted, and yet it is rich with plenty of stylized language. At times, it was a painstaking process, but I am pleased with the result. The story itself is short, just over 30,000 words, but I intended to write a novella. It is a specific form that I think leaves room for the reader's imagination and musing. I love that. I love that some of the reviewers have mentioned the length and that they wish it was longer. It is a story that can be read in one sitting, and yet it is full and complete.
What came easily?
Nothing. Nothing came easily with this novella.
Are your characters entirely fictitious or have you borrowed from real world people you know?
Entirely fictitious.
Do you have a target reader for this book?
I think anyone who loves romance will enjoy it. It is, at its core, a love story—a human story, despite its protagonist being a fallen angel. Any reader who is keen on purple prose with a good tale will enjoy it. And lovers of dark fantasy are probably a good reading audience for it too. It is imaginative, that much I have been told by those who have already read it.
How was writing this book different from what you'd experienced writing previous books?
The novel I wrote after A Perpetual Mimicry was written in less than a month. The experience of writing this novella was painstaking, and had I stopped writing after I wrote it, I would have never known how valuable an experience it had been. I think this novella cracked open the imaginative store of my mind and let me in to access all the treasures I have inside.
What new things did you learn about writing, publishing, and/or yourself while writing and preparing this book for publication?
I learned that I can write well, and that I am a writer, and that being a writer—despite the vulnerability it asks of you and the frequent rejection it doles out—is what I shall be for the rest of my life. That being said, I realized that I am a feeble book promoter and will have to learn a more suitable way to find readers.
Note: A Perpetual Mimicry will be free for your Kindle today, February 13th. See link below.
End of Interview:
For more from K.P., visit her blog, or like her facebook page.

Get your copy of A Perpetual Mimicry from Amazon US or Amazon UK.