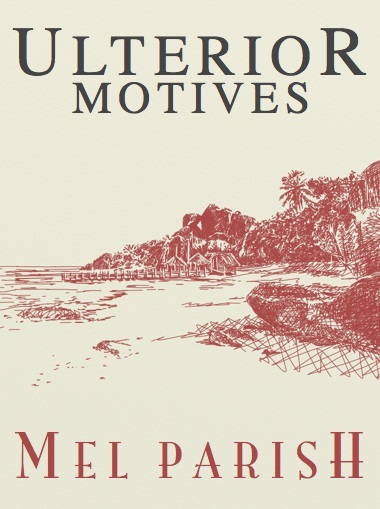 I start with a 'what if?" idea, mull it over for a while (anywhere from a few days to months depending on where I am with the current work in progress) and let the major characters emerge in my mind. When I start writing I usually have a vague idea of how the story might end, but no idea of how to get from the start to the finish. I let the story unfold as I write
Mel Parish – 12 December 2013
The Back Flap
Kidnapped while on vacation in the Philippines, expatriate Jake Cornish struggles to retain his dignity in the face of the humiliating circumstances imposed by his captors. As his wife's chilling silence to the ransom demand continues, Jake's futile attempts at escape and defiance are met with a degree of hostility and brutality that suggest his chance of survival is grim—until his captors suggest another use for him. Their outrageous new demand not only pushes him to unparalleled levels of despondency but also causes cracks in their unity, laying bare ulterior motives and revealing the true nature of the kidnappers themselves. A story of ordinary people in extraordinary circumstances, Ulterior Motives tells of life stripped bare of daily comforts, where desperation drives motivation, and loyalty and love may lead not to happiness but unimaginable consequences.
About the book
What is the book about?
After being kidnapped while on vacation in the Philippines, American expatriate Jake Cornish is faced with an outrageous new demand by his captors when his wife fails to respond to the original ransom note.
When did you start writing the book?
Longer ago than I'd like to admit! I have query letters dating back to 2008, so I'm guessing around 2006.
How long did it take you to write it?
About eighteen months.
Where did you get the idea from?
I lived in Hong Kong for several years and we used to vacation elsewhere in Asia. One of our favorite places was Kota Kinabalu (East Malaysia). The resort we stayed in offered a water taxi service out to three small uninhabited islands nearby.
Imagine a tiny idyllic island, a deserted beach and sparkling clear sea—a paradise by most people's standards. An opportunity to lie in the sun and relax, to forget all day-to-day concerns, until a little voice inside kicks in, the one waiting for moments like this to ask, what if? What if the hotel boat does not come back for you? How long before this paradise becomes a hell? Happily, the boat does return, but the thoughts linger on.
The story grew out of that initial thought, but I used the Philippines as the location because during the time we were in Asia there were frequent reports of 'wealthy' foreigners being kidnapped there, which reinforced the idea of a vacation gone wrong.
Were there any parts of the book where you struggled?
There were, but I can't tell you which without giving away a major plot point. Suffice to say, it was something that I didn't feel comfortable writing about, and had no intention of writing about when I started the novel, but the direction the story took left me with little choice.
What came easily?
The story line—despite initially having no idea where the story of a guy being kidnapped in the Philippines was going to lead, once I started writing it just seemed to fall into place.
Are your characters entirely fictitious or have you borrowed from real world people you know?
Fictitious.  I'd hate for anyone I know to think that a character was based on them. I even don't like to use names similar to family or friends just in case they get the wrong idea. Given that both my husband and I come from big families this can be somewhat of a problem in coming up with character names.
We all know how important it is for writers to read. Are there any particular authors that have influenced how you write and, if so, how have they influenced you?
I've always been an avid reader and I'm sure my writing has been influenced by what I've read, but I'm not sure I can point to a particular author or authors. My current favorites are Michael Connelly, Brian Freeman and Tana French. They all create characters that, whether you love them or hate them, you end up caring about, which is what I try to do in my novels, but I only discovered them as a reader after I started writing.
Do you have a target reader?
My target reader should be anyone who likes character-driven mystery/suspense. But I think I fall woefully short when it comes to actually targeting them—or even knowing how to target them.  I think I've fallen into the indie author trap of socializing with other authors rather than readers, and not even mystery writers at that!
About Writing
Do you have a writing process? If so can you please describe it?
I start with a 'what if?" idea, mull it over for a while (anywhere from a few days to months depending on where I am with the current work in progress) and let the major characters emerge in my mind. When I start writing I usually have a vague idea of how the story might end, but no idea of how to get from the start to the finish. I let the story unfold as I write. I reckon if I'm surprised by what my characters get up to while I write (and I often am) then chances are readers will be too. And, by the way, when I say write, I literally mean that. I'm a pencil and paper first drafter. Sitting in front of a computer does nothing for my imagination.
Do you outline? If so, do you do so extensively or just chapter headings and a couple of sentences?
No – I don't think I could outline a story if I tried.
Do you edit as you go or wait until you've finished?
I type up the manuscript as I go along, usually a few days after I've written it. This gives me a chance to do an initial edit as I type. I also print off a hard copy and every so often will read back over what I've written, noting any minor changes I might want to make, but the serious editing only begins when the first draft is complete.
Did you hire a professional editor?
I hired a professional editor for my first published novel (Silent Lies) even before I decided to self-publish.  I'd read several editing books (Sol Stein on Writing, Self-Editing for Fiction Writers), but I still felt I needed an outside opinion on the manuscript. It was expensive, but very worthwhile. After an initial read through and comments on the structure, plot and characters, he edited the first 50 pages, sent them back to me for my consideration and then I edited the next 50 based on what I had learned from his example before sending them to him for his edit. It was probably a slower process than a straight edit, but I learned a lot. He also made me aware of the many British terms I'd used; an important factor given the novel is set in America.
With subsequent books I've not been able to afford to repeat the process, but fortunately I now have a daughter with formidable writing/editing skills so I feel comfortable relying on her. She certainly doesn't seem to have any qualms about using a red pen on her mother's work!
Do you listen to music while you write? If yes, what gets the fingers tapping?
No, it would be too distracting. I wouldn't be able to hear my characters.
About Publishing
Did you submit your work to Agents?
I have submitted three different novels to agents over the years and have an impressive set of rejection letters. I did get some interest with two of them to the point I was doing revisions but, sadly, at the end of the day neither were "loved enough" to be taken on.
What made you decide to go Indie, whether self-publishing or with an indie publisher? Was it a particular event or a gradual process?
It was bad enough getting an SASE with a photocopied rejection letter, but at least you knew someone had seen your query. With the advent of email submissions and the defection by most agents to the "we'll reply if we are interested" attitude, it seemed like query letters were just disappearing into a black hole, very disheartening. By the time e-publishing became viable, I had four novels written so I decided I had nothing to lose by publishing at least one. It's hard work, but was so enjoyable and satisfying that I decided to release the others too.
Did you get your book cover professionally done or did you do it yourself?
I use a very talented young British artist, Jonny Gillard, to design the front covers.
Do you have a marketing plan for the book or are you just winging it?
I know I should have a marketing plan, but at the moment there is still so much to learn about book promotion and social media that I'm essentially winging it.
Any advice that you would like to give to other newbies considering becoming Indie authors?
If you love to write and would do it even if nobody bought your books, go for it. There are amazing opportunities to get your work out now, but be prepared for hard work and the need to be resilient. And ditch the idea of doing it to get rich.
About You
Where did you grow up?
I grew up in Newcastle-upon-Tyne in the northeast of England, but left when I was nineteen. Since then I've lived in Toronto, London and Hong Kong.
Where do you live now?
New York
What would you like readers to know about you?
I have an insatiable curiosity about what makes people tick and why they make the choices they do. I love listening to people talk about their lives and jobs, I love to travel and try new activities. I think, subliminally, it all feeds into the writing process, but even if it doesn't, it just makes life so much more interesting.
What are you working on now?
I'm currently working on getting my third novel The Anniversary ready for publication in early December. I am also writing a sequel to Ulterior Motives. 
End of Interview:
For more, visit Mel's website or blog, like her facebook page, or follow her on twitter.
Buy your copy of Ulterior Motives from Amazon US (paper or ebook) or Amazon UK (paper or ebook).