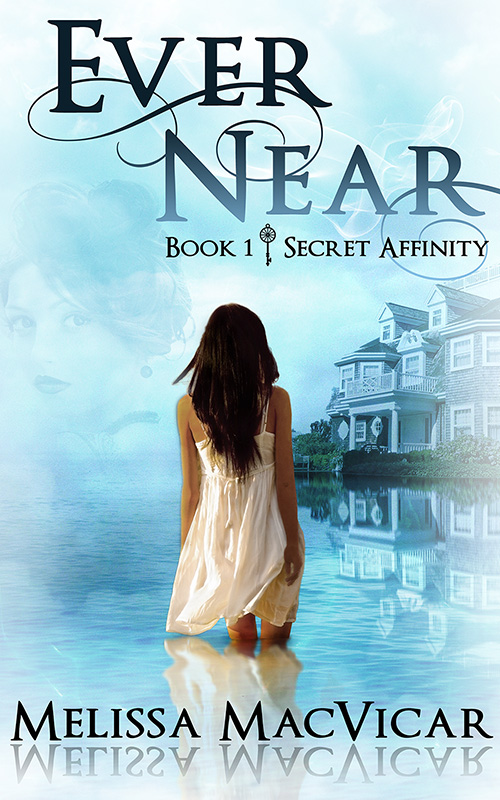 I am just a normal person who followed her dream to become a writer. Don't wait to follow your dream until you're older. Do it now.
Melissa MacVicar – 3 October 2013
The Back Flap
Love is ever near. But trouble is never far.
Nantucket Island is haunted, but only sixteen-year-old Jade Irving knows it. Ignoring the disturbing spirits isn't an option, because one dwells in the enormous historic home she shares with her newly blended family. Jade is finding it more and more difficult to explain away Lacey's ghostly, anguished tantrums, especially with Charlie, her gorgeous, almost step-brother, living right across the hall.
When a power-hungry ghost hunter tracks down Jade and blackmails her, Jade's secret teeters on the edge of exposure, and her entire future hangs in the balance. If anyone finds out Jade can talk to ghosts, her life will be forever changed.
Can she save herself, free Lacey, and hang on to her tenuous connection with Charlie? Or will everything she ever wanted slip through her fingers?
About the book
What is the book about?
A girl, a boy, and a ghost.  No, seriously, it's about a girl named Jade who has the ability to see ghosts, and she's never told anyone. Jade's mother is getting remarried and she has to move into a haunted house on Nantucket Island. Plus, she has a crush on one of her new step-brothers.
When did you start writing the book?
I began the book in February 2011 as a contemporary YA novel about a stepfamily from very different backgrounds. In the summer of 2011, I added the ghosts. And in 2012, I did a huge rewrite to fix the plot sequence.
How long did it take you to write it?
Is it done yet? Yeah, I guess it finally is. J
Where did you get the idea from?
I got the stepfamily idea from a conversation with friends about young mothers dying. The subject of whether you would want your spouse to remarry came up, and someone said that they had heard of people actually picking who their spouse should date after they were gone based on who would be best for the children. I remember soul searching afterward, wondering if I could be that selfless. Then the idea formed that perhaps a nurse of a dying woman would be suggested as a new mate. I know… I think about weird things.
The ghost idea arose from a real life historical person I learned about while reading a book. I don't want to say the book because it might take away one of the mysteries in Ever Near, but after some time thinking, I decided to put those two ideas in a blender together and Voila- Ever Near was born.
Were there any parts of the book where you struggled?
Yes, many. The ghosts were hard at first because I wasn't accustomed to writing paranormal, but I got better at it and actually enjoyed the freedom of being able to make up my own rules for them.
What came easily?
The romance has always been the easy part for me. I used to skim to the romance parts of books when I was young so I know how to write those scenes well. Plus I'm a romantic at heart.
Are your characters entirely fictitious or have you borrowed from real world people you know?
The ghost is based on a real person from the 1800s. Otherwise, the characters are all made up by me.  I have to say this over and over because I write about the town where I live, so people get worried that I might use them in a book.
We all know how important it is for writers to read. Are there any particular authors that have influenced how you write and, if so, how have they influenced you?
I aspire to write as well as John Green and Gillian Flynn. I aspire to plot as well as Jennifer Echols and Stephanie Perkins. I haven't taken a creative writing class since college but I have been self teaching myself since I started writing again in 2010. Thank God for the internet.
Do you have a target reader?
Anyone between the ages of 14 and 114.
About Writing
Do you have a writing process? If so can you please describe it?
You could say I have a process. It starts with an idea and a character. Then I think up a scene and I start writing. I write like this as the story unfolds to me until about twenty thousand words and then I have to stop and plot.
Do you outline? If so, do you do so extensively or just chapter headings and a couple of sentences?
Yes, after about twenty thousand words, I go back and write an outline for what I already have and for the rest of the book. Sometimes it works and sometimes it doesn't. This is when I have to decide if I have enough for a book and what's missing to propel the narrative.
Do you edit as you go or wait until you've finished?
I edit as I go. I have to. That's how I get back into the story each day by re-reading a part of where I left off and making small edits.
Do you listen to music while you write? If yes, what gets the fingers tapping?
No, I need it to be silent or at least quiet to write. I will get too distracted by song lyrics and go off on a tangent in my head. With that said, music often inspires me. I am a pop music lover which is sort of embarrassing.
About Publishing
Did you submit your work to Agents?
Yes, and I had several requests to read the manuscript, but no one would commit.
What made you decide to go Indie, whether self-publishing or with an indie publisher? Was it a particular event or a gradual process?
My decision was a gradual process. The more I learned about publishing, I could see that a small publisher was going to work better for me. Red Adept has been the perfect fit, and I couldn't be happier with them.
Did you get your book cover professionally done or did it you do it yourself?
Streetlight Graphics! Red Adept uses them and they are amazing. I sent 3 covers I liked and told them about my book, and they nailed it with the first draft. I loved it immediately.
Do you have a marketing plan for the book or are you just winging it?
I'm going with my publisher's plan and some of my own work with the bookstores in my hometown.
Any advice that you would like to give to other newbies considering becoming Indie authors?
I would say do it, but also don't rush it. Work really hard to be sure you have a good story with good writing before you jump in. Also, have your work professionally edited before you self-publish.
About You
Where did you grow up?
I grew up on Nantucket and also lived in Andover Massachusetts.
Where do you live now?
I live in Nantucket and love it. The pace of life here is less stressful and allows me to write and work full-time as a teacher.
What would you like readers to know about you?
Hmmm, that I am just a normal person who followed her dream to become a writer. Don't wait to follow your dream until you're older. Do it now.
What are you working on now?
Book 2 of the Secret Affinity series! Jade's next adventure is a thrill ride!
End of Interview:
Get your copy of Ever Near from Amazon US (paper or ebook), Amazon UK (paper or ebook), or Barnes & Noble.