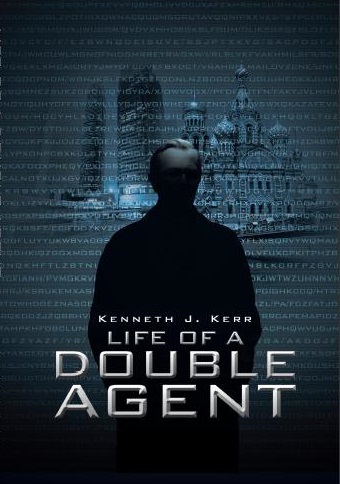 Lots of people have asked if I am Jim Hunt. Read the book and you decide.
Kenneth J. Kerr – 11 August 2013
The Back Flap
During Jim Hunt's junior year in college, the CIA recruited him to monitor radical activities on campus. After graduation from college, he joined the U.S. Army and was recruited by a Chinese intelligence agency, with the knowledge and support of the CIA. After serving in Vietnam, where he uncovered a North Vietnamese plot to assassinate Bob Hope and was part of the take down team, he joined the Dow Chemical Company and later worked for Renewable Power Company, but throughout his business career he continued his work for the CIA and Chinese Ministry of State Security. After retiring from all the organizations, he joined the Peace Corps, and was assigned to Krasnoyarsk, Russia. The CIA pulled him back in for one more mission, to find a way to shut down Russia's last nuclear power plant producing weapons grade plutonium.
About the book
What is the book about?
A forty year period in the life of a man who is recruited by the CIA while he is in college, then recruited by a Chinese intelligence agency, with the CIA's knowledge, while he is in the Army, and after spending a year in Vietnam, goes to work for a large multinational corporation, while continuing to work for the two intelligence agencies. After finally retiring from all organizations he goes to Russia as a Peace Corps volunteer, but gets called back into the CIA for one more mission.  
When did you start writing the book?
Late summer of 2012
How long did it take you to write it?
Approximately six months.
Where did you get the idea from?
The basic idea came from my experience as a Peace Corps volunteer in Russia, when I was expelled after one year of service. Several of my friends thought I was  working for the CIA, and the reason I was expelled was that the Russian government discovered I was a spy.
Were there any parts of the book where you struggled?
There was no particular part of the book where I struggled, rather the struggle was more with how much to use dialogue to tell the story.
What came easily?
Generally, the portion of the story that deals with the lead character's international business experiences was the easiest because it parallels many of my experiences.
Are your characters entirely fictitious or have you borrowed from real world people you know?
The characters are all fictitious, but as mentioned in the previous answer, there are many parallels in my life experiences and the lead characters non-spy experiences.
We all know how important it is for writers to read. Are there any particular authors that have influenced how you write and, if so, how have they influenced you?
Some of the authors that influenced me are Vince Flynn, Tom Clancey, John Grisham, and Patricia Cornwell. The way they influenced me was providing me the inspiration that yes I can write a book
Do you have a target reader?
Not one target, but several. The simple answer is the same readers who like the authors I listed in the previous answer. Some of the target markets are veterans, Peace Corps volunteers, international travelers, international business people, and all people who enjoy spy thrillers.  
About Writing
Do you have a writing process? If so can you please describe it?
My process was to make a commitment to write six days each week, and to write a minimum of two pages each day. I did not have a specific time of day, but most of the time I started working mid-morning. In addition to writing, I would spend time doing research, and editing previous work. I did not set a specific number of hours of work each day. Sometimes it would only be two or three hours, other days it sometimes would be five of six hours.
Do you outline? If so, do you do so extensively or just chapter headings and a couple of sentences?
I worked from a basic outline with chapter titles and a sentence or two about the chapter. During the six months many changes to the outline were made. Also, I did not write the book from the first chapter to the last. I wrote chunks of the book out of sequence. For example, I wrote the chapters regarding the Peace Corps and Russia first because I had that part of the book mostly defined in my mind. However, after I completed the earlier parts of the book, I extensively revised the chapters on Russia.
Do you edit as you go or wait until you've finished?
I continually edited and then did a complete start to finish edit after I finished.
Did you hire a professional editor
I self published using Xlibris. They provide a copy editing service that I used.
Do you listen to music while you write? If yes, what gets the fingers tapping?
No music while I write. I find I do best working in silence with minimum to no interruptions.
About Publishing
Did you submit your work to Agents?
I submitted my work to two agents, but quickly decided the probability of success was too low, so I switched my focus to finding a good self publishing company.
What made you decide to go Indie, whether self-publishing or with an indie publisher? Was it a particular event or a gradual process?
The decision to go with self-publishing was a gradual process. It was more an evolution in my thought process regarding the likelihood of finding an agent and a conventional publisher.
Did you get your book cover professionally done or did you do it yourself?
The cover was a collaboration between a man at Xlibris and me. I made an initial proposal and provided a photo for consideration. We talked about my ideas and he offered a proposal based on incorporating my photo into his idea. He developed his idea, I really liked it, and we went with it. I am very satisfied.
Do you have a marketing plan for the book or are you just winging it?
Having spent much of my business career in marketing activities, I have a basic marketing plan. However, it is different when you are the whole marketing team. I try to minimize the "winging it," but I remain flexible to unexpected opportunities.
Any advice that you would like to give to other newbies considering becoming Indie authors?
If you are considering becoming an author for potential financial gains, carefully evaluate and understand the business of marketing your book by yourself. Those marketing skills are needed and are equally important to your writing skills
About You
Where did you grow up?
A small town in Delaware.
Where do you live now?
Hilton Head Island, SC and Charlevoix, MI
What would you like readers to know about you?
After a successful business career and a great experience with the Peace Corps in Russia, I decided to try something new, writing a book. I have learned a lot, and my hope is that I can persuade lots of people to read my book for their personal enjoyment. Lots of people have asked if I am Jim Hunt. Read the book and you decide.
What are you working on now?
Marketing my book, Life of a Double Agent. If I achieve some commercial success with my first book, I have a second one in mind.
End of Interview:
For more from Kenneth visit his website or blog, follow him on twitter, or like his facebook page.
Get your copy of Life of a Double Agent from Amazon US (paper or ebook), Amazon UK (paper or ebook), or Barnes & Noble.