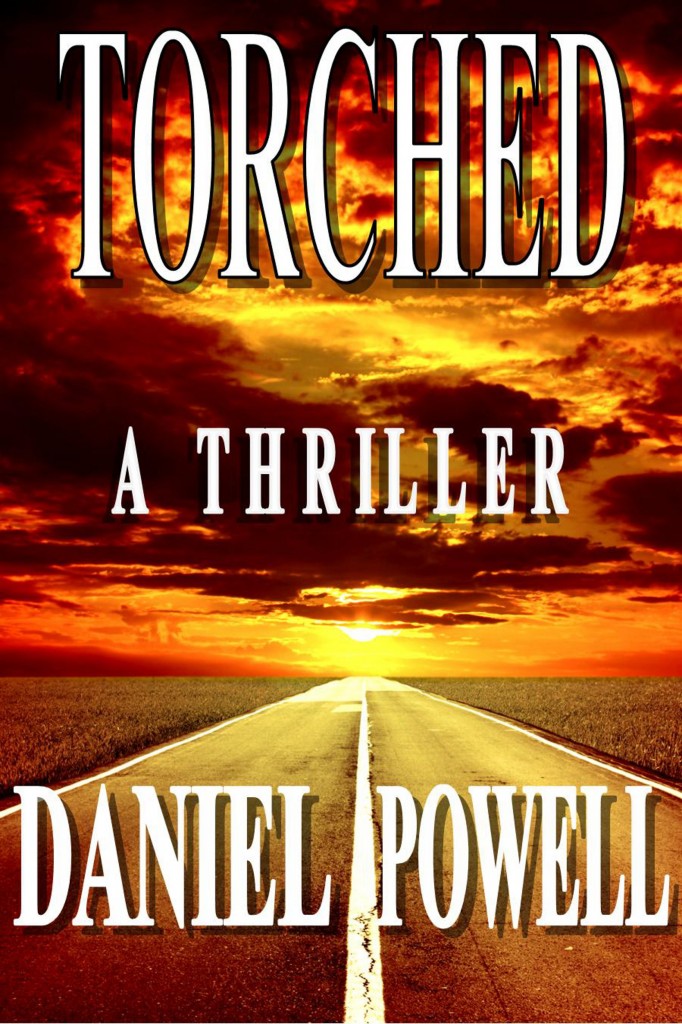 I tried to keep the pace screaming forward, and it was sometimes difficult to focus so much on action when my natural inclination was to slow down and build character.
Daniel Powell – 17 November 2012
The Back Flap
Fresh on the heels of the thrilling novella Frozen comes Torched, a continuation of the tale of two women who have had their families decimated by tragedy, and who will stop at nothing to gain a measure of vengeance for their suffering.
Terri James lost her husband to the Colorado wilderness, but she never lost the hope of making Vivian Bowles pay for what she did to her family.
After enlisting the help of a private detective, Terri has discovered that Vivian escaped to a tiny village in Central Mexico. She has taken up residence there with another American expatriate, and is embarking upon what appears to be an idyllic existence.
All of this while Terri's children struggle with chronic nightmares and an existence without their father.
But life has a fascinating way of repeating itself, and Terri has some very uncomfortable plans for the happy hideaways taking refuge in Cerritos. Torched explores the depths of obsession that govern the human impulse for revenge, as well as the redemptive qualities of what it means to let go.
Whoever said that revenge was a dish best served cold?
A 28,000-word novella, Torched is intended for adult audiences. It contains graphic depictions of sex and violence.
(Author's note: Yes, some razorbacks do top 1,000 pounds. Don't believe me? Do a little bit of research on "Hogzilla," a creature that was shot and killed in Alapaha, Georgia, back in 2004…)
About the book
What is the book about?
Torched is a continuation of a thriller called Frozen that I began writing back around Christmas of 2011. I envisioned writing a pair of linked novellas that focused on ordinary people stuck in extraordinary circumstances. I also wanted to explore the destructive qualities of revenge, and I hope that comes across in both books.  
How long did it take you to write it?
It took a few months to move through the drafting process on Torched. I worked with a group of attentive readers and my friends and editors at Distillations Press (a regional small press) to try to polish the story and bring it to a satisfying conclusion.
Where did you get the idea from?
Since my daughter's birth, I've been writing more about the bonds parents share with their children. Frozen really explored a mother's obsession to care for her family, and now Torched investigates the perception (perhaps false, but then again maybe not!) that revenge can provide catharsis.
Were there any parts of the book where you struggled?
Both novellas have extremely compact timelines. I always envisioned them as novellas—as little bursts of adrenaline—though many readers have suggested that they should grow into novels. I tried to keep the pace screaming forward, and it was sometimes difficult to focus so much on action when my natural inclination was to slow down and build character.
What came easily?
I enjoyed focusing on the parental drive to both protect and then stand up for one's children. I hope readers can relate to those passages.
Are your characters entirely fictitious or have you borrowed from real world people you know?
These narratives are focused on women. I hope they come across as authentic portrayals, and I'm trying to grow in that area of my writing. I have a very clear vision of both Vivian and Terri in my mind, and outside of their collective determination, they aren't really like anybody I know.
We all know how important it is for writers to read. Are there any particular authors that have influenced how you write and, if so, how have they influenced you?
Stephen King has had the greatest influence on my writing. Although these are thrillers, I identify myself most closely with the horror genre. I love King's pacing and eye for detail, and I think he really captures small-town America well. He's a joy for me to read because I love looking for the bizarre in the ordinary, and much of his horror is of the mundane variety.
Do you have a target reader?
Not really. I hope that readers of all sorts would enjoy my stories. My collections These Strange Worlds and The Silver Coast and Other Stories offer a wide variety of short narratives, with most falling into the science fiction, fantasy and horror categories.
About Writing
Do you have a writing process? If so can you please describe it?
It depends on the time of year. I teach writing courses at Florida State College at Jacksonville, and I'm off in the spring term. During those months, I observe a regimen most mornings of writing from 10:00 until noon. I write the bulk of my fiction during those months. When I'm teaching lots of classes, I spend more time on short stories and I write in sips and swallows—cramming in short bursts when I can.
Do you outline? If so, do you do so extensively or just chapter headings and a couple of sentences?
I don't. I like to walk into the woods and see where the path goes. Sometimes, it's a dead end. More often, though, I arrive at those two final and beautiful words: "The End."
Do you edit as you go or wait until you've finished?
I begin each day by re-reading and revising the previous day's work.
Did you hire a professional editor?
I work with one (or more) at Distillations Press.
Do you listen to music while you write? If yes, what gets the fingers tapping?
I listen to Pandora. I write to just about everything, but the  Sarah McLachlan, Enya and Jim Brickman channels have been recent stalwarts. And no, I don't mind admitting that.
About Publishing
Did you submit your work to Agents?
My agent Bernadette Baker-Baughman is awesome. She and I are working on a submissions package right now for a sci-fi terrorism novel that I've been working on over the last year.
What made you decide to go Indie? Was it a particular event or a gradual process?
I work with some talented folks at the college, and there is a good network of authors writing similar stuff in the area (Northeast Florida and Southeast Georgia). I partnered with some of those (who run independent publishing companies and graphic design studios) to build nice books. The distribution available through Amazon, Barnes & Noble and Kobo, among others, makes things more viable for small-press and independent writers. It's also always a nice thing to hold onto one's story rights!
Did you get your book cover professionally done or did it you do it yourself?
I worked with Canopy Studios.
Do you have a marketing plan for the book or are you just winging it?
My plan is to write good books and do as much cheap publicity as I can without compromising my ability to write more good stories. Ultimately, I'll always focus on the creative side as opposed to the marketing aspect if given a choice. When the books are out there, they're out there. Hopefully folks find and enjoy them.
Any advice that you would like to give to other newbies considering becoming Indie authors?
I would just tell them to focus on telling the types of stories that they would like to read. I would caution them to be deliberate in the editing stages, and to temper their expectations. Be thankful that you wrote a good book, and then start working on the next one. Readers will find it.
About You
Where did you grow up?
I grew up in Oregon. I went to college at Linfield and Portland State University, and I graduated from high school in Pendleton, Oregon. I miss the state very much.
Where do you live now?
I live in Jacksonville, and I also love it here! I've been everywhere in Florida, and Duval County is my favorite part of a really cool state. I think in the future, we'd like to have homes in both places.
What would you like readers to know about you?
I love the outdoors. I spend a lot of time fishing and hiking, and I'm a huge fan of the Baltimore Orioles. Also, I play entirely too much golf.
What are you working on now?
I'm working on a horror novel and preparing the submissions packet for the sci-fi novel I mentioned earlier. I've just started a PhD program (Texts and Technology) at the University of Central Florida in Orlando, and I'm very excited about getting back in the classroom!
Thanks very much, Al, for the chance to talk about my books!
End of Interview
Get your copy of Torched from Amazon US (ebook or paper) or Amazon UK (ebook or paper).