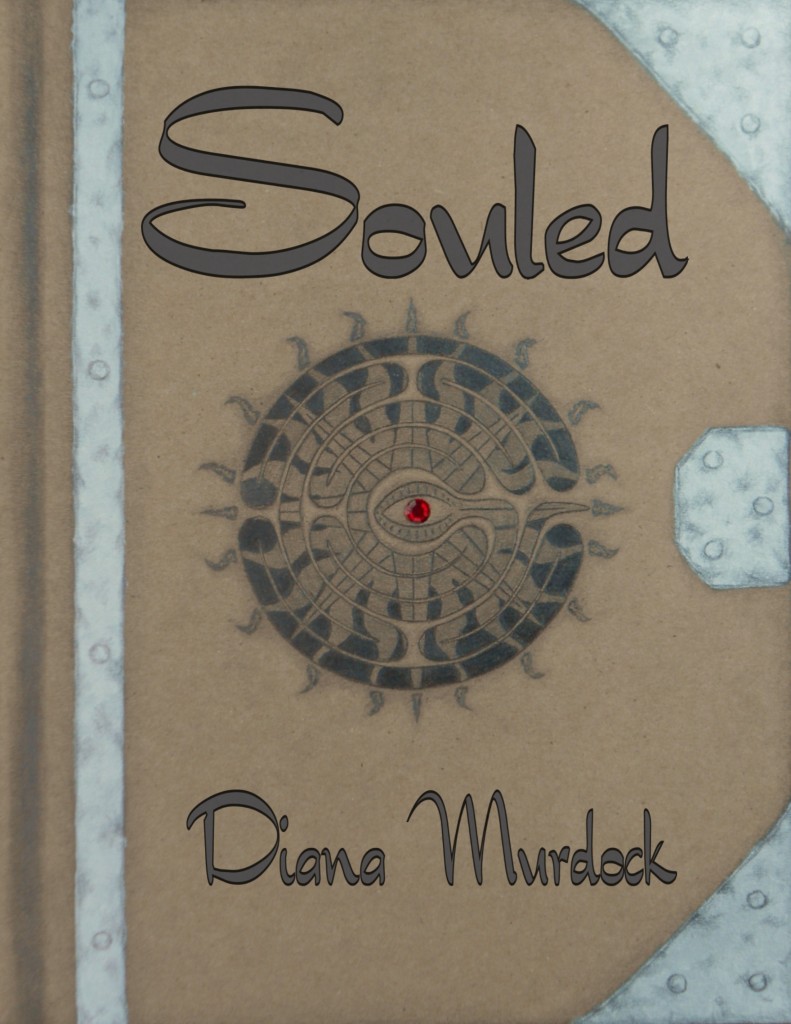 I'm constantly thinking about my stories, so I tend to scribble notes or scenes on anything I find. 
Diana Murdock 26 July 2012
The Back Flap
What 17-year-old boy wouldn't be tempted by the promise of power and control – no matter what form that promise came in?
Seth knew exactly what he would do with power and control. He'd be well on his way to a wrestling scholarship, his dad could stop working so hard to make ends meet, and he'd forever have the heart of his girlfriend, Sandpoint High's most beautiful girl.
For Seth, the temptation was much too strong to resist. And why should he? The way he saw it, he had everything to gain.
But when he unknowingly invites another soul to share his body, Seth discovers that not all power is good – especially when it was never his to wield. And when the soul reveals its true intentions, will Seth have the strength to fight it or would death be less painful?
About the book
What is the book about?
Seth, a high school junior, anxious to buy his girlfriend something really special for her birthday, stumbles upon, and buys, what he thinks will give him what he needs to be happy – Power and Control. What he doesn't realize is that what he buys online – a soul – is not exactly what he bargained for and that there is much more to "power" than he had thought. While Seth struggles for control of his body, his friends band together with an unlikely ally to try to rid Seth of the intruder before it's too late.
When did you start writing the book?
I began writing this about a year and a half ago, shortly after the release of my first novel, Again.
How long did it take you to write it?
It took me about a year and a half to complete, but there was a period of months when finding the time to write was a challenge due to family obligations.
Where did you get the idea from?
My family and I were bouncing ideas off of each other as to what we could sell on an eBay store and my oldest son suggested that I could sell my soul. That comment planted the seed.
Were there any parts of the book where you struggled?
Not really. I am familiar with the city of Sandpoint,Idaho, have teen-aged boys, and I study metaphysics so the story came very naturally for me.
What came easily?
The concept of soul attachment. My then-husband had a very strong attachment on him. It was an entity that had been attached to him for such a long period of time, it was a challenge to rid him of it. It worked, but I believe that my ex felt so lost without it, that he eventually attracted another one to him.
Are your characters entirely fictitious or have you borrowed from real world people you know?
The characters are entirely fictitious, but they remind me of my boys and their friends.
We all know how important it is for writers to read. Are there any particular authors that have influenced how you write and, if so, how have they influenced you?
My taste in books is all over the place, so I really don't have one in particular that influenced me. Though I know my writing style is unique, I think I incorporate a little of all that I read into my writing. It's difficult not to.
Do you have a target reader?
Souled, is geared for anyone from 16+. I don't believe "Young Adult" is just for young adults.
About Writing
Do you have a writing process? If so can you please describe it?
I write what I can, when I can. I'm constantly thinking about my stories, so I tend to scribble notes or scenes on anything I find. Mostly, though, I insist my sons let me have the evenings for my writing. For whatever reason, getting into "the zone" doesn't usually happen until late evening. Then it helps to have pretzels nearby.
Do you outline? If so, do you do so extensively or just chapter headings and a couple of sentences?
I'm such a pantster. I've tried outlining, but have not been successful with that. I usually see the scenes take place in my head and they are usually in random order. Then I put them in some type of order before I start filling in the blanks.
Do you edit as you go or wait until you've finished?
Definitely edit after I've finished. I get the raw stuff out of my head and on the paper, pass it on to my cousin who does a great job of picking it apart, then I put it back together and edit.
Did you hire a professional editor?
Absolutely, but I made sure she understood where I was coming from and her efforts would mirror my vision.
Do you listen to music while you write? If yes, what gets the fingers tapping?
Sometimes music will enhance my creativity, but other times music gets in the way. I usually choose music that relates to the book. For Souled, Breaking Benjamin (I Will Not Bow and Breath) fit the characters of Seth and Dani so perfectly, I played those over and over again.
About Publishing
Did you submit your work to Agents?
With my first book, yes, but discovered that what I was searching for was a mold to fit my novel in. It didn't make sense to me. A lot of books are rejected based on that, so I published independently.
What made you decide to go Indie? Was it a particular event or a gradual process?
I researched indie publishing more and discovered how much more control I would have over content, cover, pricing, and marketing if I went indie. A friend of mine landed an agent for her book, but she had such a bad experience with non-performance, delays, etc. Hearing her story had me running for Amazon.
Did you get your book cover professionally done or did it you do it yourself?
The book cover for Souled was created by my tattoo artist, Crystalyn Abercrombie. We were on the same wavelength the entire time. She had read the first draft to get an idea of what I wanted and I think she nailed it.
Do you have a marketing plan for the book or are you just winging it?
It's my intention to introduce the book to readers through blogs and interviews and through reading sites such as Goodreads. Also through Facebook.
Any advice that you would like to give to other newbies considering becoming Indie authors?
Going indie isn't for everyone, so I would suggest researching the pros and cons of indie versus traditional publishing. Indie publishing offers a lot of freedom and control over your work, but the road is far from easy. And definitely invest in an editor, someone who is not so close to the project, who can see it objectively. Also get a lot of beta readers. They can catch flaws that you could not. Believe me, I know that one.
About You
I'm a single mother of two teens and am a hopeless cardio-junkie. About the only time I can relax is with a good book in my hand.
Where did you grow up?
I grew up in Southern California.
Where do you live now?
We moved to Northern Idaho about six years ago after visiting friends and falling in love with the area.
What would you like readers to know about you?
I'm a very open person and I love to connect with readers.
What are you working on now?
I'm working on the sequel to Souled. I have another fiction piece that has been sitting on the back burner for awhile that I'd like to develop as well.
End of Interview:
Find out more from Diana's website. She says she even loves emails from readers, but I'm not going to spell it out and increase her spam. Non-robots should be able to decypher dianamurdockauthor (at) gmail (dot) com.
Also, like her Facebook page, follow her on twitter or Pinterest. Or you can be a fan of her Goodreads page.
You can get your copy of Souled from Amazon US (eBook and paper) or Amazon UK (eBook and paper).