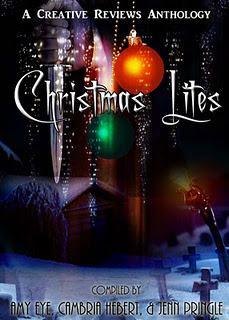 There are three things you need to know about Christmas Lites; first, it is an anthology with an interesting variety of stories featuring Santa, small children, zombies, werewolves, ghosts and much, much more. Second, it is released today in ebook format from Smashwords, and the paperback is available from Createspace and Amazon; and third, (and most importantly) all proceeds are to go to domestic violence charity NCADV.
So far, so similar to other charity anthologies – but why should you want this one?
 You might be intrigued because it promises to be a very entertaining read; according to Jenn Pringle, NCADV co-ordinator, there is a massive variety of stories; "Santa has a Ninja Elf, the Gingerbread Man is a tricky little fellow, Whimper is the family dog that cares for his 'pack'…. There is something for everyone in this book and it's safe for all ages. The common theme is that everyone poured their hearts into it for a great cause."
More specifically, the book involves the work of 26 assorted authors from bestseller Lizzie Ford and Brett Talley, currently up for "Best Horror of 2011" award on GoodReads, through assorted independent and traditionally-published authors to relative newcomers. It has been produced to a high standard, the text edited, proof-read and formatted by a team of talented individuals headed by Amy Eye, Director of Web Content at Journalstone Publishing, and it supports a very worthy cause; the National Coalition Against Domestic Violence (of which more later).
But more than this, the anthology has been put together because a group of people who love books wish to give something to those who are in need; and how better than with a book that celebrates friendship, generosity – and a Ninja Elf?
How it all started….
Back in April 2011, Amy Eye founded the GoodReads group 'Creative Reviews' (which she moderates with author Cambria Hebert and book-blogger Jen Pringle) as a place to post book reviews. However, the atmosphere there is so welcoming and supportive that it has quickly gained in popularity. Now involving over a thousand members including readers, reviewers, authors, editors, formatters and book-bloggers among others, it is an invaluable resource, with members sharing knowledge and recommendations for everything from editors or cover designers to ten-minute snack recipes.
In September, Amy put up a post asking whether, as a group, we would like to work towards raising some money to be presented to a charity of our choice at Christmas.  As Amy says, "Creative Reviews has become more than just a book group. It is a group of friends, and what better way for friends to bond than working together for a good cause?"
This idea was greeted with enthusiasm and much debate over which charity to choose. Cambria Hebert, author of Masquerade, had an idea; "I suggested a women's and children's charity because it's the kids who most capture the holiday spirit and season…. To me, it is heartbreaking to think of a child not having the Christmas – or any day – that they deserve. There are a lot of children out there with needs that could be met if people banded together to help them, and the mothers of these children need support to give their children what they need."
The Story
Once a domestic violence charity was suggested, C.S Splitter, author of The Reluctant and The Willing had a story to tell which made the decision for us. "Years ago, before cell phones and GPS devices were common, I got lost on my way to my company's Christmas party. I was dressed as Santa Claus, complete with beard and glasses, and did not realise I was on East Whatever Street instead of West Whatever Street. The number on the building looked right and the building itself looked like a place that would rent out rooms for company parties; but when I walked through the front doors, instead of seeing my co-workers, I was assailed by a gang of children of all ages.
" 'Santa!' the first ones to see me yelled. More came running. I knew I was in the wrong place but not even an over-worked, miserably lost Santa would turn away a group of kids. Thank goodness I had a bag of candy canes! As it turned out, I had walked into a shelter for women and children, most of whom had come from abusive situations. I spent the next hour doing the obligatory Santa and knee thing, knowing that most of these children would get little more than the tiny candy canes I gave them for Christmas presents. It was terribly depressing.
"I was late to my company's party and when I explained my tardiness to my boss, she became very quiet. I thought she was angry with me for delaying the bonus distribution portion of the festivities. The next day, she called me to the office. I thought I was in trouble but when I arrived, I found her in the parking lot with an SUV full of toys. She needed me to show her where the shelter was.
"Being of a different religion, she did not celebrate Christmas, but she could not let all of those kids go wanting during the holidays. For years afterwards, until the company was sold, she headed the toy drive in the company for that shelter and other similar causes."
We were really touched by this story. We had been discussing what Christmas meant to us and the ideas of family and togetherness figured hugely in everyone's replies, so at the thought of a terrified Christmas spent in hiding, where family and togetherness were synonymous with the very violence, abuse and anger form which you'd fled – well, we knew that this was the cause for us. After a bit of research NCADV was chosen as it is an umbrella organisation which co-ordinates and supports all the smaller individual domestic violence charities (more information and links at the end of this post).
The Book
And how to show our support? Again, a thought from Splitter; Creative Reviews was all about books, whether writing them, producing them, reading or reviewing them, so why not put together an anthology?
In short order, all sorts of people jumped at the chance, and were organised by the moderators. Twenty-six authors wrote stories; two volunteers offered to proofread, three more to edit, others to help with the design and formatting.  Book-bloggers are waiting to read and review it, and there will be no review freebies so all of them will buy their copy. A poster has been donated by a graphic designer. Various members are donating their time to help publicise, be it to Tweet a link, share it on Facebook, write a piece on their blog, or interview contributors. Many members of the group have contributed in some way.
The Challenge
And how long did it take to put together? The ebook will be made available on November 25th, with the paperback shortly after, and this in itself is no mean achievement.  Cambria points out "The biggest challenge was just co-ordinating with the many people involved – the authors, the designers and bloggers and the charities; all of these things had to fall into place to create this book."
From initial suggestion at the beginning of September to receiving the raw stories in on the hand-in date of October 15th, the various volunteers have brought the book into being in only ten weeks which, as any indie author will know, is not inconsiderable for a book of approximately 300 pages.  As Jenn says, "It's definitely been a huge learning experience for all of us. There is so much that goes into independently publishing a book. I have gained so much more respect for indie authors."
As yet, of course, there is no way of saying how much can be raised for the NCADV, but apart from all the contributors, the charity have also offered to feature it on their website so it is hoped that amongst those who know about the NCADV the anthology will be able to raise a little money for the cause, and amongst those who don't it will at least raise awareness of the charity. And within the group there is much anticipation, with many members saying that they have already got orders for several amongst their own family and friends. As Amy points out, "I think it  is not only a fun way to make money for charities that desperately need help, but also a great way for the people in the group to bond, make new friends, and expand their knowledge on the book publishing side of things."  Jenn adds "Christmas Lites has been a truly exciting experience, from reading the stories, interacting with so many great new people and gaining knowledge of books behind the scenes."
Apart from gathering the proceeds for the NCADV, it has been decided within the group that the anthology should be made part of Operation eBookDrop. Cambria comments "I suggested becoming involved with Operation eBookDrop to donate the ebook to deployed troops. This is very dear to me as my husband is an active duty Marine who has served in Iraq." Many of the authors have also subscribed to this, including their other books in the initiative.
The Future
And going forward? Demand in the group is high for another one next year – authors have already suggested making it an annual event, but that of course depends on whether everyone is game to play their part once more…. Cambria: "At times it was overwhelming but I never thought we couldn't make it happen. It was really worth it and I think we all earned the right to be proud of our efforts." Amy: "I am definitely not burned out! Although next year, I will give myself MUCH more time to organise and get prepared!"  Jenn agrees, adding "….I think we should start preparing for that one next month!"
So the Creative Reviews group would like to invite you personally to join with us in celebrating the good side of togetherness at Christmas with this anthology; we have donated our talents and time in the twin hopes of entertaining you, the reader, while at the same time making a little money for all the kids in all the shelters who know full well that Santa is not coming to visit them this year. We hope that this will go a little way to addressing that situation.
Kids, this one's for you, from all of us;
 The members of Creative Reviews.
= = = = = = = = = = =
The Details
Christmas Lites is available from Smashwords (all formats of ebook) Createspace (which earns the most for the charity) and Amazon.com (which earns the least for the charity). It costs $12.99 for 276 pages ($3.99 for the ebook)
Christmas Lites Information
 List of Titles and Authors:
Shane Stilson: Higher Ground
E.C. Stilson: How I Found My Soul Mate and Turkey Avenger
Vered Ehsani: Christmas Ghost
C.S. Splitter: Whimper
Phil Cantrill: Christmas Story
Brett Talley: Last Year's Eggnog
Catherine Forbes: The Gateway Incident
Mark Koning: Sweet Child
Tricia Kristufek: Accidentally Gift Wrapped
Paige Kellerman: Christmas Disco
L.A. Wright: Star of Christmas
S. Patrick Pothier: The Road to Comfort
Cassie McCown: Mirror
Angel Armstead: All I want for Christmas
Ottilie Weber: 'Tis the Holiday Spirit
Amy Eye: The Hunt
JA Clement: A Sprig of Holly
Richard Phelan: Memories of the Splendid Splinter
Mark Mackey: An Amy Harkstone Christmas
Lizzie Ford: Santa's Ninja Elf
Nicholette Alexandr: Broken Glass
Mark Faulkner: Face
Cambria Hebert: The Perfect  Ornament, Blank
Angela Yukiro-Smith: Only That Day Dawns
Mysti Parker: The Carpenter's Wife
Credits:
Amy Eye: Formatting, Editing
Vered Ehsani: Editing
Proofreaders: Tricia Kristufek, Cassie McCown, Alan Zendell
Cover Design and Print Formatting: Dafeenah Jameel, www.indiedesignz.com
Christmas Tree Glyph: Regina Wamba, www.maeidesign.com
Ebook converting for Smashwords: C.S. Splitter
NCADV coordinator: Jenn Pringle
National Coalition Against Domestic Violence.
NCADV believes violence against women and children results from the use of force or threat to achieve and maintain control over others in intimate relationships, and from societal abuse of power and domination in the forms of sexism, racism, homophobia, classism, anti-Semitism, able-bodyism, ageism and other oppressions.
NCADV recognizes that the abuses of power in society foster battering by perpetuating conditions which condone violence against women and children. Therefore it is the mission of NCADV to work for major societal changes necessary to eliminate both personal and societal violence against all women and children.
NCADV's work includes coalition building at the local, state, regional and national levels; support for the provision of community-based, non-violent alternatives – such as safe home and shelter programs – for battered women and their children; public education and technical assistance; policy development and innovative legislation; focus on the leadership of NCADV's caucuses developed to represent the concerns of organizationally under-represented groups; and efforts to eradicate social conditions which contribute to violence against women and children.