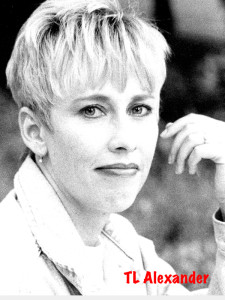 TL Alexander writes adult, hot, fun, LOL romance and mystery. Her Layers Series is her first self-published works.
In the summer of 2015, she released the first of her new continuing mystery series, Law Inc. A Cassandra Marcella Mystery, Life on Top. In the winter of 2015, she hopes to release the first of her new series, Girlfriends Goddesses & Barflies, One More Shot. She is also writing a dark thriller-mystery that she hopes to release in early 2016.
She's loves to read and write about strong women and crazy flawed characters, like herself. (-: She reads romance, mysteries, thrillers, and biographies. Some of her favorite writers are: Jane Austen, Edith Wharton, Agatha Christie, Janet Evanovich, Erma Bombeck, Barbara Kingsolver, Patricia Cornwell, Tana French, and Diana Gabaldon.
My newest series is called Girlfriends, Goddesses, & Barflies. It's set in the fictional small town of Whisper Lake, in my beloved Oregon.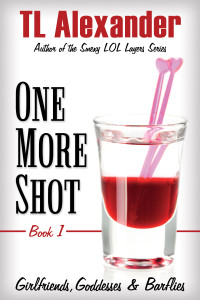 One More Shot
Hot doc Dino Coletti has gone and done the one thing he vowed he'd never do. He's fallen head-over-feet in love. Too bad the woman he's fallen for, Dannie O'Brien didn't get the memo.
Alexia Keith, self-proclaimed nerd and potty-mouth, is a beautiful, scotch drinking, complicated mess. In other words, she has issues, and the last thing she needs is her boss, Jaxson Ryan, CEO of Ryan Acquisitions, messing with her issues. She finds him hard and even harder to resist, but she must, he's off limits.
One of New York's most eligible bachelors, Jaxson Ryan, is the poster boy for the tall, hot, conceited self-proclaimed manwhores. The only thing he wants is Ryan's, Risk Manager, Alexia Keith.
What happens when a man with a bedpost-notching waiting list, a man who thought he had it all, wants the only woman he can't have? 
More Layers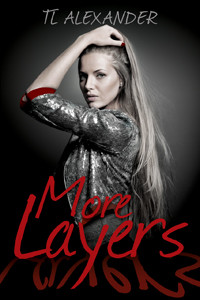 Alexia Grant wanted the happily-ever-after, the fairytale ending. What she got was her heart shattered into 5.689 million pieces. It's been over two years, 936.5 days to be exact, since she last laid her eyes on Jaxson Chase Ryan. She thought she was ready to see him, but now that he's just feet away, in a crowded elevator, she realizes she's not. Maybe she'll be ready to see him in another 12.135863024 months…. 
She's moving her family and Grant International headquarters to New York. What was she thinking? How can she live in the same state, or even on the same continent with the man who wrecked her and still owns her shattered heart?
Jules and Nick are getting married, in Vegas. Jaxson Ryan is the best man; Alexia Grant is the maid of honor. He came to her hotel, for answers, for closure. What was he thinking? Now that she's standing just feet away, in a crowded elevator, he knows there will never be closure, because he still wants and needs her more than his next breath.
Beneath Layers
Alexia Grant was so close to her happily-ever-after, all she had to do is reach out a grab it…
Jaxson Ryan was so close to having the woman, the life, he's always wanted. But that was before…
Alexia—The broken part of me—is me. It's my blood, my flesh, and my bones. It's cancer in remission, not to be disturbed. If it is, it will metastasize, it will kill me.
Jaxson Ryan—We'd gone beyond, over the hurdle that had pushed us apart so many times before. I was close to touching that place she hides from everyone, even herself, but now…
Samantha & Logan
Two years after the tragic death of her fiancé, Samantha Grant finds herself on the Outer Banks of North Carolina. She needed a break from her crazy-busy life, but she finds—oh so much more.
The sand is smoother farther down the beach but this is the perfect place for my now daily ritual. What daily ritual, you ask? Watching sex-on-a-kabob run past my cottage, of course. He runs by twice a day. Once at 7:00 a.m. then again at precisely 3:15 p.m. Oh, how this girl loves a prompt man.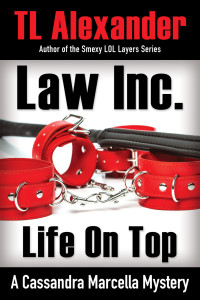 Law Inc.  
Law Inc. a continuing series from the author of the LOL Layers Series.Case 101—Life on Top, is about a Dom who is accused of murdering his submissive in his playroom. As evidence begins to build-up against him, he needs on of the best criminal attorney in NYC, Cassandra Marcella. Unfortunately, he's accused of the one crime she won't defend.
My name is Cassandra Marcella; I'm a criminal law attorney in the state of New York. Some might say I'm a badass, ball-busting, controlling bitch. And that would be the some whom I'd consider my friends.
I couldn't believe it. Me, Cole Ryder, the control freak, the guy who sorts his socks by type, color, texture, material, pattern…. You get the picture. The guy who from preschool to present day has never painted outside the lines. That guy was charged with murder.