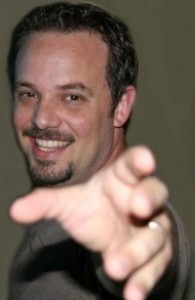 Bio
Tom Andry is the Associate Editor of Audioholics.com and host of the AV Rant podcast. He's been writing mostly reviews but has lately returned to his prose roots. He has written many unpublished short stories, poems, and a few screenplays that may still be produced. He's the father of three boys affectionately nicknamed Punkalicious, Captain Evil, and Neo. He's happily married and currently resides in Perth, Australia. His background is in drama, creative writing, and research psychology which basically means his kids are in for a pretty rough time. His wife, Tanel, doesn't have it so easy either. Bob Moore: No Hero is his FREE novella available at all the major outlets as is the full length sequel, Bob Moore: Desperate Times.
Learn more about Tom and browse his self publishing guides for Kindle, Nook, iBooks, and Smashwords at his website.
Works
Bob Moore: No Hero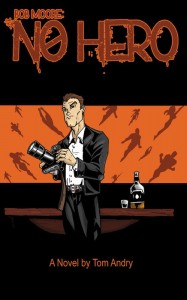 Super powered humans started appearing 30 years ago. Now, they are everywhere. Bob Moore, Private Eye, dares to investigate those who could incinerate him with a thought. When he is called to help a super from his past, however, he'll be pushed to his limit. When supers and the police think there is no crime, can he get to the truth? Will he want to for the man that destroyed his marriage?
Read an Excerpt
Download for Free
Bob Moore: Desperate Times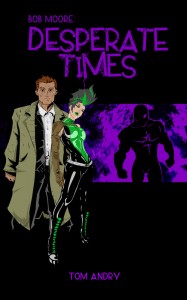 Bob Moore: Desperate Times, the action-packed sequel to Bob Moore: No Hero, finds Bob working with his ex-wife to foil a terrorist plot. But a new super, the most powerful anyone has ever seen, arrives with catastrophic results. Can Bob, a Private Eye with no super powers, survive when so many supers have perished?
Combining a traditional comic book style setting with a noir tone, Bob Moore: Desperate Times marries the action of superhero stories with deep and thought-provoking supporting characters. Filled with action, intrigue, and emotional depth, readers from all walks of life and backgrounds will find something with which to connect. The non-stop action and monumentally high stakes mean that these are desperate times for Bob as he must use all of his skills just to survive and protect the people he cares about most.