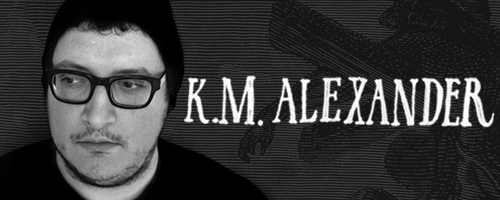 K. M. Alexander is a Pacific Northwest native and novelist living and working in Seattle with his wife and two dogs. His work explores non-traditional settings within speculative fiction, bending and blending genres to create rich worlds and unique, approachable characters.
Website | Blog | Store | Twitter | Facebook | Goodreads

He is currently working on The Bell Forging Cycle, and had released three books in the series with a fourth projected for 2017.
Welcome to The Bell Forging Cycle, an ongoing urban fantasy series by Pacific Northwest author K. M. Alexander. Don your keff, lace up your boots, and enter his dystopian genre-bending vision of the Territories. A world where humanity is no longer alone and strange creatures inhabit vast multi-leveled megalopolises built upon the backs of drowned cities. A place of violence, where killers stalk narrow streets and shadowy cults work ancient rituals to awaken forgotten elder gods. Standing in their way is one soul, a road-weary caravan master armed with an antique revolver, a droll wit, and a hardened resolve.
---
The Stars Were Right — The Bell Forging Cycle, Book I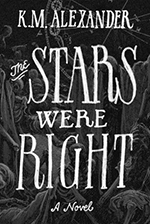 Caravan Master Waldo Bell didn't expect to return home a criminal. He just wanted a relaxing month off between jobs so he could explore the city of Lovat, enjoy a soft bed and a few decent meals. Instead, he's arrested–accused of killing old friends and hacking off body parts.
Escaping custody and on the run, Wal becomes a citywide fugitive fighting to clear his name. As the body count rises, a shadowy assassin emerges as the true killer, and the trail begins to grow more and more bizarre.
The Stars Were Right combines mysteries and monsters, chases and cults, and an ancient evil in a world that is similar but not quite like our own.
Buy a paperback: Amazon • Barnes & Noble • Direct
Buy ebook: Kindle • Kobo • iBooks • Nook • Direct

---
Old Broken Road — The Bell Forging Cycle, Book II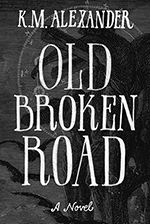 It's called the Broken Road. A long-abandoned route veiled in rumor, only spoken of in whispers. Some claim that bandits stalk its overgrown path, while others speak of a city of cannibals. Stories tell of dark apparitions, bizarre monsters, and ancient evils. One thing is certain: no one goes near it.
Caravan Master Waldo Bell has had his fill of trouble. But when faced with a stubborn client, a lousy deal demanding delivery on any terms, and military action that closes major caravan routes, Wal and his company find themselves forced on to that vast stretch of trail.
While strange events plague the caravan, Wal must confront the horrors of his recent past, as he's thrown into the middle of a deadly conflict that feels far-too-familiar. On this road, chaos awaits…
Buy a paperback: Amazon • Barnes & Noble • Direct
Buy ebook: Kindle • Kobo • iBooks • Nook • Direct

---
Red Litten World — The Bell Forging Cycle, Book III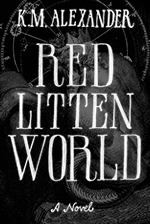 The city of Lovat is dying. It just doesn't know it yet. Trapped behind blockades, its citizens starve. Only the wealthiest can afford to snatch up what food does slip through, leaving the poor jostling for scraps. But money only goes so far. Inside their gleaming towers, the well-fed elevated are being killed off one-by-one.
Caravan Master Waldo Bell—only a few months removed from the harrowing events along the Broken Road—just wants to keep his head down and be left alone while he waits for the blockades to break. But when familiar symbols written in blood appear at a crime scene and an old debt comes calling, Wal finds himself thrust into chaos.
Now, forced onto Lovat's blood-soaked upper levels, Wal faces his most dangerous challenge yet: within a city on the verge of self-destruction, he must fight to save not only his own life—but the life of every Lovatine struggling below.
Buy a paperback: Amazon • Barnes & Noble • Direct
Buy ebook: Kindle • Kobo • iBooks • Nook • Direct

---