Joan Szechtman in a nutshell:
Legend has it that at two and a half years of age, I fixed something for my mom that was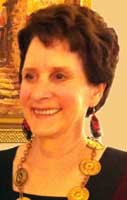 broken, thus sealing my fate to become an engineer. Subsequently, I spent the bulk of my career in computer science and network technology. After about 40 years in the field, I was laid off. Because of personal considerations, I had to put looking for employment on hold. Then I discovered writing and haven't looked back.
My foray into authorship was quite accidental. My first non-serious attempts were writing fan fiction, but it wasn't until I read The Sunne in Splendour by Sharon Kay Penman that I felt compelled to write something about Richard III. What started as an article or short story soon grew into a novel, and then a trilogy. The first two are published and the third is still a work in progress.
I live near New Haven, Connecticut with my mate, Ed and our cat, Trixie.
blog interviews:
March 10, 2012—Big Al's Books and Pals
May 23, 2011—Sharon Kay Penman
 books and reviews:

This Time starts moments before Richard III loses to Henry Tudor on the field of Redemore near Leicester, England on August 22, 1485 where a team of Ricardians substitutes an armor-clad corpse for the king and then brings him into the 21st-century in Portland, Oregon. Richard awakens to an alien world where even the English he speaks is different.
2010 Next Generation Indie Book Awards General Fiction Finalist
Amazon—Ave. 3.8 for 19 reviews (as of March 27, 2012)
BigAl's Books and Pals
Crystal Book Reviews
That's All She Read
The Genreview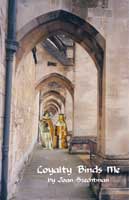 Loyalty Binds Me is the second book about Richard III in the 21st-century and starts about a year after the first novel ends. Richard III and his blended family travel to London, England, to say a final farewell to his queen, Anne, when he is arrested for 500-year-old murder. He must defend himself without revealing his true identity.
Recommended—Midwest Small Press Bookwatch Book Reviews, September, 2011
Amazon—Ave. 4.6 for 11 reviews (as of March 27, 2012
BigAl's Books and Pals
Midwest Book Review (Review is almost half way down on the fiction shelf–search for book title)
Crystal Book Reviews
Trailer for This Time and Loyalty Binds Me
Why Richard III?
My understanding of the late medieval monarch was radically altered after reading The Sunne in Splendour by Sharon Kay Penman. I began researching all I could learn about Richard III and came to the conclusion that what came to us from Shakespeare was not only pure fiction, but that Richard's reputation was ruined. For example, from Tudor propaganda and Shakespeare's play, most people who think about Richard at all, think he killed his nephews to get the crown. Not only is there no extant evidence to support this, but also there is no extant evidence to show the princes were killed. In fact, there is very clear contemporary documentation that the princes were very much alive at the time Richard took the throne—all quite legally and with the consent of parliament. So I kept wondering what Richard had to say about what finally did happened to the princes. So I brought him into the 21st-century to have a chat that turned into a trilogy. The third book is currently a work in progress.