About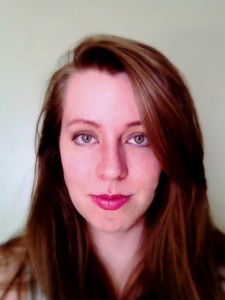 Erin started writing fantasy at age 12 to escape awkward reality. Since then, she has earned a B.A. in Modern Languages and a Master's of Library and Information Science. She published her first book, an epic fantasy entitled The Feast, September 2014 after a successful Kickstarter campaign. She lives in Iowa with her family.
 The Feast (Tales From Delaterra, Book One)
Back of the Book: Rebellion was sown…Revenge will be reaped…and The Feast for freedom awaits!
Delaterra, once a land of peace and prosperity, is tainted with suspicion and fear. The King's Eyes and Ears, spies without conscience, hunt the Farmers, a group of Delaterran rebels who are dedicated to restoring Delaterra to her former glory. Yet there are whispers traveling fast on the wind, that the Farmers are not alone in their desire to rid the world of the Nameless One and the tyranny he sows. As The Feast draws near, a woman trapped in the body of a horse, an ex-knight, a seer, and an assassin must draw the factions together if they are to have any chance of success.
Review: The Bookie Monster | Where to Purchase
Upcoming Works
The Salt Pine Prince (Tales From Delaterra, Book Two) Spring 2015
Connect: Erin's Website | Facebook